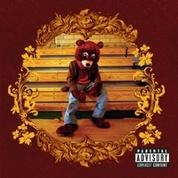 Kanye West :: The College Dropout

Label: Roc-A-Fella Records
Author: Steve 'Flash' Juon


It's not very often in rap music that producers become household names. That is to say, not household as in hip-hop fans know who DJ Premier and Pete Rock are - that's expected. In this case your skate rock homeboy, he knows who Kanye West is. Your aunt's cousin who listens to nothing but old R&B records all day, she knows who Kanye West is. Know what? Your GRANDMOMMA knows who Kanye West is. Now that's a household name. If you look down the list of who he's penned hits for in the last three years, it's no wonder why. Ludacris, Jay-Z, Twista, Alicia Keys, the list just goes on and on. When Kanye decided to add rapping to his resume along with his beats, that's when shit got crazy. The rap album almost got curtailed before it even got started though when Kanye was in a car accident in October 2002 that nearly cost him his life. Underground, the unofficial first single from his forthcoming album "The College Dropout" was dedicated to that day, called "Through the Wire" because his jaw was physically welded to his face in reconstructive surgery:
"I drink a - Boost for breakfast, an Ensure for dizzert
Somebody ordered pancakes, I just sip the sizzurp
That right there could drive a sane man be-serk Not to worry Mr. H-to-the-Izzo's back to wi-zzerk
How do you console my mom or give her life support
Telling her her son's on life support
And just imagine how my girl feel
On the plane, scared as hell that her guy look like Emmett Till
She was with me before the deal, she been tryin to be mine
She a Delta, so she been throwing that +Dynasty+ sign
No use in me tryin to be lyin, I been tryin to resign
Trying to be a millionaire - HA! I used two lifelines
In the same hospital where Biggie Smalls died
The doctor said I had blood clots, but I ain't Jamaican man
Story on MTV and I ain't tryin to +Make a Band+
I swear this right here, history in the makin man"
You can tell Kanye West has heart that he can go through something that traumatic and still crack jokes about it, but that's hardly the important part. Can a producer flow? Depends on the producer. Diamond D and Large Professor both made their rep by being type nice on both sides of the board, but Swizz Beatz and Pete Rock don't exactly knock 'em dead on the mic - but bless their hearts for trying. Kanye has obviously picked up a little something from the large amount of time he spent around the Dynasty, that is, the artists of Jay-Z's imprint Roc-A-Fella Records. He's got a smooth and natural rap flow, punctuating words for emphasis like Jigga but with the relaxed vocal tone and attitude of a Dana Dane or Slick Rick. In fact if you didn't already know him from being a household name for his beats, you'd just assume he was another hot rapper signed to the Roc.
That's a good thing too, because Kanye West has a full album of 21 tracks that clocks in at over 70 minutes. If Kanye West wasn't at least CLOSE to as good a rapper as he was a producer, an album like "The College Dropout" would be an unmitigated disaster. As it is, his choices on sampling and production certainly don't hurt his presentation. You can't argue with lifting "I Just Wanna Stop" by the Jimmy Castor Bunch for the refreshing "We Don't Care" at the album's opener, where even selling crack to get by sounds like a sunshiny walk in the park. It's a little more surprising when he borrows from a more recent song, Lauryn Hill's "Mystery of Inequity" for "All Falls Down" featuring Syleena Johnson, but why not? There's no law of sampling that says all loops must be over a decade old. A lot of producers abuse Marvin Gaye samples to the point the soul crooner must be rolling over in his grave, but West shows a delicate touch using "Distant Lover" on the song "Spaceship" featuring Consequence and GLC. Consequence? Yeah wasn't he... oh yeah, he is that kid:
"I 'member havin to take the dollar cab, comin home real late at night
Standin on my feet all damn day, tryin to make this thing right
And havin one of my co-workers say 'Yo, you look just like
this kid I seen in the old Busta Rhymes video the other night'
Well easy come, easy go, how that sayin goes
No more broad service, cars and them TV shows
I all had that snatched from me, and all the faculties
all turn their back on me, and didn't wanna hear a rap from me
So naturally, actually, had to face things factually
Had to be a catastrophe, when the fridge is starin back at me
Cause nothing's there, nothing's fair, I don't wanna ever go back there
So I won't be takin no days off, 'til my spaceship takes off"
You certainly can't fault Kanye for showing love to underappreciated hip-hop MC's who never got their shine, but he's got the big names repping here too. Miri Ben-Ari plays violins on "Jesus Walks." Jay-Z spits on "Never Let Me Down." Common and Talib Kweli both appear on "Get Em High." If that isn't impressive enough, consider that these three songs all come BACK TO BACK on "The College Dropout." West is not afraid to prove he's got pull in the rap industry, but what's surprising is that he is never overshadowed by the stars that shine on his album. In fact on "Never Let Me Down" what he spits is so personal and heartfelt that quite frankly, he upstages Young Hova:
"I get down for my grandfather who took my momma
Made her sit in that seat, when white folks ain't want us to eat
At the tender age of 6 she was arrested for the sit-in's
And with that in my blood I was born to be different!
Now niggas can't make it to Balish to choose leadership
But we could make it to Jacob's and to the dealership
That's why I hear new music and I just don't be feelin it
Racism's still alive they just be concealin it
But I know they don't want me in the damn club
They even made me show ID to get inside of Sam's Club
I done did dirt and went to church to get my hands scrubbed
Swear I been baptized at least three or fo' times
But in a land where niggaz praise Yukons and gettin paid
It's gon' take a lot more than cuo-pons to get it saved
Like it'll take you a lot more than doo-rags to get you waves
Nothin sad as that day my girl father passed away
So I promise to Mr. Manny I'm gonna marry your daughter
And you know I gotta thank you for the way that she was brought up
And I know that you were smiling when you seen the car I bought her
And you sent tears from heaven when you seen my car get balled up, but
I can't complain what the accident did to my left eye
Cause look what a accident did to Left Eye
First Aaliyah, now +Romeo Must Die+?
I know I got angels watchin me from the other side"
More than anything else, the reason "The College Dropout" works is because it feels so damn personal. With the kind of bank Kanye pulls from beats alone, he could have written an entire album about flossing with more bling bling than Baby and Jay-Z put together. And that's not to say there aren't some kick back songs just for having fun, there would have to be to keep a balance. You'll hear the already released Twista song "Slow Jamz," as well as some new material like "Breathe In Breathe Out" with Ludacris and the censored ode to "School Spirit." Yet when it comes talking about his "Family Business," you can't front on Kanye West. With a mixture of charm and skills and very little evidence of hubris to be found, Kanye West might be "The College Dropout" but soon they'll also be calling him "The Platinum Recording Artist."
Music Vibes: 9 of 10 Lyric Vibes: 8 of 10 TOTAL Vibes: 8.5 of 10
Originally posted: February 10, 2004
source: www.RapReviews.com