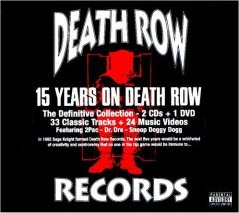 various artists :: 15 Years on Death Row - The Definitive Collection

Death Row Records
Author: Steve 'Flash' Juon

There's not much left for Death Row to do these days other than "define" their hip-hop legacy. After a long and controversial reign as Death Row's CEO, Suge Knight has been forced to declare Chapter 11 bankruptcy for his company. This is largely due to a $107 million lawsuit filed in 2005 by Lydia Harris, who asserted that her incarcerated husband provided $1.5 million in start-up money for the label. Knight apparently thought the claims were frivolous as he didn't even bother to make scheduled court appearances regarding the case, causing the presiding judge to issue summary judgment in favor of the plantiff. As a result the company is now being gutted in bankruptcy procedings, both figuratively and literally. Even their supposedly official website has been stripped down to a blank page that reads "coming soon" in plain text. That's bad news for Petey Pablo as the unreleased album he recorded for Death Row (allgedly titled "Same Eyez On Me") will probably never see the light of day, and for any other artists who made the mistake of signing with the label in the last few years. On the other hand that may be good news for hip-hop fans, since there's nothing left to do now but unearth every unrelased track, 12" B-side and remix to sell them in CD form. Time to clean out the vaults and see what's left.
It should be noted that even as the once Titanic label starts to slip beneath the waves, they still unrepentantly lie to consumers to steal their hard-earned dollars. This three disc set promises 4 "Best Buy exclusive" tracks out of 17 on the first disc but only has 13 tracks, which makes fulfilling this promise physically impossible. "So what? That just means they're free downloads." Sorry dear reader, put that thought out of your mind. There are no download instructions to be found anywhere in this set either on the shrinkwrap or tucked inside the case. What's worse is that this throws off the tracklisting because the very first song on the disc is supposed to be "One Eight Seven," an updated version of "Deep Cover" that was only available on the "Fuck Wit Dre Day" single. With that track excised, the real opener is "Nuttin But a 'G' Thang," still a fat jam over 14 years after "The Chronic" dropped, but not the exclusive you expected. The titles themselves are misleading even when accurate, such as "Let Me Ride" actually being the remix which features Snoop Dogg and Daz. Conversely "Gin and Juice" is alleged to feature Daz, which would make it the same as the remix from "Death Row's Greatest Hits," but instead it's the original version. For historical purposes it's vexing to see "G'z Up, Hoes Down" described as "unreleased" on the cover, when in fact it originally appeared on "Doggystyle" and was removed from later printings of the album due to an uncleared sample. Even for a company in the throes of bankruptcy this amount of errors, mistakes, lies and omissions is simply inexcusable. And just in case you're wondering the other three "exclusives" that weren't included on disc one are Daz Dillinger's "Don't Try to Play Me," Snoop Dogg's "Wanted Dead or Alive" and Tha Dogg Pound's "New York, New York." It's incredibly frustrating that the liner notes provide descriptions for all of these unincluded songs. Knight is an ASS.
It gets only slightly better on the second disc. The track listing is accurate including the two "exclusives" actually being included as promise at the 15th and 16th position - 2Pac's "Life is a Traffic Jam" and Nate Dogg's "Why" respectively. Neither one is that "exclusive" in reality though, as both songs are on the "Gridlock'd" soundtrack, which most hardcore Death Row fans will already have in their collection. It's much more notable that the "unexclusive" song "Puffin' on Blunts and Drankin' Tanqueray" is included, another song which was tucked away on the "Fuck Wit Dre Day" single and may not have reached the ears of the masses. While one can't argue that you should buy this entire set just for this song, at the very least you can pick up the track a la carte on iTunes to peep the dopeness. The deep bassline warbles and reverberates through your skeleton even at low volumes, and only gets more intense the more you crank it up, not unlike The Lady of Rage's lyrical explosion:
"Always and forever, forever and always
The rhythm will flow, from now and through all days
As long as the sun shines
As long as Eisenhower's on the dime
Yo, I'll be kickin the rhyme
One time for your mind, your soul, your body
D-O-G's on the side of me, smooth as E & J, hard as Bacardi
Smackin those yaddy-yackin ducks that keep quackin
Heads that are cacklin, end up cracklin
under the heat, the pressure from the one that's deffer
Egyptian ruler, call me Cleo or Nefertiti, yes indeedi
Got the eyes that are beedie, body from Tahiti
Voice of the wind, lyrics blow
Chills up ya spine, dicin slow
All thoughts in your mind drop 'em, yo
You came in the front, but you'll be kicked through the back door
for tryin to step, tryin to come incorrect
Tryin to play the left, tryin to start a mess
Tryin to cause fuss, tryin to raise a ruckus, huh
You'll end up ashes to ashes, dust to dust
A busta, you musta been buggin on drugs and alcohol
Back off, all a y'all, up against the wall
Spread 'em, Dogg, go get 'em
Handcuff 'em and stuff 'em, cold shut 'em, don't let 'em
utter a word, not your mother or herb
If you try you die, visions blurred, speech slurred
Served! With a cherry on top
Rage in effect I just begun to rock"
There are a lot of classics to be found on this part of the set; in fact it's arguable that this disc could have been sold seperately and been a fine album. 2Pac's "Pain" from the "Above the Rim" soundtrack, Daz's "O.G." featuring Nate Dogg and Snoop, the unapologetically raunchy "Ain't No Fun (If the Homies Can't Have None)" and the somber "Murder Was the Case (Remix)" are just a few of the many gems to be found here. After nearly blowing the whole deal right out the gate, "15 Years on Death Row" redeems itself with this portion of the three disc set. There's still more material to go though, and the third part of this epic saga is actually the best value to be found in the whole compilation - a DVD featuring TWENTY-FOUR classic Death Row music videos. Throw this disc in the DVD player of your choice, be it a standalone unit or a PC, and you're presented with a simple menu that has two options: "select video" and "play all." While you ponder this intensely difficult choice, the lilting instrumental of "Nuttin But a 'G' Thang" plays in the background. Many of the choices here are better "exclusives" than the tracks Knight failed to deliver on the first disc. This writer can't honestly recall ever having seen a music video for the "Afro Puffs (Remix)" before, or the "Californa Love (Remix)" video which is actually part two of the original Thunderdome-esque video, wherein 'Pac describes everything from the original to Dr. Dre as "this crazy dream." You can't go wrong with any of the choices here though - Nate Dogg & Warren G's "Regulate," 2Pac's "How Do U Want It," the haunting "I Ain't Mad at Cha" and the epic mini-movies of "Natural Born Killaz" and "Murder Was the Case."
On the whole despite the unacceptable errors and misleading promises to be found reading the back cover of "15 Years on Death Row," this set actually delivers very good value for the money. During their heyday Death Row were kingpins of gangster rap, having the entire world at their fingertips in the form of the best beats, best MC's, and best music videos with the best directors possible to present it all to the public. It's a little sad when one takes in the whole scope of this set to think how much potential Death Row had to carry this legacy into the 21st Century, yet the harder Suge Knight tried to hold onto his empire the more quickly it crumbled in his hands as one by one artists left the label or met an untimely demise. Death Row has in reality been a dead entity for a while now, struggling in vain to survive off pimping unreleased 2Pac tracks and repackaging nostalgia, but "15 Years on Death Row" seems to at last be putting the epitaph on the tombstone for good. It reads as follows: "Here lies Death Row, the label that shook the world but died far too young at the age of 15 - R.I.P."
Music Vibes: 8 of 10 DVD Vibes: 9 of 10 TOTAL Vibes: 8.5 of 10
Originally posted: January 9, 2007
source: www.RapReviews.com