Snoop Dogg :: Ego Trippin' :: Geffen Records
as reviewed by Steve 'Flash' Juon

"Snoop Dogg nigga, how many times I got ta show ya?"

Hold on Mr. Broadus, I'd like to have "A Word Witchya." If you're going to show us a few things, perhaps you could start by showing us how you do math. The intro to "Ego Trippin'" proclaims this "album number nine" but unless MY math is bad this is your tenth official CD starting with 1993's "Doggystyle." If you count less official releases (such as a quasi-legit Death Row release) and side projects it's WELL more than ten. After a career spanning fifteen years with that many albums and that much success, why would you shortchange yourself? Longevity in rap is rare enough as it is, and being both commercially successful and critically acclaimed throughout a long career even moreso. While you may not be the best at keeping track of how many albums you've done, you sir are certainly among the best at creating chart-topping hits. Bigg Snoop Dogg, show us how you do it with a "Sexual Eruption."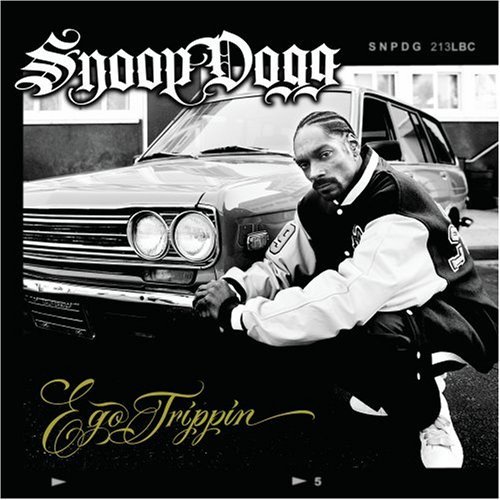 "I was all in the club
Sippin some Henn, smokin on a blunt of 'dro when I peeped this lil' hoe out
I was all in the bar and dripped up
Shawty Redd came on then she hit the floor now
With a see-through dress
Long hair, light brown eyes, lookin like Miss Bo Peep
And a nigga know, if I take her home
With them wide ass hips you damn right, I'm gon' beep
So I ah-pproached the chick with the real pretty face
Big ass booty with a little bitty waist
I whisped in her ear, "Lil' mama, what you drink?"
I know that you a freak, but you know I ain't gon' say shit
See, my game is outrageous
I got her to the crib and exchanged some fuck faces
But it wasn't no use for me to rush to bust one
Cause I wanted her to have an eruption"
If this seems like the typical Snoop Dogg song with him laying mack game down quite flat, you'd be dead wrong - that's the closing verse. Snoop spends almost the entirety of this Shawty Redd produced song CROONING - in fact he's not just crooning, he's using computerized vocal modulation and modification a la T-Pain the whole time he's singing. It seems Snoop Dogg needs to keep "showing us" after all, because just when you think you've got the Dogg figured out, he reinvents himself and busts out a whole new style. It's different, but it's definitely not whack. Thanks to Redd's beat and Snoop's enthusiasm (which helps compensate for otherwise mediocre singing ability) this one is another sure shot Snoop Dogg single.
"Ego Trippin'" does not rest on the laurels of "Sexual Eruption" though. In fact out of 21 tracks there are plenty of songs which could just as easily reintroduced Snoop to the mainstream radio scene. The Teddy Riley produced "SD Is Out" is a lush finger-snapping tune with Charlie Wilson providing the hook. "Neva Have 2 Worry" is laced up by Niggaracci, which if you believe Whackypedia is just the name of Snoop's production company with Terrace Martin, meaning Snoop made this super silky song himself. It's a throwback to quiet storm soul the way it was done when you're young, or if you're under 18 the way it was done when your PARENTS were young. Speaking of old school Raphael Saadiq produces and sings on "Waste of Time" - a song which is anything but. The amount of songs which could hit the charts on "Ego Trippin'" is just ridiculous. "Been Around Tha World" would slide right in, the DJ Quik and Teddy Riley co-produced "Those Gurlz" is a certified banger, even tinkling pianos and lyrical lamentations of the album's closer "Can't Say Goodbye" would be a hit - one with Snoop dropping pearls of wisdom everywhere.
"I guess it's true, you can't take the hood out the homeboy
Plus my hood, just lost another homeboy
Another one got locked, and we don't know
If he comin home boy
The industry tell me just leave it alone boy
Let them do them, take care of your own boy
But I sit back, think about, before I was grown boy
And had dreams of bein a doughboy
Yeah I was runnin from the po'-po', bangin for the turf
Late night huntin, puttin in work
Hood day comin, airbrushed shirt
Payday at the spot got my hair cut first
Made moms sick when I wouldn't go to church
Yeah I live in the burbs but I think 21st
I know since I left that it's gotten much worse
But I'd still be there if I couldn't write a verse"
Those who dismiss Snoop as being strictly a hitmaker, a caricature of West coast thuggery or even a rapper in and out of more courts than Kobe Bryant need to recognize Snoop for the craftsman that he is. Snoop comes just as correct with crossover hits as street anthems. "Life of Da Party" featuring Mistah F.A.B. and Too $hort or the Rick Rock produced Dirty South stylee "Staxxx in My Jeans" will keep Snoop's most G'd up fans from thinking he's gone soft. Snoop isn't afraid to experiment though, even dedicating a duet with Everlast called "My Medicine" to "my main man Johnny Cash." He even gets Teddy Riley to give him a straight up Michael Jackson style track to sing over on "Cool." When you hear this song you'll immediately think "Thriller" for all of the right reasons.
Rare is the artist who can write for multiple audiences and please nearly all of them. Somehow Snoop Dogg does it time after time, album after album, with a consistency that could almost be considered boring. There's nothing boring about the tracks on "Ego Trippin'" though, from the hard hitting Neptunes produced "Sets Up" to the soft-spoken Polow Da Don produced "Why Did You Leave Me." Snoop doesn't just write the appropriate rhyme for the track, he changes up his vocal inflection and delivery to match the musical mood. No matter how much you might want to hate on his past successes, the man with the lackadaisical drawl and mountain of legal problems is exactly where he deserves to be right now - "Ego Trippin'" on top of the world. Snoop D-oh-double-G, whether it's nine albums or ten, you've definitely earned this nine out of ten.
Music Vibes: 9 of 10 Lyric Vibes: 9 of 10 TOTAL Vibes: 9 of 10
Originally posted: March 11, 2008
source: www.RapReviews.com