New Boyz :: Skinny Jeanz and a Mic
:: Shelly/Asylum/Warner Bros. Records
as reviewed by Steve 'Flash' Juon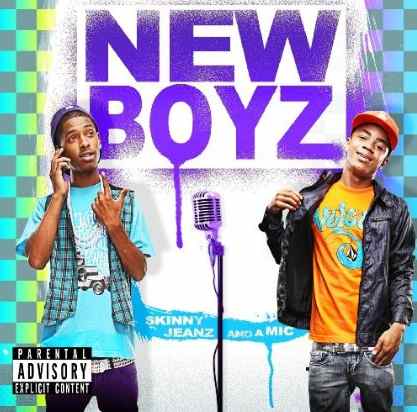 "You're a Jerk" is one of those rap songs that intentionally or otherwise separates the hip-hop generations. If you've been listening to hip-hop for over 15 years or you're over the age of 35, it's hard to get down with the concept or the obnoxious "wah, wah, wah wah wah" chorus, let alone the words "YOU'RE A JERK" being looped, edited and repeated hundreds of times. If you've only been down with rap for a couple of years or you're under the age of 18, the simple beat and seemingly lackluster lyrical delivery on "You're a Jerk" fits perfectly into the context of what you know about hip-hop. New Boyz can stand shoulder to shoulder with Soulja Boy, GS Boyz and Shawty Lo as rappers with virtually nothing to say who despite all odds against it have enough swagger, production or marketing (and I suspect marketing) to blow up huge on radio and at retail.
Putting aside criticism for a second, it's fairly obvious to readers of this review or repeat visitors of this website which of those two generations I fall into. I'm far from a New Boy, and I've got a lot more in common with Ice-T than Soulja Boy, but of late I've become increasingly aware of the age gap becoming a mental trap in writing reviews. There's no question that I can't think, dress or act like I did when I was 18, but it's also odd to consider that what was relevant to me at that age is now considered "old school" by a whole new generation. Therein lies the trap, which can best be summarized by the fact KRS-One said these words 20 years ago:
"You know what you need to learn?
Old school artists don't always burn
You're just another rapper who's had his turn
Now it's my turn"
In his day, KRS was trying to shove artists from the late 70's and early 80's out of the way so he could get his own time in the spotlight. As rude and disrespectful as Soulja Boy might seem to me when talking about Ice-T, he too is looking to shove an older generation of artists aside by saying GET OUT THE WAY OLD MAN IT'S MY TIME NOW. In truth neither one needed to bother. KRS-One was already way more popular and successful than his predecessors by the time he made that statement on "I'm Still #1," and Soulja Boy has nothing to fear from a rapper who peaked musically over a decade earlier and has since moved on to a successful acting career. So why did they do it? Perhaps it's just imperative when you're young to "be a jerk" as a means of carving out your artistic niche. You've got the new sound and style, those old farts living in daydreams of their glory years just don't get it, so you've got to be obnoxious and put it in their face to make them understand you. It's a wake up call to cultural relevance - you're either down with us or you're not.
I'm going to do my best on "Skinny Jeanz and a Mic" to avoid that mental trap and not get locked into "with us or against us" mode. These New Boyz are half my age (or less) but good for them. They've got their whole lives ahead to grow, not just in size or waistline, but in artistic maturity. KRS-One once tried to shove peers like Afrika Bambaataa and Melle Mel aside, and now he writes and raps about the history and culture of hip-hop art and music needs to be studied and respected. In time any of the boys today, from Soulja Boy to the New Boyz, may gain that wisdom and perspective. In the meantime let them be young and dumb and have some fun like we did back then. I'm not convinced that "You're a Jerk" is a brilliant track, but the more times I've listened to it the more I see it their way. The simplicity of Legacy's beat works in the song's favor, as he slowly builds up the drum track until a simple melody comes in at the 40 second mark, then continues to layer up sound effects and extra percussion until the whole thing peaks right at the chorus - then goes back to basics and starts to build up again in the second verse. I can respect it. The lyrics are a little better than I first suspected too:
"Everything quiet and the bass real hard
And I stay geeked up never been a retard
Got a New Boy swag and this here for y'all
So they gotta keep it separate like the Jim Crow laws
I'm a beast, I'm a kang, and I guess I'm a jerk
And I go through big problems cause your boy here a flirt
Man you call me a bother wit'cha lil' jerk lines
Then you say you brought it up, but the jerk is mine
You squeezin, I'm squeezin, but your style is whack
Why you comin to the front? You can push that back
Got your girl on the side, she tossin a lil' stuff
while she textin on the phone Ben J. hit it rough
So I did it was good and I quickly got dressed
She was like where you goin? There's another girl naked
She screamed out loud Ben J. "You're a jerk!"
And I had nothin to say but sorry that it hurts"
There's nothing profound here, but even reading it on paper you can see some actual thought was put into the verse - a consistent rhyme scheme, some punchlines and a story being told the listener can actually follow along with. Are Ben J and Legacy insensitive? Well that's exactly what they're portraying on songs like "Tie Me Down" featuring Ray J, but one can become convinced over time it's either a carefully plotted gimmick to be appealing (after all women often seem to like jerks) or the natural swagger of youth taking over and making them a little bit arrogant.
"Ayyy, know we been together for a minute
But uh, its kinda been forever since we been in
the kinda situation not involvin other women
And it's pretty obvious that your kinda trippin
Like "Who the hell is this bitch?
Lookin a hot mess, what you fell for this chick?
You know we got problems and you failed to fix it"
I'm like "You need to go somewhere else with this shit"
Because, I ain't gon' put up wit'chu
Talkin 'bout how she make you uncomfortable
Like I mean, shit I'm only 17
And um a perfect couple is only in a dream
And right now I'm pretty much away for this
Relationships? I think you should wait for it
I mean later we could try things out
But not right now"
The production on "Skinny Jeanz and a Mic" is largely effective and more varied than one might expect from their hits to date. Danny Boi's work on "New Girl" is smooth enough to put it out as a single, and D&D's crooning is the right extra touch to put it over the top. DJ Felli Fel's work on "One Night" proves Auto-Tune can in fact be done without being OVER done, and the tempo is perfect to dance to. Legacy himself is the core of the group's sound though, and his focus on percussion on songs like "Way 2 Many Chickz" and "Bunz" gives these New Boyz a surprisingly old school feel. Unfortunately the latter song also displays the downside of NB - the lack of variety in their topic matter.
"Ben J, oh yep that's me
And I'm lookin for a girl with a dub ID
And a girl who can drink that's mixed with freak
Now it's time to go to war with a mixed booty
I can see this girl want mo'
Now she dealin with her man, nope man didn't go
Got a old school swagh with a new Kangol
And her buns nice display on a black Range Rove'
Checkin those buns this girl got back
and I think she got back cause her momma got back
And her sister got back, and her granny got back
But her auntie got none but they all got buns"
Almost every song on "Skinny Jeanz and a Mic" is about how fresh the New Boyz are, how much sex they have (or want to), and how cool they are. I don't even dispute any of it factually - it's certainly an advantage of youth to wear what's trendy, have sex promiscuously (I hope they use protection though) and party like a rock star. In truth they actually talk about drinking and doing drugs less than most artists their age or TWICE their age, so I have a feeling these New Boyz might actually live to be old boys if they avoid too much drama. And really, when "You're a Jerk" and your only concern is how much poontang you can get, there's not much drama to be had. So for once, as one of those old school guys who can't pull off being young and hip, I can at least say I respect the swagger and SOME of the musical offerings of these New Boyz. In the end the repetitive topic matter becomes tiresome and Legacy still needs to add a few more tools to his production arsenal, but I can see why kids their age will like these songs and even the open-minded 30-something set will have to admit they were having as much fun as the New Boyz did at their age - so don't hate. In three years time if they haven't gotten any better though, the gloves come off. You've been cut a break New Boyz, so enjoy yourself while you can, then get back to work. Better beats and rhymes next time are a must if you still want to be number one.
Music Vibes: 6 of 10 Lyric Vibes: 6 of 10 TOTAL Vibes: 6 of 10
Originally posted: September 22, 2009
source: www.RapReviews.com