Eulorhythmics :: Green St. & Avers
:: All Natural Inc.
as reviewed by Pete T.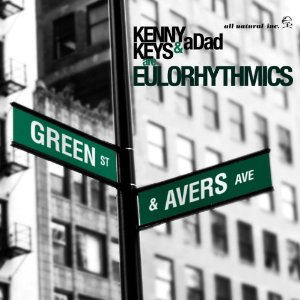 I first got into Eulorhythmics a few years back when a friend steered me toward their excellent 2006 release "Extended Play," a wonderfully smooth, soulful album with lush warm-weather production from producer Kenny Keys and thoughtful, appealing rhymes from rapper Adad, who painted vivid portraits of life in their native Chicago in a vocal style drawing comparisons to Mos Def, J-Live, and Slimkid Tre. As eager as I was to hear more from the duo, it proved difficult finding more information about them besides that they were down with the veteran All Natural crew, and the only other release I could track down was an expensive import from 2005 called "Sociology." 2010's "Green St. & Avers" marks the return of Adad and Keys on a 12-track LP.
Upon first listen I was struck by the fact that "Green St. & Avers" is both a musical and lyrical departure from "Extended Play." Kenny Keys' beats are more jazzy than soulful, often favoring descending organs and sparse percussion rather than the smooth bass and head-nodding grooves of the predecessor. The production strays a little toward the experimental at times, such as on the space-age instrumental track "Doos," which features an impressive keyboard solo. Adad also displays progression, sporting a more upbeat and energetic delivery and diverting his subject matter from the heady lyricism of "Extended Play" to more approachable rhymes about women and family, such as on "Shinin'" and the single "Hot 'n Nasty." They assume a particular poignancy as many of his verses chronicle relationships in the second person. Still, there's an unavoidable level of tastefulness about the duo's music that even a fresh sound can't shake, which is definitely one of their greatest strengths. Some of the tracks have a live, spontaneous feel, and Keys finishes each with a clean polish about his organic drum patterns. Others have a distant, abstract vibe to complement the upbeat tempo that reminds me of the Pharcyde's "Labcabincalifornia"—the xylophone-laden "Leavin'" and the title track especially sound like leftovers from that album, with the sly hooks-by-committee, chatty bullhorned verses, tales of female escapades, and spacey instrumentation. The highlight is "Real Life," where Adad raps staccato about day-to-day struggles of family living:
"What about the years in the trenches, the yards and the inches
The bruises and stitches, mister and missus
Same old shit as the days get distant
The pain gets closer, your aura gets blistered
The smiles die out, the couch can't fix it
No more kisses, your dick blacklisted
Separate attorneys, alimony digits
Brand new sentence, weekend visits
Heartbroke feelin', brand new bitches
Turtles in the oil field, still ain't healin'
Killin' you to death and the burns stay brimmin'
And you try to tell yourself even love got a limit
But it never run away and it never get timid
Now you ponder every day and there's venom in your vision
Just to see another man raisin' up your woman
Pushin' you into the past where you used to do your livin'"
If "Green St. & Avers" doesn't quite meet the high bar set by "Extended Play," it's still a worthy follow-up because it displays progression and an updated vision from the duo as they attempt a more experimental sound. It's definitely a little left of center, but Eulorhythmics have a special sound that will appeal to fans of the tasteful music of All Natural, Mos Def, Talib Kweli, the Roots, the Pharcyde, and J-Live.
Music Vibes: 7.5 of 10 Lyric Vibes: 6.5 of 10 TOTAL Vibes: 7 of 10
Originally posted: May 4, 2010
source: www.RapReviews.com