Tone Trezure :: My Destiny EP :: Bandcamp.com
as reviewed by Steve 'Flash' Juon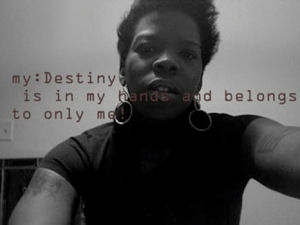 Up until now Tone Trezure has been the artist you might hear in a cameo on someone else's shit and wonder if she's ever strike out on her own - Dynas, Strange Fruit Project
and so on. The wait is over as Tone sent out the word via Twitter that her solo EP was available to the masses via the increasingly popular Bandcamp distribution network. Let's see what this fly girl has to offer.
Tone Trezure stands both inside and outside of hip-hop, perfectly willing to be the square peg in the round hole or vice versa. She's not a rapper, she's not a singer, she's BOTH and you'll like it that way. One might immediately leap to Lauryn Hill for a comparison, but that would be unfair to both. Tone has a deeper voice than L-Boogie, ranging from T-Boz to Mary J. Blige in her delivery, capable of hitting a higher octave when needed but comfortable at lower ranges. She kicks it up a notch when singing her hooks on songs like the title track of "My Destiny," but the rap lyrics betray her naturally husky tone. As for her rap delivery, it falls somewhere between Bahamadia vocally and Jean Grae lyrically - not quite as dope as either one but certainly not an insult to either by comparison.
"I'm know I'm not good at birthdays
And holidays is always the worst days
Miller High Life be the highlight
I flip one then I toss it to the back
I was rich once, but then I blew it on a stack
Didn't realize I needed that
See momma always told me don't buy the first thing you see
Shop around and watch for the streets
But fabrication raised a bull-headed kid
Prevailed to rebel cuz I didn't want the biz
Couldn't handle the pressure of being under the stether
and my last name made it even wetter (yup)
But then my lifestyle wasn't with the profile
My enemies were friends that's so foul
To put an end to my career, oh WOW
The Sammy Sosa of the year slash soul-child
I remember singing in that choir stand with a mic in my hand
like man Kev, can I get a chance? (Can I get a chance?)
But every child has a dance you understand
Every child has to grow into a wo-man"
Tone's definitely on a personal narrative vibe on her EP - there's no fictitious exaggeration for effect. This is her life and her feelings, laid out bare on the tracks for the consumers. One would have to guess that whoever she's referring to on "You Mean" is a pretty lucky man when she croons "I just wanna get next to you/it's so plain to see/that you mean the world to me." She's also a b-girl about town who just wants to get down and have a good time, blowing over the minimalistic sounds of "Ready to Go":
"Hair is done let me lace my boots
Listen to Black Thought from the Roots
Burn the chimney off the roof
I got that fire... oh
Now I'm mellow, feelings won't show
Oh my soul is beating patience
I'm tired of waiting...
I'm ready to goooo nowwwww"
Yes, there's a subtle reference to herbal relaxation woven into the lines, but I doubt any hip-hop heads are going to mind. As with most EP releases there's enough here to get the flavor of the artist, but you're left with the impression a full length CD could either be much more or hugely disappointing. It's fair to say I'd like to see more of Tone's rapping side though, as singers are a dime a dozen but self-assured female MC's with a good rap who don't take no shit are hard to come by. Hopefully she's open to rocking the mic even more on her next release.
Music Vibes: 6.5 of 10 Lyric Vibes: 6 of 10 TOTAL Vibes: 6.5 of 10
Originally posted: May 25, 2010
source: www.RapReviews.com