Metaform :: The Electric Mist
:: Just Records
as reviewed by Pete T.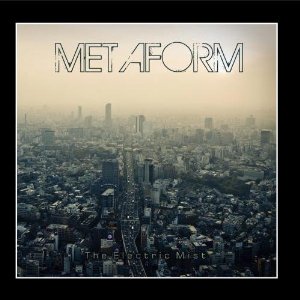 Metaform's resume is pretty unique—the Los Angeles-born, Tokyo-based "one-man music machine" came up as a sound engineer working the Bay Area, crossing paths with E-40 and Tone Capone, eventually working independently with DJ Jazzy Jeff, Hieroglyphics, Scarface, and the Pharcyde. As a solo artist, he's released multiple instrumental and remix projects over the past few years, and 2010's "The Electric Mist" is a fourteen track, 41-minute audio journey into the realm of Justice Aaron.
Even among the ever-broadening hip hop spectrum, "The Electric Mist" doesn't fit neatly into any identifiable genre; various literature labels it "trip hop," "glitch hop," "electronica," and "instrumental hip hop." Being essentially unfamiliar with all of the above, Metaform's beats impressed me as creative, expansive soundscapes. I found the whimsical drum patterns appealing and the dense arrangements enveloping, and the music itself is rich, crisp, and best enjoyed on a quality pair of speakers or headphones. Metaform achieves great expressive potential, such as on the undeniably eerie "OCD" with its pulsating keyboards and frenetic percussion and the short closer "TheMachineApproaches," which despite a lack of percussion sounds tailor-made for a science fiction flick. While some tracks such as "PopTheTrunk" were too repetitive for my liking, most are at least interesting, and he evokes vivid moods such as on "ItsGottaBe" and the distant "DoorNumberOne," which sounds like a K-Murdock production.
About half of the tracks on "The Electric Mist" are instrumentals, and those outfitted with vocals don't have much rapping. Most of the vocals are heavily autotuned meanderings into the abstract—imagine Jason Derulo's "Whatcha Say" times ten. While I acknowledge this sound has a market—the prevalence of autotune in today's Top 40 has to be more than a coincidence—the robotic singing did not appeal to me, nor did the sappy, self-pitying lyrics that often border on emo. "RevengeOfANerd," which uses the same Art of Noise sample as Krayzie Bone's "Murda Mo," legitimately could be substituted for any of the weaker tracks on Kanye West's "808s & Heartbreak" and few listeners would know the difference. Despite a strong percussion arrangement, the shrieky hook of "Candy" borders on intolerable, and the silly lyrical wanderings of "Strange Girl" detract from a really cool beat. The only actual rapping to be found comes courtesy of the sole guest Azeem on the so-so "Premonition."
"The Electric Mist" is an abstract listen that explores different approaches to varying success. To my uninitiated ears, many of the songs were enjoyable and succeeded in making me want to explore other similar artists. Even more of the songs would have been enjoyable if they were left be as instrumentals and not been tarnished by the goofy vocals. While I definitely see talent in Metaform, overall I completely agree with my colleague Pedro 'DJ Complejo' Hernandez and defer to his review of Metaform's 2007 EP, and I quote: "I suggest Metaform enlists some talented rappers next time he decides to release an album so it will provide music that is completely enjoyable. If that happens, I'd readily put my stamp of approval on a Metaform produced compilation."
Music Vibes: 6.5 of 10 Lyric Vibes: 2 of 10 TOTAL Vibes: 5 of 10 (adjusted for lack of vocals on half of the tracks)
Originally posted: July 13, 2010
source: www.RapReviews.com