various artists :: Reggae Gold 2010
:: VP Records
as reviewed by Patrick Taylor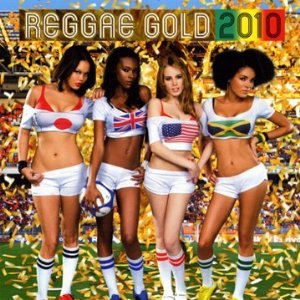 This compilation offers up 18 of some of the bigger reggae hits of the past year, providing an overview of the contemporary reggae scene. I listen to a lot of old reggae, but I'm not as familiar with the current scene, so this compilation was an education for me. I was struck by the influence of contemporary R&B on reggae. Many of the singers' voices are robotically tweaked with Auto-Tune, and the some of the sounds and production techniques are borrowed from American urban music, albeit with a skanking twist. It makes sense, because early reggae was heavily also influenced by American R&B (the sweet falsetto of many reggae singers is partially a result of the success of Curtis Mayfield's group the Impressions in sixties Jamaica). The influence of R&B is most obvious on this compilation on Etana's "Happy Heart," Gyptian's "Hold You," and Busy Signal's "Sweet Love," a remake/reinterpolation of the Commodores' "Night Shift."
Busy Signal represents the barking style of dancehall, which influenced hip hop and subsequently borrowed from it. Dancehall started with deejays talking over records in the sixties, before progressing to deejays sing/rapping over existing riddims in the seventies, and finally exploding into the electronic ragga sound of the 80s and 90s. Other dancehall tracks included Ding Dong's "holiday," which follows the hip hop format of rapped verses and a sung hook, Vybe Kartel's "Clarks," about the shoes, and Movado's "House Cleaning."  Americans are probably most familiar with dancehall artists Shaggy and Sean Paul, both of whom are featured on this comp. Shaggy's "Never Let Me Go" contrasts a reggae beat and Shaggy's Jamaican accent with dramatic synths and Tessanne Chin's singing. Sean Paul's offering is more toned down, a reggae ballad called "Hold My Hand."
Shaggy and Sean Paul aren't the only artists who will be familiar to hip hop fans. Nas and Damien Marley are represented here with "As We Enter." The song, which rides a sample of Yegelle Tezeta's "My Own Memory," perfectly melds hip hop and reggae, with Nas and Damien trading rhymes. Michael Franti and Spearhead's "Say Hey (I Love You)" is a nice stab of reggae-fied hippy hip hop. By far my favorite track was Major Lazer's "Hold The Line." It's like a shot of adrenaline to the veins, about as close to hard drugs as I like to get.
Beyond the dancehall and hip hop, there are a also a fair amount of traditional reggae songs on the comp. Romain Virgo's "Live Mi Life" is a prime example of what reggae can offer in 2010. Romain has a gorgeous voice, and is equally capable singing love ballads and songs about sufferahs. If you like "Live Mi Life," you should pick up his self-titled debut. Tarrus Riley kills the soulful "Love's Contaigous," and old-timer Beres Hammond shows the young singers how it is done on "No Apology."
The compilation comes with a 30-minute mix by ZJ Chrome, in case you feel like the songs would be better in 50 second bursts with lots of DJ shoutouts. Like all compilations, this is an uneven listening experience, and not all the songs are winners. While it didin't convince me to abandon my 70s reggae albums, "Reggae Gold 2010" is useful as a document of what's going on in reggae today. It has enough hits to please casual fans, and offers a solid foundation for digging deeper into the genre.
Music Vibes: 7 of 10 Lyric Vibes: 7 of 10 TOTAL Vibes: 7 of 10
Originally posted: August 3, 2010
source: www.RapReviews.com