Mr. D.O.G. :: Streets of Tha Tac
:: Bow Wow Records
as reviewed by Steve 'Flash' Juon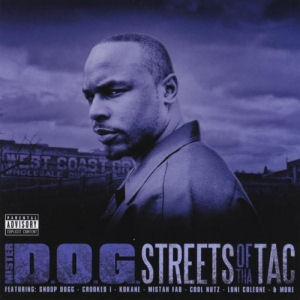 Asking yourself what "Tha Tac" is right now? Well we're not doing our job at RapReviews.com if we don't answer questions like that so for our readers dying to know it's TACOMA, WASHINGTON. If you didn't know they got it in as hard and as gangster as Mr. D.O.G. seems to on "Streets of Tha Tac," it's worth noting that his fledgling Bow Wow Records label (no relation to Shad Gregory Moss) nearly got derailed when D.O.G. did a three year bid in federal detainment. In all likelihood Tacoma is long overdue for this kind of exposure, having to play second fiddle to its more famous sister Seattle, known to some for grunge music but to RR readers as home to everyone from Common Market to Sir Mix-A-Lot. Now is the time for Tacoma's hip-hop scene to step out of Seattle's shadow and Mr. D.O.G. is fin' to be the man to do it with songs like "She's 100."
"Never a hoe, she too classy for that
Plays the stock market, now how you like that?
She baller politics, and voted for Obama
Said 'Never the Sarah Palin, that broad is all drama!'
She 100, she such a rare breed
Shorty got game online in high-speed
If I'm O.J., then she's A.C.
She's 100 the only chick that I need"
It's surprising how well connected Mr. D.O.G. is considering this album is my introduction to his label, sound and style. California heavyweighters Snoop Dogg, Crooked I and Kokane ALL show up on one song, the G-Funk style Piranhas produced "Fucc w/ Cuzz," where Crook brags "If I was in Munich I would have stuck Hitler up." Tac-Town meets Sac-Town on "Y'all Don't Know" as D.O.G. throws a bone to Luni Coleone. Seattle's Skuntdunanna combines and collides with Crooked I and D.O.G. on the bouncy "Say Dat Then." From the lesser known names like Hav Not and Matt Blaque on "Bieeaaatch" and "Holla @ Ya Guy" respectively to huge hyphy hip-hop stars like Mistah F.A.B. on the "She's 100 Remix" it seems like every part of the West AND D.O.G.'s local Pacific Northwest scene is firmly represented - only the East coast gets shut out.
It's worth making a point about the West coast at this point too in terms of Mr. D.O.G.'s sound. It's fair to say that Seattle has never been known for a singular signature hip-hop sound the way D.C. has been for go-go, Long Beach has been for G-Funk, Houston has for screw & chop, so on and so forth. As an aspiring artist coming from Sea-Tac that's advantageous given you could create about any sound or style and be able to fairly claim it as indigenous to your turf, but for whatever reason D.O.G. has leaned heavily on California in particular in crafting his musical and lyrical style. It's not as though "Criptastic" is a bad song - in fact Piranhas does a fine job of imitating the kind of bass heavy slick melody funk you'd expect W.C. or Snoop to be flowing to (and not surprisingly they're all scratched into the hook) - it just seems that D.O.G.'s own identity let alone Tacoma's hip-hop one is being subsumed by California love. Even on the tracks where D.O.G. stands totally on his own lyrically like "Aquaman 3" he ends up rapping to a barely disguised instrumental of "Boyz N the Hood."
The bottom line on "Streets of Tha Tac" is simple - I find Mr. D.O.G. to be a not unpleasant hip-hop artist. He's a little higher pitched and more dusted vocally than I would have expected, but he's not quite to Eazy-E levels despite rapping over one of his most famous tracks. The problem as such is that D.O.G. is ostensibly repping Tacoma to the fullest yet I feel like I just got back from a vacation in Cali sitting two rows down on the plane from LL and Biggie, and we dropped D.O.G. off at the Sea-Tac airport before turning East. What are the streets of Tacoma? If they have a signature sound it doesn't surface on this CD, and if they have a signature style then it's being shoved out of the way by crip-hop. I want to hear more of D.O.G. but more importantly I want to hear more of what really represents what's undoubtedly an excellent hip-hop scene.
Music Vibes: 6 of 10 Lyric Vibes: 6 of 10 TOTAL Vibes: 6 of 10
Originally posted: September 28, 2010
source: www.RapReviews.com