Ana Tijoux :: 1977
:: Nacional Records
as reviewed by Patrick Taylor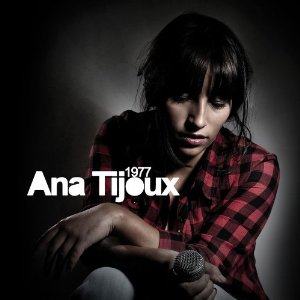 This is the second solo album by French-Chilean rapper Ana Tijoux. She has been rapping since the late nineties, first as part of the group Makiza, and then on her own. She is on the same label as Manu Chao and the Nortec Collective, and shares their global Latin sound. In fact, I kept being reminded of Manu Chao's "Clandestino" as I was listening to "1977." Both albums mix latin sounds with hip hop and European folk music, creating a sound that is both unique and familiar.
The title track starts off with an orchestral flourish, before going into a beat that mixes spoken-word samples, strings, and acoustic guitar. It's a very musical beat, referencing East Coast backpack rap but with a south of the border flair. Tijoux's rapping is smooth and melodic, peeling off verses with grace and ease. Non-English rap can be tricky, but Tijoux makes it sound natural.
Rapping isn't her only talent: she produced the title track, and co-produced most of the album, collaborating with DJ Tee, DJ Spacio, Como Asesinar, and Hordatoj, who handles 8 of the 15 tracks. The production throughout the album mixes hip hop with global influences, the end result of which is not unlike the production work on Mos Def's last album. Hardcore hip hop heads might be put off by the mix of sounds on the disc: there aren't any real club bangers here, and it lacks the hard edge of street rap. I found "1977" to be a welcome departure from U.S. hip hop, an international take on an American art form. Tijoux seems more willing to experiment than an American producer would be, mixing together sounds and ideas that might not fly in the States.
It's a testament to her skills that I enjoyed this album despite the fact that I couldn't understand what she was saying. She raps in Spanish and French, and I don't speak either. That should be a dealbreaker in a genre where the lyrics ARE the song. However, even though I couldn't understand what exactly she was saying, I understood what she was trying to say. You get the sense of her introspection, self-reflection, and self-doubt in the way she raps and in the song titles. She's rapping about getting older, the crisis of an MC, avarice, and humanity. The only thing I understood on the album was Detroit rapper Invincible's verses on "Sube." I liked Invincible's debut, and it was nice to hear her backing up another female MC. Both Tijoux and Invincible share a common perspective and take on hip hop, even if they don't share a common language.
There are several strong tracks on "1977": "Obstaculo," with it's deliberate beat and ghostly horn samples; "Pie Izquierdo" with it's deconstructed piano beat; "Humanidad" with it's haunting synths and spoken word feel; and "La Nueva Condena" with it's hard hitting beat. I was disappointed by how mellow and R&B influenced the second half of the disc is. There were several slow and reflective songs here, and they kill the momentum of the disc. I'm not a fan of R&B-influenced hip hop, even when it's done in French. I'm sure it sounds great in the background of a trendy bar or boutique, but I wasn't feeling it.
Despite the over-abundance of slow songs, and the whole language barrier thing, I'm still a fan of "1977." Maybe it just reminds me of the years I spend studying in Italy, but there is a cosmopolitan, global feel to this disc that is refreshing after the very regional sounds of American hip hop. I don't know that I am excited enough about this to go out and buy Ana Tijoux's entire back catalogue, but I am going to try to make converts stateside. The next time someone tells me that they are bored with contemporary hip hop, I'll tell them to listen to "1977."
Music Vibes: 7.5 of 10 Lyric Vibes: 7.5 of 10 TOTAL Vibes: 7.5 of 10
Originally posted: September 7, 2010
source: www.RapReviews.com