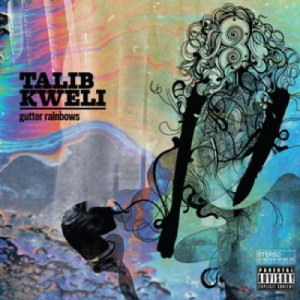 Talib Kweli :: Gutter Rainbows

Blacksmith/Javotti Media
Author: Steve 'Flash' Juon




"Gutter Rainbows" is not the first time Talib Kweli has experimented with an unconventional means of releasing his music. In 2005 he bootlegged his own album. In 2007 he released a FREE album with Madlib called "Liberation" online, although the download vanished from the Stones Throw website a week later. Kweli is both unpredictable and mercurial when it comes to proliferating his works, signs of both his artistic temperament and eccentric genius - focus on the word "genius" though. His name is a source of unending debate among hip-hop fans who can't agree on how much of a genius he is. Some boldly state he is the best rap lyricist in history, while others retort that if he's so damn good he ought to try fitting all his words into one line for a change. Even his admirers will agree that a Kweli rap song is often like the Deepwater Horizon oil spill - the flow goes everywhere. It's not a cement cap that stops Kweli though - it's a lack of support by the music industry for anything not guaranteed to gold or platinum on shipping alone.

It should come as no surprise then that "Gutter Rainbows" was conceived of as a digital-only release, although rumors of a physical CD persist. For now you can get this album from Amazon
and other similar outlets. The 15 track version reviewed here starts with an 88-Keys produced intro that leads right into the M-Phazes produced title track, with Kweli flexing strong lyrical muscle over rolling drums and a wall of sound that surrounds the loquacious one without ever drowning him out:
"You say you blast a fo'-fo' (nah) you don't shoot
It's more like you shot me an e-mail but forgot to attach the vocals
Call him a bastard like the dad a no-show
I'm as fast as slowpokes runnin on the track to Yohji Yamamoto
This ain't fashion rap - I'm bringin the passion back
Find me where the trouble at that's my natural habitat
(Let's go!) I take it with me in the booth
To the living we owe respect; to the dead we only owe the truth
So if somebody feelin disrespected even when his face is smilin
his heartrate escalates the violence
Lookin for trouble, jugglin drugs, usin abusin
+Beautiful Strugglin+ instead when you could be bubblin"
Guest appearances on "Gutter Rainbows" are purposefully kept to a minimum, but the few that occur will no doubt be well received by his target audience. While declaring himself a Midnight Marauder and knocking so-called "goons" in rap music on the Marco Polo produced "Palookas," he brings in a fellow Brooklynite well known for his thuggish rap style - the one and only Sean P. "Sean Price bad nice, accept that/My worst verse sound like your best rap." The contrast compliments each perfectly. Speaking of complimentary, Nigel Hall's crooning on the hook of the S1 laced "Mr. International" is a great match, and Talib's speedy rap fits the up-tempo beat like a glove. Underground mixtape sensation Outasight trades track time with Talib on the soulful (and equally speedy) "Ain't Waiting," but the best guest of them all has to be Jean Grae. On the stomping Oh No backdrop of "Uh Oh," she and the musical maestro build up the intensity until she swaggers on bars like a pro wrestler who just won the world title:
"Psychopath, ride a tricycle in a biker's club
Mike Tyson face tatted addict, like it tough
Hey scatterbrain, don't get your grey matter punched up
'til you hunched, talk-talkin like you punch drunk
One love - two maybe if I'm drunk enough
Naked watchin three, painted ladies do the bump and grub
Mean muggin Jean - the Hebs call meshugenah
Bookin her in the Catskills like 'Look at her rap skills!'"
Good guests are great news but the greater reward is to be found in Talib's turns as the microphone soloist. The ebonies and ivories are tickled pink to share bars with Kweli on the Ski Beatz produced "Cold Rain," the kind of song that has a long shelf life because it keeps falling on your head like a memory hours after listening:
"This is for the daytrippers and the hipsters, whores and the fashionistas
Spiritual leaders practicin all the laws of attraction
and teachers who readin passages from the Bhagavad Gita
We bustin off Dalai Lamas or flashin heaters; the last of the boosters
with the shootin, the thuggin and all the goonin and spoonin
and all the croonin and coonin and auto-tunin alive
You be tellin to peddle it to consumers I'm helpin them see through it
Get with this new movement, let's move it!"
Talib Kweli keeps the level of discourse high throughout "Gutter Rainbows," and it should come as a surprise that some references he makes will go right over your head (props if you knew who knew Yohji Yamamoto was or what the Bhagavad Gita is). The fact he's willing to release this album without a physical CD though is a reflection of the lyricism he displays - this is totally uncompromising music. Thankfully when you've got the likes of Shuko, 6th Sense, Khrysis and Blaq Toven providing production it doesn't have to be unlistenable even if it's challenging. The music on "Gutter Rainbows" can carry you through even when you lose your place in Talib's verbal onslaught, and the nice thing about that is it's more enjoyable to go back and listen a second time to figure out what the fuck he said. Perhaps this is the new direction for Talib Kweli in the 2010's - abandoning any pretenses of being a mainstream rap star like Jay-Z and concentrating solely on the hip-hop music he feels is worthwhile. This may shrink his audience but if the commensurate trade-off is increased quality then it's hard to argue that he didn't make the right choice.
Music Vibes: 8.5 of 10 Lyric Vibes: 8.5 of 10 TOTAL Vibes: 8.5 of 10
Originally posted: February 1, 2011
source: www.RapReviews.com