Tef Poe :: Money Never Sleeps :: Footklan Music Group/Dat Piff
as reviewed by Mike Baber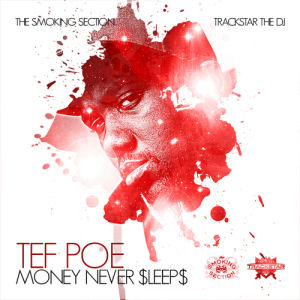 "Money Never Sleeps" is one of those albums that sound great from a distance. Full of bumping instrumentals that feature chopped soul samples and plenty of strings and horns, the mixtape has a very upbeat feel to it, and it is easy to get lost nodding along to the head-bobbing rhythms. Tef Poe, a St. Louis emcee who often refers to himself as "Poe-bama," has a steady flow that meshes well with many of the tracks, and after a quick listen through he seems to have a lot of potential. A more in depth analysis, though, yields different results, as Tef Poe is often lacking when it comes to creativity. For a 20 song mixtape, he simply doesn't have enough to rap about to keep things sounding fresh throughout, and he doesn't change up his flow enough to account for this shortcoming. There are definitely a handful of songs that stand out, as Tef Poe shows flashes of wizardry on the mic, but overall the subject matter doesn't venture much outside his love for money, sexual exploits, and overall superiority in the rap game.
I'll be the first to admit I had high hopes for "Money Never Sleeps" after hearing the opening track, "Glad You Came," which pits Tef Poe's easygoing flow over a soul-heavy beat. The next few songs, though, gave me some doubts. Unlike "The Force," which features a cheap sounding-drum kit that makes for a below average instrumental, "Michael Jordan Mode" and "Show Stealers" are both hard-hitting tracks, the latter incorporating what sounds like a live marching band. Unfortunately, Tef Poe lags when it comes to keeping up lyrically, and he comes off as just another cocky rapper with fairly unoriginal rhymes. He redeems himself with a strong verse on "Bad Guy," along with guest emcee Rockwell Knuckles, but "Monkey Shit" and "Ten Toes" only reaffirm my initial concerns. And while "Champagne Dreams" has a catchy chorus – the famous Biggie line "birthdays was the worst days, now we sippin' champagne when we thirsty" sung by Theresa Payne – and a flowing instrumental that Tef Poe kills, the very next track, "Room Service," is once again a letdown. It seems that, for every quality song, there is another equally poor effort that brings the mixtape right back to mediocrity.
Around halfway through the album, I found myself wanting to hit the "next" button more and more, as Tef Poe's lyrics and flow start to grow repetitive. I was ready to write him off completely after the song "Money Never Sleeps," as I could only take so much of the electronic synths and constant shouting that plague the instrumental, but I was pleasantly surprised to find that Tef Poe saved some of his best work for the back end of the mixtape. "Grind Til I Die" pits a hard-hitting set of drums over soft piano keys, and the track is much better suited to complement his slowed down flow. Theresa Payne delivers another chorus on "Days of My Life," which sees Tef Poe reminisce on his past and look to the future over a smooth, laid-back beat. "Symphony" and "Check Ur Self" both feature chopped soul samples and sweeping strings that create a vibrant and energetic sound, and Tef Poe spins a crime-ridden tale on the latter, rapping:
"They want blood nigga ain't no other option
You gon have to get outta town to try to dodge it
I looked at the phone like we ain't takin' losses
Don't them niggas recognize we be killin' bosses
Burn down a building we don't even need a coffin
He said you my nigga and I truly hear you talkin'
But I'm on my way to Canada drivin' through Millwaukee
Said if you stay in St Louis nigga you finished
We outta power it ain't nothing we can do with it
And at that moment you know my head started spinnin'
Life of a gangster price of the business"
As the final track faded out, I was left with mixed feelings about "Money Never Sleeps." There is certainly a fair amount of filler material, and one has to wonder why Tef Poe didn't trim the mixtape down to 12 or 13 songs. On the other hand, his steady flow and unwavering delivery, combined with soulful and upbeat instrumentals, make for a number of quality tracks. The bottom line, though, is this: "Money Never Sleeps" simply doesn't take much effort to listen to. Sure, it's easy to groove along to the bumping beats laid down by producers such as Tech Supreme, Black Spade, and Rome, among others, but this cannot hide the fact that Tef Poe doesn't have the lyrical depth and complexity to keep up, and as a result he tends to recycle the same few themes throughout the mixtape. If you're merely looking for something to ride along with in the car, then maybe "Money Never Sleeps" is for you, but fans looking for something deeper will ultimately be disappointed.
Music Vibes: 7 of 10 Lyric Vibes: 6.5 of 10 TOTAL Vibes: 6.5 of 10
Originally posted: February 22nd, 2011
source: www.RapReviews.com