various artists :: Generation Bass Presents: Transnational Dubstep
:: Six Degrees Records
as reviewed by Patrick Taylor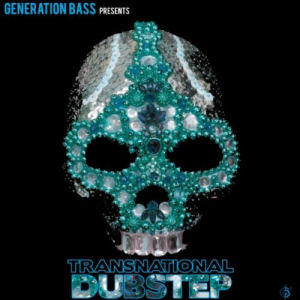 Generation Bass is an international dubstep blog started by DJ Umb and his partner Vincent Koreman in February 2009. "Transnational Dubstep" is their attempt to document and highlight some of the outstanding dubstep they've come across since founding the blog. It contains fifteen tracks of dubstep that incorporates elements of Indian, European, Middle Eastern, and Latin American music.
All of the tracks follow the dubstep template: wobbling bass, syncopated beats, and dark vibe. It's what the artists do to the template that makes things interesting. The bulk of the songs incorporate elements of either Indian music or European and Eastern European folk music, although there are tracks that reference Middle Eastern and Latin American music. In terms of approach, some artists go for a mellow, contemplative vibe. Album opener "India Sleeping" by Mars is a mid-tempo song that meshes its Indian singing and instrumentation with the wobbling sub-bass and electronic kick drum in a fairly organic fashion. There are several other tracks that go a similar route, toning down the dissonance and aggro that characterizes some dubstep. I found myself less intrigued by the mellower songs, not because they weren't done well but because they reminded me of the music yoga instructors play.
I was more interested in the tracks that hit harder, like Engine Earz symphonic "Kaliyuga." It layers sitars, violins, and Indian singing over a pounding beat. Knowa Knowone's "Cumbia Dub" uses Latin American cumbia music as its backbone. Like many of the tracks here, "Cumbia Dub" creates a nice contrast between the traditional instruments and the electronic ones, offering up an intersting interplay of flute and pulsing sub-bass.
Sa Bat Machines have perhaps the best song on the album, "Valium Gitan." It is a dubstep take on Parisan gypsy cafe music, a violin and guitar paired with a booming, deconstructed beat. It sounds like Martians playing folk music. Dysphemic's "Kamikaze" is the most hip-hop sounding track on the album, a sparse, heavy beat with bare-bones instrumentation, like crunk for the international set. You can imagine Waka Flocka Flame or Lil Jon shouting over it.
I'm not an aficionado of dubstep, nor am I a huge fan. The fifteen songs on "Transational Dubstep" got repetitive, and the fact that all of the tracks were built around a similar rhythmic framework didn't help. However, I enjoyed several songs, and I liked the concept of meshing international folk music with dubstep. Fans of the genre will definitely want to give this a listen, and will no doubt regard it much more highly than I do. Hip-hop heads should at least pay attention; several L.A. beatmakers are already experimenting with dubstep, and its only a matter of time before Kanye samples a dubstep track.
Music Vibes: 6.5 of 10 Lyric Vibes: n/a of 10 TOTAL Vibes: 6.5 of 10
Originally posted: February 22nd, 2011
source: www.RapReviews.com