Muneshine & Vinyl Frontiers :: Larger Than Life :: Bandcamp.com
as reviewed by Pete T.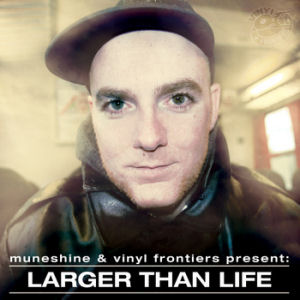 Sporting consummate talents as a producer, rapper, and engineer, Toronto's Muneshine maintains status as one of the most purely versatile artists on the scene, to the point that lately he's been divvying up his duties between various projects so as to focus on each aspect separately. He's released his share of instrumental projects, but his last solo album, 2009's "Status Symbol," featured very little of his own music, instead recruiting high-profile collaborators such as Illmind and M-Phazes to back his rhymes. On pal D-Sisive's most recent album, last month's "Jonestown 2: Jimmy Go Bye Bye," he provided all of the production, and on his latest EP "Larger Than Life," released as a free download via Bandcamp like "Jonestown 2" before it, beats are supplied entirely by the Dutch duo Vinyl Frontiers.
The Vinyl Frontiers' production proves a natural match for Mune's clever and thoughtful yet easygoing rhymes, at times even mirroring his own vast, rich, soulful sound on previous projects. The bright opener "Freeze" is built upon a sturdy snare pattern and lively horn cadence, finding Mune at his usual reflective self:
"Look, as I get older, they're stayin' young
I stay in love, sayin' love one day will come
Never quittin', never givin' up, searchin' for my version
Of affection, I'ma live it up, listen up
Memories never overshadow my dreams
Yo, if my image is grimy I'll get it dry cleaned
I'll be fresh in a minute, see, I'm professional with it
The only time I'm between bars I'm in widescreen
The only time I'm between bars I'm in side streets
Brown-baggin' somethin' cold and behind queen
When I move to the next spot, the next stop
Down by law, but I don't really respect cops
I'm trying to seize the immediate, no less
I'll sleep when I'm dead in the ground, 'til then, no rest
'Til then, so fresh, you'll know when it's go time
I'll be the next Canadian to blow with a co-sign"
The lush soul of "Out of Towners" is tightly constructed with nostalgic strings, a sharp piano arrangement, and heavy vocal cuts that sound more befitting of a DJ from Queens or Brooklyn than the Netherlands. The Get By join Mune to spread good-natured hometown love, discussing the highs and lows of their respective cities. In contrast, "Easy Does It" flashes a brilliant West Coast sound with smooth female vocals, sweet violins, rigid kicks, and a talkbox that would make DJ Quik and Roger Troutman nod in approval. "Be the One" is a lively execution of the type of sweet chipmunk soul I wish Kanye West still made, and best of all might be "Grown Man Rap (Vinyl Frontiers Remix)," where the duo outfits the track with an appealing, tasteful arrangement deep in syrupy soul stylings.
D-Sisive shines with his guest on "Get So High," hilariously rapping about days spent playing bridge and drinking prune juice with seniors in nursing homes for prescription meds, and the title track is a rugged posse cut featuring Timbuktu, Rich Kidd, and fellow Twin Peak Ghettosocks each turning in his respective share of quotable punchlines. East Coast heavyweights Sean Price and Termanology drop by for "What Now (Vinyl Frontiers Remix)," not allowing their considerable reputations to precede them with a barrage of take-no-prisoners verses.
Be it on the mic or the mixing boards, Mune proves his salt time and again by churning out pure, quality hip hop at a dizzying rate, surrounding himself with worthy co-conspirators but never losing the spotlight. Over the span of eight tracks he turns in a quality batch on "Larger Than Life" including love songs, posse cuts, humorous meditations, and honest, compelling reflection. Vinyl Frontiers, in turn, impress as a highly talented entity and masters of an evocative, soulful sound yet also extremely versatile, equally capable of throwing down a track for the streets or the ride to work. "Larger Than Life" has a warm, expansive sound that should find waiting listeners as spring dawns. With a long list of release projects planned in the coming months, 2011 may be the year Mune shines brighter than ever, yet "Larger Than Life" is more than a sign of things to come, it's a fantastic EP on all fronts, and anyone depriving themselves of a free download has few excuses. Mune captures his appeal to the letter on "Easy Does It": "It's not easy, but I know I make it look that way."
Music Vibes: 8 of 10 Lyric Vibes: 8 of 10 TOTAL Vibes: 8 of 10
Originally posted: March 22nd, 2011
source: www.RapReviews.com