Animal Farm :: Culture Shock :: Focused Noise
as reviewed by Patrick Taylor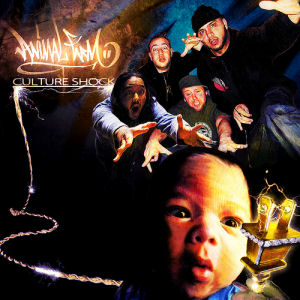 Hip-Hop collective Animal Farm come from the somewhat unlikely locale of Portland, Oregon. Portland is more known for Four Barrel Coffee than the four elements, but amidst the hipsters, crafters, and barristas, Animal Farm have managed to make a name for themselves. The group is made up of Hanif Wondir, Furty, DJ Wels, producer Gen.Erik, and new addition Serge Severe. Their debut, 2008's "The Unknown," generated positive reviews, and they are back with "Culture Shock."
Animal Farm are old school revivalists in the vein of Jurassic 5, People Under the Stairs, and Ugly Duckling. They provide bouncy, positive rhymes that draw on Golden Age hip-hop. Their lyrics focus on wordplay with a healthy dose of social commentary, eschewing the materialism, grimeyness, and swag over substance of contemporary rap. The same goes with their music: Gen.Eric lays down sample-based beats that hearken back to the days of MPCs, before laptops came to dominate hip-hop production. There is a heavy dose of melody in Animal Farm's music and rhymes, with plenty of sung choruses.
The melodic elements make "Culture Shock" sound colorful and vibrant. It also makes their assertion that they'll "never go pop" on "Pop Music" a little confusing: much of this album seems to aim at crossover appeal (at least to an indie/college audience), so why would they take a stance against it? In fact, several songs, like "It's Over" and "Hanging," recall early Black-Eyed Peas, a group who have made going pop into a multi-million dollar career.
Animal Farm are at their strongest on tracks like "What I Do." Gen.Erik lays down a heavy soul beat, and Serge Severe spits some fire over them:
"I had a Fat Boys tape
Sweat pants
I used to break dance
I wasn't great but I was never scared to take a chance
But for my pen skills I could never windmill
Slipped on the cardboard
Played it off and stayed still
That's a freeze-frame
No chain
I wasn't good
Before I became Severe
It's understood that I would never rap about how I could pop nines
Even though when I was young I listened to Pac rhyme"
Other highlights include the laid back groove of "Test of Time" featuring Talib Kweli, and "DIY," in which the group lays out the challenges and benefits of being independent rap artists.
While there are several solid songs on this album, it's not all good in the land of Portland. Songs like the title track and "Back In the Day" are hampered by a corny sound and dubious metaphors, like "That's a major fail like going to jail naked." The MCs often cram too many syllables into their bars and come off sing-songy.That lyrical style may create the feel of Golden Age hip-hop, but it's a look that might be best left in the past. My biggest complaint with "Culture Shock" is that it lacks weight. Many of the songs are so lightweight it was hard to care about them, and when they try to tackle harder issues, like gun violence on "G.U.N.S.", it falls flat. I get the feeling I'm missing the point of what they are attempting to put across, but I didn't like this album as much as I wanted to.
Animal Farm's love of classic hip-hop culture shines throughout "Culture Shock," both in their rhymes, in their beats, and in the snippets of old hip-hop songs cut into the tracks. They offer a positive, upbeat take on hip-hop with heavy doses of melody. While it didn't totally win me over, there are enough bright points, and it is done with enough skill and passion that I recommend it to anyone nostalgic for the days of b-boys and beatboxes. Break out your cardboard, Animal Farm are coming.
Music Vibes: 6 of 10 Lyric Vibes: 6 of 10 TOTAL Vibes: 6 of 10
Originally posted: April 19th, 2011
source: www.RapReviews.com