Kyle Rapps :: Re-Edutainment EP
:: Mayhem Entertainment
as reviewed by Patrick Taylor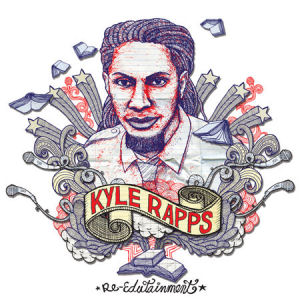 Kyle "Rapps" Sutton has been involved in hip-hop for a number of years under a number of guises. He recorded under the name Black Skeptik, then as Skeptik as part of the Thought Breakers. He formed a street poetry collective called the Mayhem Poets. He got a B.A. in Spanish at Rutgers University. Now the Jersey native has changed his moniker to the more positive Kyle Rapps and has released an EP that hearkens back to the Boogie Down Production classic, "Edutainment." The goal is to educate while entertain, and Kyle aims to serve up helpings of both education and entertainment. Kyle even offers a collaboration with the Teacher himself, KRS-One, on a remix of "Rent."
Kyle's style lacks the harder edge of KRS-One - the younger rapper is much more positive and upbeat than his cantankerous elder. Kyle is more in the vein of Homeboy Sandman, another East Coast rapper who offers literate, positive rhymes. Kyle has spent a lot of time performing for schools, and many of his rhymes are aimed at teenagers. He documents the changes that come with "Puberty," he raps about going to the "Prom," and calls out a "Bully." U-N-I joins him on the mic to school kids on "Rapps 101," and Joel Ortiz shares his thoughts on "Hardknock Children."
Not that older listeners should sit this one out. While the subject matter may be PG, Kyle's insightful lyrics and wordplay make this EP worth listening to even if you are well past voting age. Kyle's background as a poet shows throughout. His one weakness is a tendency to get corny, like on "Prom." He mostly keeps in check, managing to be positive without being cheesy or preachy. Kev Brown's production offers an upbeat, contemporary take on old school funk breaks, which perfectly matches Kyle's flow and subject matter.
"Re-Edutainment" may not have the weight and intensity of it's namesake, but it is still worthy of the name. Kyle Rapps draws on his experience in poetry and in working with youth to craft an EP of positive hip-hop that looks at being a teenager. He may not win over the hardcore, but listeners who like their hip-hop without healthy doses of nihilism and profanity should give Kyle Rapps a listen.
Music Vibes: 7 of 10 Lyric Vibes: 7 of 10 TOTAL Vibes: 7 of 10
Originally posted: April 5th, 2011
source: www.RapReviews.com