Dinner at the Thompson's :: Off the Grid
:: Earth at Work Records
as reviewed by Steve 'Flash' Juon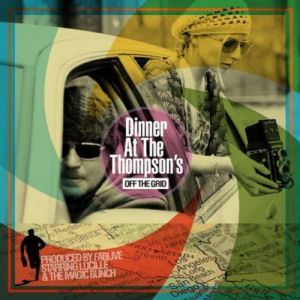 This group name is provocative just by how ordinary it appears to be. One looks at "Off the Grid" and wonders just how far off it the Thompson family might be. Electricity? Check. Phone? Check. Cable TV? Check. You can probably picture yourself having Dinner at the Thompson's without having ever met them - an iconoclastic 20th century throwback to cornbread suburbia and all of its modern amenities. You certainly wouldn't picture them having solar panel hot water heaters or throwing the leftovers from dinner onto a compost pile. Maybe if you're an incredibly quirky individual you pictured the Thompson family as a quatro of bug eyed monsters from outer space, but I'll go out on a limb and say you read the name and thought WASP: White Angle-Saxon Protestant.
Fear not intrepid reader - these suburban bugs aren't ordinary, they're EXTRAORDINARY. Even the story of how this group formed is incredibly unexpected. New York born and Cali raised singer and spoken word artist Lucille Tee was living in Prague when the French producer FabLive came there on tour with a backup band to jam, and so enthralled was she by their funky groove that she jumped on stage to sing for a few. FabLive liked the sound and it resulted in a partnership which has lasted for the last six years. Now the rest of the story up to today is cliched in the way only the music industry can be, because nobody ever sends you an album and a press release to tell you what an artistic and commercial failure they've been. Insert a cavalcade of catch phrases like "chart topping" and "critically acclaimed" to describe their work up until now.
The true rarity for both a music critic and a music consumer is when a new artist goes beyond the cliches of their publicist to do something special that defies an easy explanation. For example, as a listener I have no doubt that this is hip-hop music, even though there's more singing and more instrumentalism than one would expect from a rap album. When compared to the cutting edge creativity of a CD from Pigeon John or Zion I & The Grouch though, there can be no doubt they are artistically cut from the same cloth. FabLive dabbles freely in every sound his well attuned ears have ever come across: smooth jazz, seductive R&B, funky disco, indie 1990's hip-hop, contemporary pop, and a few dozen more.
Due to the diaspora with which FabLive produces, Lucille Tee becomes an enigmatic figure through this nearly hour long album. You find that you second guess who or what she sounds like constantly, although every comparison you make is still a highly favorable one. On the dirty funk of "How Can I" she has the breathless and high-pitched quality of Mariah Carey circa "Fantasy." Just a few tracks later on the swinging funk of "It All Began" her hip-hop swagger croon is more like Ladybug Mecca.
"It all began with a guy I knew
Had a brother older from, N.Y.C.
They were hot but what we didn't know then they were in the Jeep
on the run being watched by the NYPD"
Sirens give chase as Lucille sings about her misadventures with dangerous men downtown, always one step ahead of a bad end while having a good time. On the P-Funk style backdrop of "Levitating" she becomes a throaty, purring Sade-esque vixen. The frantic "Different Beings" featuring Lee Fields evolves her again into a jazz/soul version of Nancy Wilson. "Western Spaghetti" evokes Patti Labelle, "This Day We Call Hope" reminds one of Georgia Anne Muldrow, and perhaps most improbably the versatile Lucille takes the nasty ass rap funk of "Whatever It Takes" and becomes three things all at once: Shorty No Mas, Erykah Badu and Jean Grae.
"I, had a good thing before I met that wack man
When he gets the goat becomes another man gun jammed
Damn the ghetto land, keep you on your toes for sure
Notice the movement and the guy he got popped
Behind the door, too scrambled to unravel the kite
you said before, code words and more
[...]
Boys already to switch it up
No one can bounce better than D, that's V for victory
Once you're in a trance be screamin like the crowd for more
Time to boost that booster seat..."
The only unequivocally pure hip-hop guest appearance on "Off the Grid" comes courtesy of Guilty Simpson on "Rice 'N' Beans," but when listening to FabLive's incredible range of soundscapes and Lucille's nearly Mystique-esque powers of transformation, you wouldn't want anyone or anything getting in the way of their flow. Dinner at the Thompson's is that unexpected album you come across that you're probably going to assume is not hip-hop until you hear it, then you're going to wonder how you ever doubted that it wasn't. It's a revelation and a pleasant surprise start to end.
Music Vibes: 8.5 of 10 Lyric Vibes: 7 of 10 TOTAL Vibes: 7.5 of 10
Originally posted: May 3rd, 2011
source: www.RapReviews.com