Wise Intelligent :: The Unconkable Djezuz Djonez
:: Intelligent Muzik Group
as reviewed by Pete T.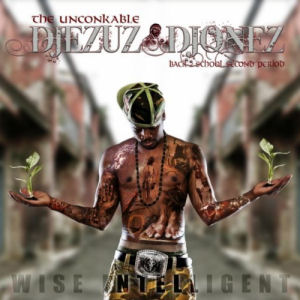 A full eleven years since his last album hit streets, Poor Righteous Teachers frontman Wise Intelligent managed the most improbable of comebacks with 2007's stellar "The Talented Timothy Taylor." Over a brilliantly produced record, the Trenton native delivered a phenomenal performance showing the sociopolitical intellect of the early-90s PRT records and a matured street scholar with smart commentary, heady street tales, and startling personal narratives. Now he's back with the "Second Period" of his "Back 2 School" series, "The Unconkable Djezuz Djonez."
Without beating around the bush, "Djezuz Djonez" doesn't stack up with "Timothy Taylor." The new record finds Wise assuming an alter ego, and it's a rather bizarre and perplexing concept. It's never quite clear who or what exactly Djezuz Djones is supposed to be. "Crown of Thornz" and "Introduce Ya Self" introduce him as some sort of hood prophet, but "My Crucifix" garbles the picture by presenting contrasting biblical and Five Percenter imagery. "Water Walker" and "Sow Djezuz" continue with a slew of New Testament references. The epic-sounding "Illuminati" is an early highlight, executing the concept well by delivering commentary on current events through the eyes of Djezuz Djonez. Wise has a great flow, and his impassioned, rapid delivery is in top form here, often sporting the slight ragga inflection that is his trademark. Unlike on "Timothy Taylor," however, the production is consistently uninteresting.
Things pick up with "Somethin' About Mary," one of the album's more exciting tracks musically, but the next few tracks suffer from the same shortcomings that plague the first half: repetitive allusions and mediocre beats. "Hey Brutha Man" stands out with its upbeat, horn-driven production, and by far the best song is "Miracles," a lively duet with a solid hook.
There's some good music to be found on "The Unconkable Djezuz Djones," but the album itself is somewhat half-baked. Djezuz Djonez isn't distinguishable enough from Wise Intelligent to make it a worthwhile exercise, and an entire album of him likening himself to Christ through scriptural references gets tiresome pretty quickly. Taken individually the tracks are far more compelling, but it seems like he wanted to do more with this record. While Wise's mission to present music that furthers thought, knowledge, and justice is always admirable, "Djezuz Djonez" isn't his best; the messages are cryptic and the music is forgettable. Those who haven't should take a late pass on "The Talented Timothy Taylor."
Music Vibes: 4.5 of 10 Lyric Vibes: 5.5 of 10 TOTAL Vibes: 5 of 10
Originally posted: August 16th, 2011
source: www.RapReviews.com