Lloyd Banks :: The Cold Corner 2 :: DatPiff.com
as reviewed by Steve 'Flash' Juon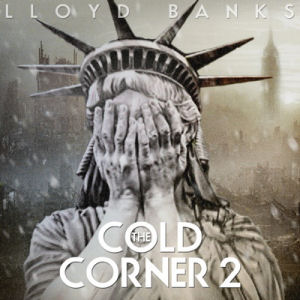 There was a time not that long ago, in fact I'd say within the last ten years is when this changed, that mixtapes still cost REAL money. You had to go to places like Sandbox Automatic or UGHH.com to find out what had dropped between mainstream retail CDs, then plunk down $10-$15 apiece and shipping for your order. Alternatively if you lived in a large metropolitan area like New York City, you could visit a Fat Beats store and see what mixtapes they had in stock, or you might just have an entrepreneurial fellow on your block manufacturing and selling them (with the recording artist being left out of the loop). Either way you made investment - you took the time to look it up, the time to track it down, then you handed over physical or digital cash.
That model of mixtape distribution seems so archaic in 2011. It used to be that only up-and-coming emcees gave away their music for free, just hoping that it would get them a buzz "in the streets" or a foot in the door at the label. Now e'rybody does it, e'ry e'rybody does it and it takes no money and little time at all to get entire free mixtapes from well known rappers. You need look no further than a website like DatPiff.com to find a plethora of free downloads by the likes of Drake, Ludacris, Jim Jones, Kid Cudi and the subject of this review - Lloyd Banks. That's not even the strangest part. Back in the day when you shelled out $15 for a mixtape, there was a strong chance it could be a disappointing experience. Your CD would come in a slimline case, with artwork that looked like it came off a dot matrix printer (both the liner notes and the disc itself), and the songs would be a selection of half-assed freestyles over the popular instrumentals of the day. What rappers give away for free these days is WORTH selling. These are fully recorded, studio quality produced, professional songs.
Now for what it's worth there were some mixtapes that were worth more than their retail price back in the day, but the quality used to have a lot to do with the DJ selecting and mixing the music - Kid Capri, Ron G, DJ Premier, et cetera - although ultimately they disappeared and were replaced by deejays more interested in shouting their own name or some ridiculous catchphrase a hundred times. Even then sometimes a bigger name DJ could still be a good selector and possibly even producer of songs. The tables have figuratively and literally turned though. Professionally blends are being shoved out of the way by things still being called "mixtapes" when that's really code for "free shit." The difference between "The Hunger For More 2" and "The Cold Corner 2" is that the former will cost you $10 or more and the latter won't cost you a dime. That and/or possibly getting a physical CD you can hold, though you could burn "The Cold Corner 2" to a disc if you really wanted to. Here are some key facts about "The Cold Corner 2" that illustrate how this is really what used to be a retail album, now being given away for the low price of absolutely nothing:
There are 18 tracks and over an hour's worth of music on TCC2.
Not a single track on TCC2 is labelled as a "Freestyle" song.
Featured guests include NY rap stars Prodigy and Styles P.
I can't point out any Top 30 hits that Lloyd Banks is rapping over.
There's no deejay screaming his name or clique on every song.
The average song length is 3:30 - there's no short throwaway tracks.
I'm honestly a little bit at a loss as to why Lloyd Banks wouldn't WANT to sell this album. The only real difference I can find is that the usual selection of G-Unit cohorts is nowhere to be found. There's no 50 Cent, no Tony Yayo, hell there's not even a run-in by Olivia. I haven't heard of any beef between Lloyd Banks and the rest of his Guerillas, so I'm not going to assume the lack of their presence is the proof of any issues with the crew. There are certainly no songs on "The Cold Corner 2" where he takes shots at any of the family. In fact there's not much of a beef with anybody for the hour and change of this album other than people who are in competition with him to hustle for a dollar. They are the same nameless and faceless rivals that always seem to follow the successful, and in "Predator" he makes sure haters get put down while he's smoking a pound:

"The sky is grey, it's like this every day
The town is for the predator don't turn into the prey
I flip a million out of nuttin make 'em feel a certain way
Hopin that this Swisher puts me in a purple haze
I got my eyes on the money, now homey reason
I'ma keep on now I'm back in the zone and nothin's funny
Chronic bag the cologne, another half and I'm gone
Hope the shit in my palm don't become me"

The good and the bad of "The Cold Corner 2" is a general overall quality that prevents any song from being really awful, but also means fewer things stand out. Beat Butcha's "Super Crack 2" is a little bit above the median, a techno-organ futuristic sounding opus of pharmaceutical references. Automatik's "Shock the World" sounds a little more defined and menacing though, even if it might be a little simpler in its loop. Nick Speed keeps the drums dirty and heavy on the title track, but also smoothes things out on "Love Shots," the kind of Lloyd Banks track that would have crossed over to radio on a traditional retail release. The bottom line on "The Cold Corner 2" is that I just don't understand the new math in 2011 where giving away a studio quality album like this is more profitable, but it beats paying $15 for a bad and possibly bootleg "mixtape," so I won't complain.

Music Vibes: 7 of 10 Lyric Vibes: 7 of 10 TOTAL Vibes: 7 of 10

Originally posted: November 22nd, 2011
source: www.RapReviews.com