The Tongue :: The Sextape :: Elefant Traks
as reviewed by Matt Jost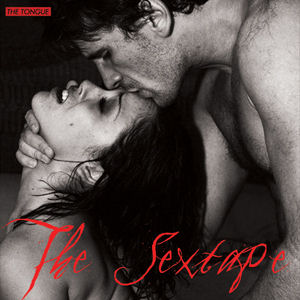 I was about to say that we've been spared the embarrassment of rappers caught in the act by a camera, but when it comes to rap gossip, the name 50 Cent turns up without fail. Although, whatever is out there seems to have been an item in one of his numerous feuds, which would make 'the 50 Cent sex tape' simply another move in Curtis Jackson's Machiavellian masterplan for total world domination. More importantly, if there is one type of 'tape' the name 50 Cent is inextricably linked to, it is the mixtape. His career is one of the main reasons the off-label, full-length release known as mixtape is such a popular promotional tool in rap today.
Rappers know a little something about getting our attention, and so releasing a mixtape titled "The Sextape" is definitely a very rap thing to do. But while Seattle crew Dyme Def charged for their "Sex Tape" in 2010, The Tongue has the sense to give his away for free. When a rapper calls himself The Tongue, it's not totally wrong to expect him to be a little tongue-in-cheek, and the Sydney MC indeed peppers the project with a healthy dose of irony. The biggest irony, however, is that "The Sextape" is not so much about sexual intercourse but human interaction, as seen through the lens of romance, covering the entire range from longterm relationships to one-night stands. He also doesn't shy away from using the L word, and just to avoid any misunderstandings, in this case the L stands for Love. Even though one might construe another meaning considering "Two Girlfriends," the track is mostly an opportunity for The Tongue to think about feelings and stuff. Although he's prone to daydreams (he admits the prospect of having two girlfriends might be "a hard sell"), there's also a realistic streak to his arguments:
"Now watch all the feminists turn on a brother
label me a pig, throwin' words at a brother
Maybe them girls should have a word to their mothers
about fairytale marriages, word to your mother
Check them stats, you're concerned to discover
that divorce is the new black..."
He expands on the topic of marriage on the spoken word piece "The Ring," channeling James Brown while voicing his unease with the symbolic weight of a wedding ring. That doesn't mean that he's not willing to commit. Together with Ellesquire he covers Miguel and J. Cole's "All I Want Is You," turns 2Pac's "Do For Love" into "Sucka For Love" and even tackles 50 Cent's "21 Questions" (with The Herd's Toe Fu in the role of Nate Dogg).
Through it all The Tongue's sex drive remains intact, though he would never pretend that he's a 'Wham-bam, thank you ma'am' kind of guy. He invites two guests for a remake of Cole and Drake's cuddly "In the Morning," Nick Lupi winning the case with his closing argument "We kept the booze comin' / but then I got too fucked up to do nothin' / Woke up and have to prove somethin' / She let me hit it in the morning like a snooze button."
It's all about sexual prowess on the Mos Def-inspired "White Sugar," but tracks like "All I Need" or "Word Association" are just as lovelorn as they are lustful. Based on Lil B's "I'm God," the latter features the probably inevitable punchline "She's never complainin' / cause The Tongue down under like a real Australian," but also recommends to couples who are "brainwashed by porn" to "make time, make love, make history."
"The Sextape" also scores with a diversified beat selection. The beat for Redman's '90s classic "Can't Wait" is used for a set of cautionary tales, while Tokimonsta's modern-day Marvin Gaye/Tammi Terrell-sampling "The World Is Ours" serves as a pinboard for more philosophical musings. And Danny Brown's "Need Another Drink" is the soundtrack to Tongue's quest for beauty AND brains:
"Just ripped another show, the crowd went sick
Let's hit the afterparty cause I'm ready for a sip
And my shirt still sweaty cause we fresh up off the stage
but I'm fiendin' like a zombie, now I'm lookin' for some brains
And I don't mean oral sex
Well I do, but also meant somethin' else instead
As well as bein' fine I need a girl with a mind
Well defined personality, a heart and a spine
an opinion on the government, a sense of fun
Plus she understands the joke when the punchline comes
Been meetin' too many stunners that be mentally dead
She's like a 9 in the tits and a 2 in the head
But goin' back to the club, shit, it was gettin' late, half 1
Start talkin' to some dumb blonde
who tryina tell me 'bout her $700 shoes
Think I'd rather speak to Mary Jane, oh may I be excused?"
Speaking of Mary Jane, thematic mixtapes these days are almost exclusively dedicated to smoking. This one is a rare exception and particularly commendable as it doesn't slavishly follow its assigned topic. In fact the Australian rapper makes a point to call out sexual bigotry in hip-hop on "Never Scared," countering homophobia with the simple argument "If you're hip-hop, you're never scared." Thus The Tongue brings together mind, body and soul on "The Sextape."
Music Vibes: 6.5 of 10 Lyric Vibes: 7 of 10 TOTAL Vibes: 7 of 10
Originally posted: January 10th, 2012
source: www.RapReviews.com