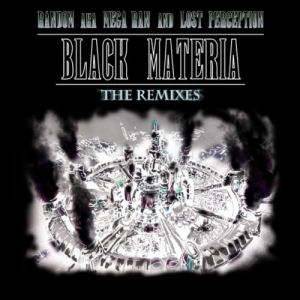 Random and Lost Perception :: Black Materia: The Remixes

Mega Ran Music
Author: Steve 'Flash' Juon




It would be fair to call "Black Materia" the album so good we had to review it twice just to get it right. It would also be fair to say that if you're not among that hardcore gaming niche, the hip-hop head who visits Kotaku daily and downloads every new OC Remix that gets released, the album might not have been your cup of tea (or 40 of beer). The idea was intentionally and unapologetically geeky - take the best selling role playing game of all time and write rap songs about the plot set to the melodies of the game. The album should in theory have crossover appeal though, because the raps tell a great story which you don't need to have played the game to understand, and Lost Perception hooked up the melodies in a way that fit each song like a glove. If you are still skeptical about the whole hip-hop/gaming thing, give it a fair chance.

"Black Materia: The Remixes" may be even more niche - after all this is flipping an album that was itself flipping Final Fantasy VII
and releasing it a second time. This isn't just all about remixes though. There are brand new songs here which there just weren't enough time for on the original "Black Materia," and considering how deep that album was, that's a pretty astounding thought. Surely the digital download copies
could have included a song like "Ninja Girl" - it's not like there are limits to how long a download album can be. Obviously then the artists themselves had reasons for holding it back, but given how fresh the song is there doesn't seem to be any reason NOT to drop it:
"Went on an innocent date and she got little frisky
Even moved in and tried to kiss me
Talk about awkward! I turned to the right thankfully
Date over, I'm sorry girl this ain't for me
She's got skill and technique when we go to battle
But gets motion sickness every time we travel
Pokes and prods but I never let it get to me
Some kinda ninja pullin kung-fu treachery
Doctor Wu? I'm watchin you
You know my steelo; you're aware of what I can do
But she is kinda funny so I can't imagine hurtin her
I may be a liar but I don't think I'm a murderer"
The subtitle of this song could be "Don't Trust Them New Ninjas Over There." I keed, but thankfully Random's jokes at the end of the song are better than mine. In fact it's his wit and charm along with the strong backing beat that makes it a winner even if you've never met Yuffie or spent any time with her. Now in some of these cases I'm having a hard time telling the difference between the two tracks. The original and the remix of the "Cid" and "Aeries" themes seem largely the same to me save for the latter rearranging the drums a little bit and sending Random's voice through a filter that makes him harder to hear. Others completely reinvent the original concept. "Don of the Slums" has a totally new beat that takes it out of the game altogether and makes it a gritty, electronic "world is a ghetto" hip-hop track which you couldn't be blamed for not tying to gaming.
"It's where we pray that our kids are athletic
Cause we ain't makin it outta here with loads of bad credit
I heard this town can send you to the grave if you let it
Them temptations are free lifts to paramedics
They call my neighborhood a shanty town
But I think they secretly jealous cause they can't be down
It's the new Hooverville, where we struggle fight and scuffle, tooth and nail
And even the hardest of dudes are killed
And in this game of life I just play the line
And we all scrape and grind just to make a dime
Got nothin but people botherin, hatin mine
Prayin that we're not livin the last days and times"
The overall producer of the original was Lost Perception, with mastering done by K-Murdock, but not every revisit here says what artist did the work. It's therefore more appreciated on the songs where their names are listed as part of the title, such as DJ Jinnai on the "Avalanche (Remix)," which is cool not only for the alternate beat but for the unaltered Random voice on the second verse. The Jon Wayne remix of "Final Fantasy" may surprise a few people since it was a hidden track on the first version. Other songs like the aforementioned "Ninja Girl" are completely original and unique to this release, such as "Yuffie" featuring guitar AND singing by the talented Naomi C. It's more folk rock than hip-hop, but I'm digging it. "Cait Sith" featuring Adam WarRock is a whimsical track with references players of FF7 will appreciate like "I'll tell your fortune but it's gonna cost ya" and "I'm sabotaging Shinra from the inside." As cool as the remixes are it's the brand new shit like the Plue Starfox produced "Escape From Shinra Tower" featuring Juice Lee and Ilyas that sell this CD/DL:
Random: "Gotta move quick fast, in a flash
'fore the building collapse, so they feelin the wrath
Death I cannot afford so I brandish my sword
Start swingin and clearing a path
I'm on a Shinra cycle maneuvering for survival
this mission is hella vital so I will not take denial
we don't get a lotta luck, but I think I spot a truck
Sittin on the lot and what, you know it's unlocked!
Start it up - I'm on the front line blockin like a full back
Choppin at ya noggin I ain't stopping till ya skulls crack"
To put a bottom line on it "Black Materia: The Remixes" is worth your time and effort if you fronted on the original version, but if you have that and already like it, you'll probably appreciate the new shit and new flips that Random and friends are giving you here twice as much.
Music Vibes: 8 of 10 Lyric Vibes: 8 of 10 TOTAL Vibes: 8 of 10
Originally posted: February 7th, 2012
source: www.RapReviews.com