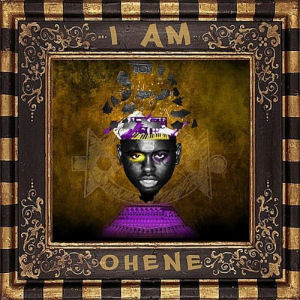 Ohene :: I Am Ohene

Soul Model Records/Kunaki LLC
Author: Steve 'Flash' Juon




We last heard from Ohene Savant in 2007 when he released "Inner City Soul." Reviewer Rowald Pruyn had a lot to sort out in coming up with his coverage, including the fact Ohene is Ghanian by birth but Illadelph 215 by trade and sound; not to mention the fact Pruyn is an avowedly unreligious man while Savant is proud to proclaim his faith. It turns out that wasn't an impediment to his enjoyment of Ohene's work though: "Because Ohene mostly tells about his devotion instead of imposing it upon me, he gives me a chance to listen with an open visor." By the end the devout rapper earned a fairly divine score: 8.5 out of 10.

Initially I believed Ohene had disappeared off the scene after this stellar debut, but instead he went underground for a bit. He's re-emerging in 2012 on a new label, Soul Model Records, with a new full length album titled "I Am Ohene." As an artist Ohene is the total package: writing, producing, mixing and recording his entire disc all on his own. He can therefore own the success or failure of this release himself and not have to share the glory with anyone save perhaps God. Of course when you have to be your own producer and studio engineer, it can lead to the kind of long delays between albums seen here. It hasn't affected the quality though - the beats and keys of "Bastard Child" are on point along with the rhymes:

"Yes my pops was a sperm donor
His name was John, but I've never heard further
Oh! His other name's called Over Street
And somehow his seeds reached mom's ovaries
He must have had an excellent level of potency
Because my focus be amazing with the poetry
Supposedly him and my mom met at Job Corps
She never said what he applied to get a job for
Was he a gentlemen or maybe some kind of whore?
But these are questions my mother's not alive for
That's why I pour misery into these symphonies
Until he get at me, I'm literally a mystery
Part of my history does not exist to me
The part where Ms. Denise, meets Mr. Street
So I skip a beat, sk-sk-sk-skip a beat
So goodnight Mr. Street, beats rock me to sleep
Cause I'm a bastard child..."

Much like Naughty By Nature
did over two decades ago, the pain of being a ghetto bastard is transformed into a rap with the power to heal both the emcee and other listeners. It's not surprising that Ohene is still this sharp of an observer, because as he notes himself on the song "I try to go deep within," but the endorsement he gets at the end of the song IS: "This brother is a genius, this brother is one of the grand musicians of his generation." - Dr. Cornel West.
Dr. West goes further and even compares Ohene to Prince. Those are POWERFUL words, and Ohene does his best not to disappoint his learned fan nor the other listeners of his album. "I Rize Above" is Ohene and guest Neo P's rap about overcoming not only fucked up circumstances, but creating a better version of themselves compared to what they used to be. "John Doe (Six Eight)" is spit at the cadence indicated in the parenthesis, which is unusual to say the least, but not out of the realm of possibility for such a talented emcee. You might not expect a thoughtful and soulful rapper to have a song like "Turn the T.V. On," but it makes sense when you realize he's using it to make a point about how its imagery can shape our lives in negative ways.
"They say that consumers don't want to buy, if you was to wonder why
My first guess everybody is stressin
Economy threatened by gluttony, greed in the companies
All this I see on TV in the luxury
of my own home, and the screen keeps buggin me
I just wanna scream at this screen here in front of me
And yet some of me fights cause I wanna see it
Standin up like I'm out man, I'm gonna leave
I oughta leave - it's hauntin me, tauntin me
This inanimate object as strong as me
Man I got songs to write, books to read yo
I can't be spendin my night lookin at Tivo"
Ohene has a natural, jazzy and organic sound to his rap songs like fellow Brother Love natives The Roots, but there's something even more important he has in common - raps which are personally significant and intellectually stimulating. From his struggles as an independent artist on "All of My Life," to his analog ode to nubian beauty on "Throwback Love," to his powerfully simple declaration "I just choose to be difference" on "I Can Do That" there's little doubt Ohene is the real deal. I regret he may be a victim of his own brilliance though. Ohene is too smart to let his rap be molded and shaped by a major label. Not only would they water him down and turn him into something he's not, they'd only give him pennies on the dollar for each CD sold. He's not going to give up that kind of artistic or financial control, but major labels could also make him a household name beyond just being the favorite emcee of Dr. Cornel West. Much like Ohene does on one of his songs though, you can ultimately resolve to turn the TV off and expect more from hip-hop than gold, clothes, and hoes. Start with this album.
Music Vibes: 8 of 10 Lyric Vibes: 9 of 10 TOTAL Vibes: 8.5 of 10
Originally posted: February 21st, 2012
source: www.RapReviews.com