Kornbread :: Strays :: Bandcamp.com
as reviewed by Pete T.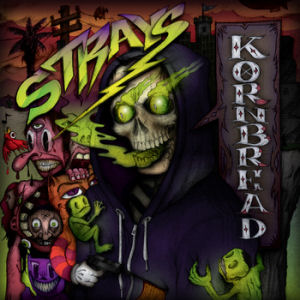 "Strays" is a bright, fresh-sounding solo debut from Those Chosen member Kornbread. Available for free download and produced entirely by fellow Californian and recent Mello Music Group signee J. Bizness, the record initially reminded me a lot of Trek Life's 2010 album "Everything Changed Nothing" for its upbeat synth-driven sound and Kornbread's nimble, talkative delivery.
"First Is Last" supplies an early highlight with its uneasy piano-driven production and a commanding performance from Kornbread, who recalls a rough upbringing and its influence on his outlook. "All Day" sounds like a cut from Co$$' 2011 debut "Before I Awoke," with J. Bizness lacing a smooth piano-laden groove for a laidback Saturday afternoon. Although "Shut This Down" is lethargic, "Underneath the Cherry Skies" is a convincing declaration of perseverance and loyalty.
The second half features a procession of collaborations with a series of likeminded MCs. "Melody Sweets" is a heartfelt love ode, and "Church Music," so titled for J. Biz's organ-dominated track and the spiritual concept, is the most menacing of the bunch with decisive raps from Kornbread and Mr. Sobers. The driving percussion of "Moxy" anchors an infectious thumper, replete with another solid performance from the master of ceremonies.
I have few complaints about "Strays." Although not much stands out and there's minimal variation in approach and sound, it's an enjoyable listen throughout. Kornbread and J. Bizness sport an impressive chemistry over an album that will be worth the download to anyone looking for a few warm vibes from the Golden State heading into the spring.
Music Vibes: 7 of 10 Lyric Vibes: 6.5 of 10 TOTAL Vibes: 7 of 10
Originally posted: March 6th, 2012
source: www.RapReviews.com