Oh No :: Ohnomite
:: Brick Records
as reviewed by Steve 'Flash' Juon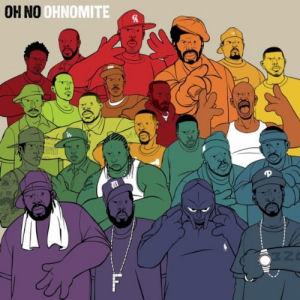 What do you get when you combine Michael Jackson with Rudy Ray Moore? "Ohnomite." I know that doesn't sound right, but you have to consider that there's more than one Michael Jackson, and this one is better known as Oxnard, California's own "Oh No." As the press release for this album says -
"Oh No was granted unprecedented access to the Rudy Ray Moore / Dolemite audio archives and given free rein to slice, dice, chop and sample his way through the classic-yet-absolutely-filthy catalog. He was able to use legendary material from The Human Tornado, Petey Wheatstraw, the Dolemite Soundtrack and more, plus a multitude of previously unreleased and alternate acapellas and instrumentals. The end result is Ohnomite."
I suppose whether or not you're hyped about the end result at this point is strictly based on whether you're familiar with the Dolemite legacy of comedy albums and blaxploitation movies. If you're not, let's talk about the guest stars that Oh No roped into this album instead. Roc C and Chino XL both star on "Time." Green Eyed Bandit slash Funklord Erick Sermon drops in on "Runnin' The Show." You can hear Sticky Fingaz on "Whoop Ass," Termanology on "Sound Off," Damani on "Let's Roll," Rapper Big Pooh and Phil Da Agony on "You Don't Know Me" and Phife Dawg on "Dues N Don'ts." Is that not enough for you? Then peep this: MF DOOM is on "3 Dollars."
DOOM: "Front row at a cat fight
The cash tight, write it up, flashlight
Last night was a ball, lost a eye off the fly y'all
Bloody tabby fell headfirst off the drywall
Ain't no thing - but a chicken wing
It's like the quickening, quit your sickening bickering"
Oh No has long been one of the best rated producers in reviews on this website, so if you even have the least inkling of how funky giving Oh No "unlimited access" to the archives of Rudy Ray Moore would be, I think you realize how enjoyable it would be to let him loop these beats and cherry pick his favorite emcees to flow over them. Quiet as kept though, with all the big names to be found on this album, two of my favorite joints are "The Hitmen" featuring Roc Marciano and "Touch It" featuring Frank Nitti. This one isn't officially out until June 5th, but pick it up when it drops!
Music Vibes: 8 of 10 Lyric Vibes: 8 of 10 TOTAL Vibes: 8 of 10
Originally posted: May 29th, 2012
source: www.RapReviews.com