Progress Report (Eddie Logix & D. Allie) :: Summer School (The Remix Album) :: Progress Report Music
as reviewed by Steve 'Flash' Juon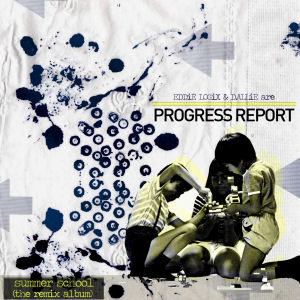 D. Allie and Eddie Logix are Progress Report, a Detroit underground collaboration of rapper and producer into one group, although it would be a mistake to say Eddie doesn't flex on the mic too. Now I must confess it feels a bit out of place to review this album, because although I'm familiar with D. Allie this is the first Progress Report album we've covered, AND it's a remix album to boot. I suspect I'd be better prepared had I heard the original versions of these songs, but I'll just have to roll with it.
"Summer School (The Remix Album)" falls into that range of being too long to be called an EP, but feeling a little short for a full album, unless that album is "Dead Serious" by Das EFX. As for the producers providing remixes for the crew, it's a cornucopia of names that are undoubtedly friends with either or both members of PR: Mork Choklad, Doc Illingsworth, SKRAPZ, Semi-Tone and even British Knights - I can only assume no relation to the sneakers. There's an advantage to not having heard the originals after all - I can be completely objective about the work of these men. Let me therefore rank the ten remixes of this 38 minute album in descending order.
#1 Set to Music (DIAL.81 Remix)
#2 Feel It (AV Remix)
#3 Wake Up (British Knights Remix)
#4 No Child Left Behind (Doc Illingsworth Remix)
#5 Enjoy the Ride (Skrapz Remix)
#6 I'm Yours (Semi-Tone Remix)
#7 Tonight (Eddie Logix Remix)
#8 The Physical Connection, Mental Divide (Eddie Logix Remix)
#9 Don't Know What to Do (Charlie Beans Remix)
#10 Homeroom (Mork Choklad Remix)
Sorry Mork, you're my least favorite and that complicates things given you're the opener on this release. I suppose if you reader really love that techno dubstep sound you might appreciate this more than me, but I find the track to be muddy and lacking in enough elements to appeal to the ear, plus the beat makes the rap hard to hear. The "DIAL.81 Remix" on the other hand rocks a great break I haven't heard in a while, so I appreciate somebody blowing the dust off it and using it in a song. It's light and playful and lets Progress Report come through loud and clear over the top.

As for the group itself, D. Allie is a decent vocalist lyrically, but can at times use a little more of a commanding presence on the mic. He's not the kind of emcee who makes you weep for the death of hip-hop by any means - the fundamentals are all solid and the breath control is well attuned from years of honing the craft - it's just that (at least on this album) I find he goes more or less in one ear and out the other without making a sizable dent on my memory in between. Nonetheless I'd say 70% of the production here is effective (only the bottom three really bother me) and the top three tracks in particular would make good additions to any summer mixtape. They can in fact report progress was made here, but I can't report on if it improves on the original, which I strongly suspect might be better.

Music Vibes: 6.5 of 10 Lyric Vibes: 6.5 of 10 TOTAL Vibes: 6.5 of 10

Originally posted: July 24th, 2012
source: www.RapReviews.com