MC Wood-Z :: Shakespeare's Bastard Child
:: Demilo/MC Wood-Z
as reviewed by Steve 'Flash' Juon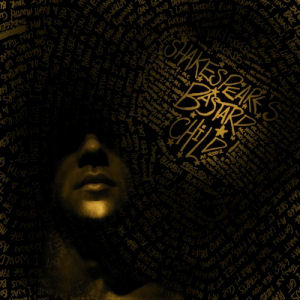 MC Wood-Z took notice of our UK Hip-Hop Month here at RapReviews.com and offered to send us "Shakespeare's Bastard Child" as a free iTunes download for review. I took him up on the offer, but the offer was apparently only valid in Euros, because American buyers could not cash it in. The samples of his music intrigued me to the point that I wasn't about to take no for an answer though, so I cashed in some unused iTunes credit I got for my birthday. The reason I bring this up is that the person who gave it to me was from Canada, and he originally bought it for a friend in the UK, but HE couldn't use it since the funds came from a non-UK source. It's amazing that music is a global product these days yet there are so many backward local restrictions on how you buy it. If this review leaves you inclined to buy I recommend the Amazon purchase link
because it doesn't seem to be region restricted and is a relatively cheap $8.99.
"Wood-Z started out as a MC on drum and bass at the age of 16, performing at clubs and house partiess around Southeast London. After a year stint on pirate station Silk Rooms FM with DJ Double C and winning the 1xtra Drum and Bass weekend with 6000 votes with his track 'Frozen Core,' Wood-Z's first release was one thousand copies of a limited edition album called 'Hundredth Monkey Syndrome', which was his switchover from drum and bass to hip-hop."
That information from Wood-Z's bio suggests he had a very non-typical start in hip-hop, and you might expect his album would have a very electronic sound and big beat given his background, but "Shakespeare's Bastard Child" is actually a light and lifting affair. Demilo is the producer of record for this 10 track album, and actually guest stars on the comical "Super Star," which opens with a skit about an indignant patron trying to get comped into a club. Wood-Z's rap is both spirited and party oriented, as Wood-Z refuses to be hampered by the opinions of others in or outside of hip-hop:
"I don't like cunts, fakers and ass-lickers
They get dropped quick like loose girl's knickers
[...]
When I come around girls shake it to my sound
Enemies tell me that that they're gonna track me down
But I'll worry 'bout that when I'm buried in the ground
(Buried in the ground?) Yeah, buried in the ground
When it comes to rules I ain't never been compliant
I'm five foot eleven with the spirit of a giant
Been through a lot of shit and I remain defiantů"
After a few spins of this 40 minute album I'd have to characterize Demilo's as somewhere between "understated" and "minimalistic." As Wood-Z's accent is a little thicker than some of his British contemporaries, I actually find this helpful as a listener, not to mention it distinguishes him from those who drench their verbiage in so much melody the rap gets subsumed in it. Songs like "Under Pressure" achieve the high tempo energy of their title as a result, as you can literally feel Wood-Z's systolic and diastolic raising second by second. "Lost in rage/should have never rattled my cage/You can see it in my eyes, I'm colder than the ice age." It makes him a worthy contemporary of Klashnekoff in terms of his verbally intense delivery.
Wood-Z does have his moments of calm though, and even though "Karma" serves as a warning to the wicked, a Carribean influence weaves through it and brings a cool breeze to his sound. Most of the time though Wood-Z brings belligerence to beats with songs like "Don't Make Me Get Raw," which also features contributions from Blemish Blackstorm and Don Dabbla. The thing that tempers Wood-Z from being too harsh for his audience is his sense of humor, which can be found on anthems like "Breast Inspector," making him the 007 of double D's. As this is a fairly recent release compared to some of the UK month reviews we've done (it just dropped in September) I can't make a statement as to how well received it is overseas, but I can speak for comparison to the other albums that were part of our series and say it fits in among them just fine. Wood-Z is well qualified to succeed in the very competitive British hip-hop scene.
Music Vibes: 7 of 10 Lyric Vibes: 7 of 10 TOTAL Vibes: 7 of 10
Originally posted: October 16th, 2012
source: www.RapReviews.com