dan le sac vs Scroobius Pip :: The Logic of Chance
:: Sunday Best Recordings
as reviewed by Zach 'Goose' Gase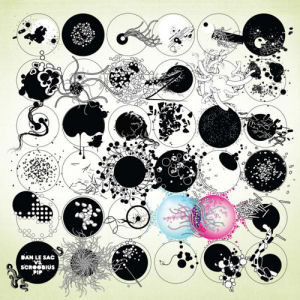 It took me a while to really understand, appreciate and enjoy UK hip hop. I gave artists like Sway and Dizzee Rascal a few chances in my younger days, but could never get past their accents and didn't really take them or any hip hop outside of the US seriously (this is OUR music). But then around 2009, I kept seeing a group named The Streets appearing on Best Albums of the Decade list. After reading a synopsis of an album titled, "A Grand Don't Come for Free." At first I was put off by emcee, Mike Skinner's extremely thick accent, and the way he rode the beats. But I couldn't stop playing those songs because the production was so intoxicating. The beats were a unique blend of electronic and hip hop staples, and the end results were incredible. But as I continued to listen to these songs, I started to pick up on what Skinner was saying, and I noticed how excellent of a storyteller he was. Now "A Grand Don't Come for Free" is one of my favorite albums, and it served as a major inspiration for a UK-influenced album I recorded myself.
But this review isn't about The Streets or me (well maybe a little bit). This review is about the UK duo dan le sac vs Scroobius Pip. I had been familiar with Pip since 2010, when he was featured on my friend and frequent collaborator (who also hails from the UK), producer FlamesYall. Initially I was blown away by Scroobius Pip's insight and content, and the fact that he rolls with Sage Francis and Strange Famous Records didn't hurt either. Producer dan le sac's style is deeply rooted in the electronic sound, but still has hip hop tendencies. And Scroobius Pip is one of the more lyrical cats I've heard from the UK, and effortlessly balances introspective topics with more fun tracks like the up-tempo "The Beat."
"The Logic of Chance," is the duo's second album, and was released in 2010. The 45-minute effort features a soundscape that is rather different from typical American rap releases, but at the same time doesn't totally alienate rap fans from the States. Sure your typical American is going to have a hard time deciphering some of Pip's lyrics initially, but I'm more than confident to say that the head-nodding beats and catchy hooks on tracks like "Get Better" and "Cauliflower" will draw in listeners. Admittedly Scroobius Pip's accent is pretty thick, and some listeners may not enjoy his spoken word delivery he uses occasionally, but once they pay attention they'll pick on some of Pip's effortlessly, motivational raps:
"You see the young mother capital is where I live
Little kids being raised by slightly bigger kids
Society seems unphased that this is how it is
While I'm constantly amazed that this is how it is
They confuse love at first sight with lust at first light
It must have hurt right when trust first took flight
You're young, you've no rights, you long for new heights
But some of those nights leave more than love bites
Tops cropped, skirts stop at the top of their thighs
And the boys got that hungry look in their eyes
They wanna be grown up and have respect you see
But they're acting uneducated sexually
I ain't saying' be celibate
Go out and have your fun
But there's plenty you can do without impregnation
And there ain't nothing wrong at all with having children
Just build yourself a little before you try to build them"
"The Logic of Chance's" top moments include some of Pip's most politically charged tracks. On "Great Britain" he speaks about violence and crime in the country, and says "I don't know if I love or hate Britain." This record is consistent from front to back, with only a few, slight troughs and several peaks, including album closer "Cowboi," which is an excellent, light-hearted but motivational heading, where he encourages the listener to "get back on your horse."
Music Vibes: 8 of 10 Lyric Vibes: 8.5 of 10 TOTAL Vibes: 8 of 10
Originally posted: October 23rd, 2012
source: www.RapReviews.com