Shyne :: Gangland :: DatPiff.com
as reviewed by Steve 'Flash' Juon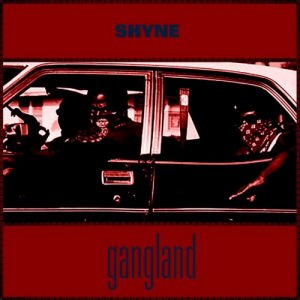 A RapReviews.com reader encouraged us to cover Shyne's free "Gangland" album from DatPiff.com, noting even as he did so that Shyne should be back in the spotlight but "not for the wrong reasons" like his public feud with Kendrick Lamar. That got me thinking for a minute about whether or not Shyne had ever been in the news for any of the RIGHT reasons? The first time his name even came up in 1998 was controversial as Sean 'Puffy' Combs was accused of trying to find a new rapper to replace the late great Notorious B.I.G., and one has to admit that from the very first Total remix he did the vocal resemblance was eerie.
As if Shyne didn't already have that black cloud hanging over his head, he got into a shooting altercation at a New York nightclub late in December 1999 while there with his girlfriend, Puffy and Jennifer Lopez. Some allege that Shyne may have taken the fall for Combs in the aftermath of the incident, but whatever the circumstances, Shyne was sentenced to ten years prison in 2001. Despite that he was still able to put out a new album in 2004, but to make a long story short his criminal record continued generated more hits than his commercial one. THAT record wound up getting him deported to Belize, because it turns out that Jamal Michael Barrow (or if you prefer his new name, Moses Michael Levi) was never naturalized as a U.S. citizen when he came to the States at the age of 13. As if that weren't bad enough the United Kingdom barred him entrance in 2010, deporting him the second he arrived. Shyne doesn't need his feud with Kendrick Lamar to be in the news - he seemingly never hasn't been.
Even Shyne's "Gangland" album arrives with its own share of controversy, as Levi nee Barrow has recently endorsed Mitt Romney for President, in part blaming President Barack Obama for not doing more to prevent his deportation. The trials and tribulations have taken their toll on the rapper, but the upshot is that his vocal change has been an improvement as he won't be mistaken for Biggie any more. It's also gained him what rap fans used to call "street cred" as he's viewed as an underground cult hero for not ratting out anybody else involved in the nightclub shooting, accepting full responsibility and the long jail sentence that went along with it. His flow has slowed noticeably, but he can use that life experience and ponderous delivery to make points on "Frank Mathews":
"I'm just a mirror of the world as I find it
Don't blame me, we all criminal minded
Cri-cri-cri-cri-cri-cri-criminal minded
Build schools, not prisons, politicians just mind this
Man! You abandon your minors
and expect 'em not to go and turn criminal minded
Live a life of a crime, ain't no other way
to make it out of povery, escape my hunger pangs
Never gon' change no matter how my momma pray
Rather see the grave...
Take a look, I'm what happen when hope leaves"
Shyne can't resist beefing though, and one of his favorite targets is 50 Cent. "If not for Curtis Jackson, we would all be free/but the creep made a deal with the feds and squealed" on "Fred Hampton." On "Bobby Seale" he directs a diss not at one man but the entire criminal system, taking on undercover cops and crooked courts before proclaiming "nowhere in Brooklyn do they grow any poppy fields," referencing a famous speech Wesley Snipes gave as Nino Brown while on trial in "New Jack City." And despite stories that he and Diddy have squashed their beef, the Danja produced "You're Welcome" gives his statement of innocence "nobody died from that slug" then notes of Combs "I need to know, how my co-D/called witness to sacrifice me/just so he, could get away free/this does not comply with the streets!!" Looks like there's STILL no love lost between the two. He even accuses him of ripping off Ma$e and The LOX, so I doubt they'll be reconciling again.
Now if anybody has a right to be bitter about all the breaks he's gotten, Shyne certainly has earned it, so he's entitled to vent all his frustrations on "Gangland" against enemies both real and imagined. Beyond those frustrations, he's a mixed bag in 2012. The production varies to an incredible degree, and it's telling when one of the best beats he raps on ends up being a straight jack of Wu-Tang Clan's "C.R.E.A.M." on "Buffalo Soldier." His duet with Pusha T on the Hebrew Hustle produced "Meyer Lansky" is a highlight, but "Dope Boy Fresh" is exactly the opposite - Rich Skills' track sounds thin, lacks bump and has an annoying buzz to it. It's the inconsistency that makes this album problematic even while free - "King Judah" hits hard and has a catchy sounding foreign language hook, while "The Original" sounds like a bad 50 Cent mixtape track he phoned in just to fill out a free download - only Shyne is the one rapping.
Whether you call him Levi or Barrow or Shyne Po, "Gangland" does show the now aging veteran of the rap game has some potential, but he also sounds damn close to having the same spasmodic dysphonia as Darryl McDaniels at times. Once again to be fair that's an improvement in some ways as his vocal tone has gotten more unique, but at times when the beats don't hold up to his bars, it can also be ever-so-slightly grating to listen to. Since this is a free DatPiff album it ultimately seems to me that it's something of a wash - nothing to write home about as being Shyne's big return, but nothing that I can completely shit on as being a waste of time. If he can put his past behind him, find some better production and stay topical, he'll come back stronger in 2013... but he should really leave Kendrick alone.
Music Vibes: 5 of 10 Lyric Vibes: 5 of 10 TOTAL Vibes: 5 of 10
Originally posted: November 6th, 2012
source: www.RapReviews.com