Da$h & Retch :: La Cienega :: Heir Gang
as reviewed by Matt Jost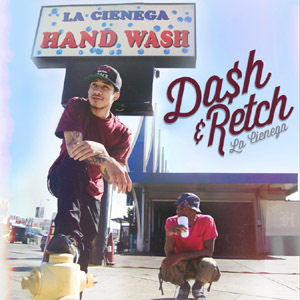 While absorbing the frequently excellent "Lord$ Never Worry" and trying to figure out who's who in the A$AP Mob, I stumbled across the name Da$h. It came without the customary 'A$AP' prefix, but with a dollar sign-S, so I figured he might still be an official member of the crew. The internet deigns to tell me two facts about Da$h. He represents his own clique, the Heirs, and he is the nephew of sometime rap mogul Dame Dash. On "La Cienega" he partners with another Heir Gang member, Retch. We don't know if he has a famous rap biz uncle as well, projecting his career based on some kind of inheritance that is to be expected in the future, or if the heirship in question is more of the spiritual sort. La Cienega meanwhile is a major boulevard that runs through Los Angeles that occasionally happens to be mentioned by L.A. rappers. Da$h & Retch themselves typically roam the streets of New Jersey, which is fine as well, but it ain't L.A. Just so we're clear.
Nonetheless "La Cienega" does feature a couple of references to the City of Angels. But it's a characteristic of our time that Da$h & Retch don't commit to the theme. What they do commit to is today's drug talk rap delivered over vaguely otherworldly tracks, who in this case are provided by Mordecai Beats. Mordecai does a solid job mimicking Clams Casino et cetera, but like the two rappers he partners with there's zero originality to his creations. The tape is low ambition hip-hop in every respect, purely functional, riding an already rolling wave, because that's how young rappers today apparently have to sound like.
Opener "Wu-Banga" is completely free of any Clansmen craftmanship and very likely just another drug reference. Retch doesn't waste a second to throw around the most commonplace rap clichés in the most carefree manner:
"All my niggas drinkin', smokin', fuckin' bitches, gettin' money
throw your hands up in the air, my dealers and the fuckin' druggies
[...]
High as fuck with the windows up
Got dirty-dirty in that sippy cup
Nigga, fuck a Sprite and fuck a 7UP
Nigga, mix that shit with some fruit punch
[...]
We finna turn yo bitch out
I'ma eat all that bitch' food, I bring all my friends to that bitch' house
I'ma ash where the fuck I want, smokin' hella weed on that bitch' couch
Look her in the eyes like, 'Bitch, what's good?'
Actin' like she ain't know niggas was hood
All up in her shit like I paid the bills
Ash on her couch, just so she knows what's real"
Now in art there can often be made a case for behavior that lies anywhere between disrespectful and depraved. Rap is quite good at it, as are its advocates. But there's rules to this shit, artistic, aesthetic ones. There needs to be some sophistication, some refinement to hedonistic and nihilistic performances, or else you're going to look like a dimwit. There's actually a long lineage of rappers who made consciously ignorant, purposely retarded music, rap that was silly or shocking but in an intriguing, even informative way. An in-joke, if you will. D&R even namecheck two of the originators, Too $hort and Eazy-E. But in Da$h and Retch's hands the art of shit-talking withers away as if Cam'ron, Devin the Dude, or Eminem never tended to it.
Da$h blended right in on the A$AP Mob gathering, even on the solo track "Dope, Money, Hoes." If anything, the sobering experience that is "La Cienega" highlights how formidable "Lord$ Never Worry" really was. If you're into this type of neo-gothic gangsta rap, there's your how-to and your how-not-to.
Music Vibes: 4 of 10 Lyric Vibes: 2 of 10 TOTAL Vibes: 3 of 10
Originally posted: December 4th, 2012
source: www.RapReviews.com