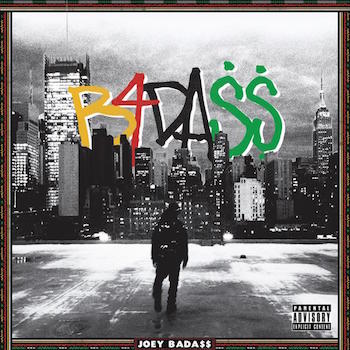 Joey Bada$$ :: B4.DA.$$

Pro Era, LLC/Cinematic Music Group
Author: Sy Shackleford
For close to a decade now, most artists representing the birthplace of hip-hop have been relegated to the back-burner. These are the ones who remained true to their hometown roots and, while wanting to hit it big without "selling out", have consequently failed to adapt to the modern landscape. Don't get me wrong, you can put out quality best-seller albums ("good kid, m.A.A.d. city"; "The Marshall Mathers LP 2" come to mind), but the Big Apple has had limited success in that regard for quite a while. Jay Z and 50 Cent may have massive pop appeal and selling power, but that's mainly because they changed with the times. Despite their success, New York hip-hop overall lost its dominance and became anathema to most listeners.
I remember, back in my early 20's, arguing with a friend about which area puts out the best hip-hop. He said the south, I said the east coast. I made my choice based on quality, not quantity. He made his based on the south's dominance and because "they spit some real shit! Fuck that bama-ass New York rap!" The self-righteous hip-hop purist in me wanted to perform an exorcism on him and drive out the demon that compelled him to disrespect the geographical origin of this music. But as time passed, I became less opinionated, and more fact-seeking. My taste in east coast rap hadn't dwindled and has remained my preference. Like many, I've been waiting for the rap herald to bring the crown back to New York. If XXL Magazine's Annual Top 10 Freshmen Lists are any indication of what's to come, then it looks to be more like a return. A return of gritty-sounding, lyrically-inclined New York rappers and, at the same time, new generation of what's to come. French Montana, Action Bronson, Chris Rivers, and....Joey Bada$$.
Despite now being only 20-years-old as of the day of his debut's release, Joey Bada$$ has made quite the name for himself. From garnering praise from hip-hop elder statesmen like Cormega and Buckshot from Black Moon; making prolific appearances on Statik Selektah productions alongside artists such as Freddie Gibbs, Raekwon and Black Thought; to dropping two critically-praised mixtapes....for one of the new kids on the block, he really does get around. The fact that President Obama's daughter took a selfie while wearing a t-shirt for Joey's Pro-Era collective was free promotion and a source of controversy for the young rapper. Also, despite his name and album title being stylized with dollar signs, Joey doesn't seem to have that "get-money-at-all-costs" attitude that's infected most of his contemporaries. Before the money rolls in, Joey gives us a picture of the modern day New York rapper and how such a rapper should sound.
"B4.DA.$$" certainly has a 90's feel to it. That has the potential to turn away listeners who are too engrossed in current mainstream radio to deviate from conventional wisdom, or it can reel in fans who've grown sick of all of the rap clones. For this listener, it's just refreshing to hear a New York rapper who's caught a big buzz and actually sounds like a New York rapper. The lyrics aren't progressive, but are honed from participation in blunted ciphers and being desirous of not wanting to be part of rap's lowest common denominator. Joey has flow, wordplay, braggadocio rhymes and introspection. The album's beats are soulful, head-nodding and evoke imagery of the concrete jungle. The album's first single, "Big Dusty", is emblematic of the aforementioned 90's influence. Hearing the echoing looped sample Kirk Knight laced for the beat and Joey's nimble, yet aggressive, spit-game was reminiscent of an Organized Konfusion track. The opening track on "B4.DA.$$" - "Save the Children" - somewhat sets the album's lyrical tone. Statik Selektah produced the beat and it starts off with a crowd chanting Joey's name. He produces several of the album's tracks with his trademark sample-based productions ranging from street-level to playful to wistful. Over this track, Joey's conversational, effortless multi-syllabic flow reminds me of Breeze Brewin, but it's a style that remains his own nonetheless:
"Jet streaming having cuisine
With the best season since the vet season
Carry a vest, you know the reason
I'm in Chi-raq and I'm getting blown like the breezes
The chicken strip teasers
Thighs, legs and the breast part is the cleavage
She even lick it down to the bone marrow
She in love but I ain't got a bow and arrow
I'm known to +jack+ the booty like I'm +Sparrow+"
As much as I like this album for its refreshing feel, it's not without it's cons. The Statik-produced "No. 99" falters mostly because of the beat. It sounds too derivative of "Scenario" by A Tribe Called Quest with the drum programming. Joey's come-up, the central lyrical theme of the album, is a con and a pro. He's a young buck, not yet an adult, with raw talent that's honed, but not to its utmost. He raps well about what he knows, has sufficient articulation and imagination to be lyrically agile, but has some time before he reaches his potential. "Nigga Like Me" is autobiographical and features both B.J. the Chicago Kid as well as posthumous production from J. Dilla (with co-production by The Roots). While Joey rocks the beat pretty good, it sounds like a leftover Slum Village track. Not a bad thing, but merely an observation. DJ Premier produces one track, "Paper Trail$". It has the classic Premo sound with the record cuts, scratched-in lyrics, and urban atmosphere all around. One of the most creative tracks is "Piece of Mind". Taking a page from "One Love" by Nas, Joey raps to a jailed friend over a prison-phone conversation about his current state of life and thoughts. "Christ Conscious", the second official single, has plenty of Joey's aggressive rhymes, going in on it until he reaches the level of the song's title. He also has sparse guest appearances on here. Fellow NYC rapper Action Bronson makes an appearance on "Run Up On", but Joey holds his debut down by himself for the majority.
The album's closer, "Teach Me" has the most commercial appeal and the differs in terms of technique and flow. Considering the topic is dancing, I'd imagine that it's bound to make its way into the clubs, or the radio at least. Joey uses Canadian singer Kiesza for the hook and he utilizes a double-time flow for his verses. The beat, produced by Chuck Strangers & ASTR, has jazzy-vibe incorporated into its fast-paced swing-style:
There have been many would-be usurpers to the throne of New York. Almost 10 years ago, it was between Saigon and Papoose, but both failed to deliver anything worthy of being New York's rightful heir. Does that title belong to Joey Bada$$? No. The Brooklyn emcee has shown to be more like Nate Grey or Rachel Summers than the New York heavyweights equivalent to Charles Xavier: They've got experience and mastery, while Joey has youth and much untapped potential. Nonetheless "B4.DA.$$" is a step in the right direction in New York hip-hop getting the attention and validation it has long been denied.
Music Vibes: 9 of 10 Lyric Vibes: 8 of 10 TOTAL Vibes: 8.5 of 10
Originally posted: January 27, 2015
source: www.RapReviews.com