Maestro Fresh-Wes :: Symphony in Effect
:: LeFrak-Moelis Records/Attic Records
** RapReviews "Back to the Lab" series **
as reviewed by Matt Jost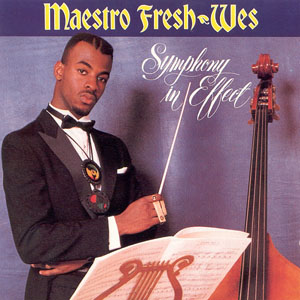 In retrospect it feels like Maestro Fresh-Wes was exactly the right rapper to put Canadian hip-hop on the map. Here was a full grown MC staking his claim with ardor, as competent as he was confident, equipped with not just attitude but actual authority. Someone who took this thing seriously and could in turn be taken seriously. As he declared on his breakout hit: "This ain't a game, I'm on a mission." Born to Guyanese parents in 1968 in Toronto, Wesley Williams caught the rap bug when the genre's first hits spread across the globe. The teenaged fan made his stage and radio debut as early as 1983 when he performed at a festival sponsored by Ryerson campus/community station CKLN (which broadcast the influential Fantastic Voyage show hosted by Ron Nelson). Initially calling himself Melody MC as one half of the Vision Crew, who opened up for Public Enemy, Ice-T and the Beastie Boys, by 1988 he had changed his nom de plume to Maestro Fresh-Wes. He left the New Music Seminar in New York with a contract with American label LeFrak-Moelis and before 1989 was over his debut album hit Canadian shelves, propelled to platinum success by the hit single "Let Your Backbone Slide."
The album peaked at number 4 in the RPM charts, 6 places higher than the single, which suggests that the audience saw more in Maestro than a one-hit wonder. Nevertheless, subsequent Fresh-Wes albums failed to match the success of "Symphony in Effect" and "Let Your Backbone Slide" would remain the best-selling Canadian rap single for years. True to its title, "Let Your Backbone Slide" is a dance tune specific of its time, part sampling collage, part drum machine-driven dancefloor smash. But it is the MC who marks his presence before any music is heard with the acapella war cry "This is a throwdown / a showdown / Hell no, I can't slow down / it's gonna go - (down)..." First Offence Productions (Peter & Anthony Davis) piece together vocal samples, turn the volume up on a "Funky Drummer" break and fire off "The Champ" organ salvos, and then the Maestro goes to work, comparing a rap to "a slab of clay that's shapeless," "I mold it in my hands before I start chiselin'," or a "mere thought" morphing into a "highrise" or a "skyscraper."
Living up to his title, Wes sets out to awe the audience with virtuosity, from planning to execution, from penning rhymes to spitting raps. While not always easy to understand and very enamored with the process of rhyming, there's still an overall cohesion to many of his verses:
"Rap scholar, soul academican
But like I said before, I'm not American
It's who you are, not where you went
We all originate from the same descent
I make a lot of sense - and pence
gold, myrrh and frankincense
When I'm in France they flow me francs
Frankly a Swiss account is where I bank
At home I make bills of brown from my sound
in the States green like the grass on the ground
When I'm in England, they pass me pounds
Now I clock cash in every town
So I slide, but nowadays I'm trapped
(Why's that?) So many suckers on my sac-roiliac
It's like a rap-sack, backpack
(Wick-wick-wack) Give me some slack, jack
Rap is like a jungle
where rhyme for rhyme is like a vine to vine
Swung line to line of mine
I'm collossal, you'se a mosquito
I'ma play Tarzan, you play Cheetah
Cheater, biter, love to forge
Better yet, I'll call you Curious George
cause curiosity cold killed the cat"
Very similar in execution, the second single, "Drop the Needle," begins with the words "Let your backbone slide" as well. The drums pound away, and Maes rocks the rhythm in his trademark physical manner, reflected this time by more graphic imagery:
"The needle drops like a pistol pops
Rocks the whole crowd, they can't stop
Ladies wave and rave like slaves
to this soundwave while guys misbehave
[...]
Started at zero, now they xerox it
Zipcode to zipcode, I should ziplock it
They won't stop it, chumps, they just chop it
chewin' chunks and chunks and then shop it
on their own plate, and I hate
to hear my rhymes over different breaks
[...]
Some MC's like to dance all night
But I like the brothers who can rock the mic
with bass and adrenaline
big beats - but then again
nowadays most rappers sound feminine
[...]
United States, United Kingdom
The rhymes I bring them spread like syndromes
T-O mixed it, New York pressed it
All these def hits, you can't test this
Rhymes fill buckets, clock 'nuff ducats
Yo yo yo, hold up, hold up - Nah, fuck it!
One-hour flight and I'm captain
Like Jason I'ma Take Manhattan
Each ceremony and every seminar
On LMR I'm hard, you're gonna get scarred
I run a dead pool, every rapper dread this
Boys be painin' at the namin' of the dead list
or the red list, the bloodshed fest
Fist to fist on the mic - you're left headless
They broke into the vault of Capone
didn't find jack, so they all went home
My vault could never be opened, I locked it
Punks be scopin' and hopin' to pop it
'89 is mine, you can't stop it
Are you ready for the drop?
(Yeah!)
Then drop it!"
While featuring dense drum programming as well, other tracks cater less directly to the dancefloor. "I'm Showin' You" uses Roger's "So Ruff, So Tuff" as Wes targets competition, accusing them of biting and abusing them verbally:
"Dope hit after hit
Bust lip after lip
Bitch lick after lick
[...]
Caught in the rapture - capture
Roundhouse in the mouth, your speech I will fracture
[...]
Nowadays nobody wants to battle me
They just saddle me, sit back and straddle me
Ask me for forgiveness, I ain't forgettin' it
Y'all rode my rhythm and now you're bowleggin' it
[...]
I was the first, all my records you thirst
You jabberjaws on my draws since the day of my birth"
But Maes also gives valuable advice about rappers who sound good on record but disappoint in person and about finding "your own style of rap" to "break away from the pack before you're trapped." "The Mic's My Piece" presents the mic-wielder as a gunslinger over the drum machine-enhanced b-boy favorite "The Mexican," the track erupting in a hook boasting Ice-T and Rakim samples, DJ LTD cutting and gunshots. Obviously the theme is strictly metaphorical as Fresh-Wes has ample means and reasons to depict himself as a hip-hop outlaw:
"How can one so low try to obtain my status
don't they know how long I've been at this?
Call me a new jack, that's a diss
New jacks don't rock like this
That's absurd to me, don't say a word to me
I'm from T-O, that's why you don't heard of me
yesterday, but now you're listenin'
cause I'm explodin' like nitroglycerine
If I was from New York I know
you woulda rocked to my rhythm five years ago
I had to try a little harder than the average
just to get a break, but now I'm doin' damage"
With the exception of the ballad "Private Symphony," there is a stylistic similarity beween the tracks that begins to wear on the listener and the rapper himself, who sounds exhausted by the time "The Maestro" and "Tear it Up" come up, although the former makes you take notice of socio-political undertones (foreshadowing 1991's "Nothin' at All") and the latter is a succint hardcore joint laced with quick-fire lines. But outside of the two singles, the album's structure is often fragile, such as on the sports-themed "Untouchable," a makeshift arrangement of a synthetic bass and a toned down James Brown break under which Fresh-Wes's haphazard house of rhymes eventually collapses. He also makes analogies to the world of art (Van Gogh and Mona Lisa) that couldn't be more nonsensical. And yet Maestro Fresh-Wes maintains a distinguished aura, remaining confident and commanding even across an aggressive rhetoric that includes more cuss and n words than comparable releases. There's also room for lighter moments like (the elaborate but insufficiently executed) DJ track "LTD's on the Wheel(s) of Fortune" and "Just Swingin'," a duet with his former partner in rhyme Ebony, where Maes' adds an x-rated note to '80s storytelling.
When recording "Symphony in Effect," Fresh-Wes was content being "the undisputed number one MC," although he suspected he "may never win a Juno." In 1990, "Backbone" was nominated for Dance Single of the Year, and by 1991 Maestro's success had prompted the Canadian Academy of Recording Arts and Sciences to create a category for rap music at Canada's Music Awards, nominate him five times and hand him two Junos, one for Rap Recording of the Year. Next to a total of 12 Juno nominations, Wesley Williams would go on to collect several other awards honoring his achievements and was chosen for the Scarborough Walk of Fame in 2006. Thanks to his debut, he holds the distinction of being the first Canadian rap artist to go gold (single/album) and platinum (album). "No rock star can touch this poetry," he added after acknowledging his slim chances to be accepted by the mainstream, but when years later "Let Your Backbone Slide" was the only rap song featured on a 4-CD 'Vital Collection Of Canadian Music' celebrating the 25th anniversary of the Junos, it was evident that the man had achieved something befitting of a true musical maestro.
Music Vibes: 7 of 10 Lyric Vibes: 7 of 10 TOTAL Vibes: 7 of 10
Originally posted: October 26, 2010
source: www.RapReviews.com