various artists :: Planet Rap: A Sample of the World
:: Tommy Boy
** RapReviews "Back to the Lab" series **
as reviewed by Matt Jost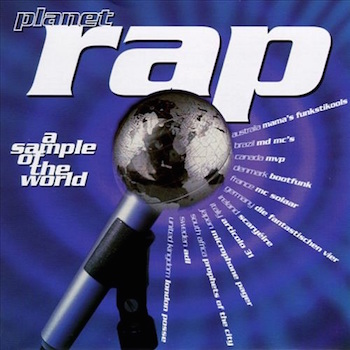 While hip-hop and rap outside of the US had been present for a few years, news of it got around to the mass media in the early 1990s. MTV played an important role in the worldwide pervasion of rap music, and with its show 'Yo! MTV Raps' recognized the effect by making stops abroad in (if memory serves) London, Tokyo and Paris. There was undeniably a demand for a taste of international hip-hop flavors. Tommy Boy Records, the only specialized label with a broad enough horizon at the time, made it happen in 1993 with "Planet Rap: A Sample of the World."
The other main authority on rap music in those days, magazine The Source, reviewed the album in February 1994, opening with the following observations:
"If 1993 is the year Long Beach/Compton, Atlanta and Oakland usurped New York/New Jersey's - the cradle of East Coast rap - rule of hip hop in terms of album sales, mass popularity and MTV rotation, does that mean that Germany, Brazil or Sweden will produce the nex Dr. Dre, and soon everyone will be nodding to a Nuthin' But A 'G' Thang from Japan? I don't think so, since that's assuming rap is a popular fad open to multi-cultural interpretation, and not a complex, expressionistic African-American artform that requires rock hard integrity above anything else - steeled by the unique Amerikkkan experience - and skills that can withstand the challenge of a thousand MC's."
I remember being angered by that assessment as a European, dismissing it as straight American ignorance. Today I read these arguments and see their historical relevance, especially since, for the greater part, they have become infinitely more obsolete than they were back then. Rap is ostensibly far from a popular fad - but of course it is open to multi-cultural interpretation. That's why it was able to take roots beyond its birthplace in the first place. I would feel like cheating if I replaced the '"Nuthin' But a 'G' Thang" from Japan' (that never was) with Psy's "Gangnam Style," and it was always unrealistic to think that non-American rappers could break into the US market in droves, but by now many countries in South America, South-East Asia, Africa and Europe have a deep history of domestic rap music. These places wrote and continue writing rap music history, whether the Americans recognize it or not. The only lamentable side effect of that development is that some international rap fans have lost interest in American rap, especially the historical part, thus falling victim to ignorance themselves.
Over twenty years ago the rap world was still relatively small, in the sense that global hip-hoppers hadn't yet had the time to explore all the possibilities the artform has to offer as they still found themselves somewhere between translating the original manuscript and adding their own annotations. Nowadays there exist a myriad of local rap identities, although ultimately many of rap's outposts still haven't fully emancipated themselves from the motherland, as if you could only build rap on the ground America has prepared. But that's for another article.
The compilation begins legitimately with a French contribution, at the time the country with the most advanced understanding of rap music (with the exception of the United Kingdom, for obvious reasons). In fact the title "Planet Rap" may originally have been inspired by a domestic release called "Nation Rap" ('Rap Nation'), a 1990 single by French radio pioneer Patrick 'Sidney' Duteil and David Guetta, long before he rose to fame as an international superstar DJ and producer. Either way the very first European rap singles were not exactly shining examples of authenticity, "Nation Rap" included. It took truly credible, talented and original artists to solidify the reputation of homemade rap. For France that was primarily, for the greater public at least, MC Solaar. His 1991 album "Qui Seme Le Vent Recolte Le Tempo
" ('He Who Sows the Wind Shall Reap the Whirlwind') remains an untouched milestone, and an early version of "Planet Rap" actually opens with the album's title track. For perhaps topical reasons a later version replaces the Solaar track with IAM's "Le Feu" ('The Fire'). IAM were no less credible, talented and original, still I consider a classic cut from international rap's first breakout star a superior choice over "Le Feu," which doesn't capture the essence of the artist as perfectly.

"Planet Rap" editions further differ in an elementary way as Tommy Boy suddenly decided to sneak in its new Californian signing Coolio. Not to deny the future rap superstar his place, but his song "On My Way to Harlem" took the place of "Die Da!?" by Die Fantastischen Vier, German rap's first major hit, by far the song with the farthest reaching consequences on this compilation. In a league of their own, Die Fantastischen Vier are still active and as successful as ever, something practically no other rap act that was big in 1992 can claim. (Not even IAM, because their breakthrough year was 1993 and their status as a group is currently unclear.)

Another success story turned out to be Italy's Articolo 31. Named after a legislation themselves, their "Legge Del Taglione" ('The Law of Talion'/'Eye For an Eye') relates a random act of violence that will only result in retaliation. The rest of the acts on "Planet Rap" had a much shorter life span, even as some songs were licensed from local majors. Ireland's ScaryÉire never put out an album with Island, Japan's Microphone Pager and the UK's London Posse didn't get beyond album number one, while projects like Bootfunk from Denmark (not to be confused with Finland's later Bomfunk MC's) or Mama's Funkstikools from Australia must have been extremely short-lived since their contributions to "Planet Rap" remain practically the only items in their official discography.

That didn't deter some from pursuing a career in the business. Microphone Pager's Muro, the self-crowned King of Diggin', may be Japan's globally most visible hip-hop head these days. "Huffin' and Puffin" co-producer Ezi Cut has credits on 2Pac's "Me Against the World" album due to his connection with Danish producer Soulshock. "Lost For Words" producer Howie B. went on to work with Tricky ("Maxinquaye") and Bjork ("Post"). Rodney P from London Posse is a still present father figure of UK hip-hop, Sweden's Adam Baptiste a/k/a ADL has been in rap crews and funk ensembles and hit a personal high in the mid-'90s with the Absent Minded album "Extreme Paranoia in Stocktown." He even appears in the credits of an Enrique Iglesias song, and his solo cut "Daddy" is fairly representative of the attention his songwriting gives to the fair sex.

Davi Vieira, one half of Brasil's MD MC's, continues to combine the already multifarious Bahian style of music with hip-hop (as they did on "Salvador Astral") and like his still active partner Marivaldo Dos Santos lists many high-profile collaborations in his resumé. Toronto's MVP didn't put out much beyond "Fresh Has Jus' B-gun" but would bring forth solo MC and Monolith member Wio-K. Bootfunk member and former solo rapper YB slid behind the scenes, where he has been involved in records by New Kids on the Block, Sugababes, Method Man and Jin. In terms of leaving behind a legacy, however, all of the above may be trumped by South Africa's Prophets of Da City. By the time their "Understand Where I'm Coming From" landed on "Planet Rap," they were already three albums deep, operating with the experience of a political rap group who observed the end of apartheid with lyrical vigilance. If anyone had any doubts about the credentials of non-Americans to rap, their closing track should have erased them permanently.

Rap from outside of the United States is not without contradictions. In 1993 one could raise valid objections against some of the selections, be it they were too flavor-of-the-month, too pop, too American, too anglophone. These issues are largely irrelevant today, at least in regards to "Planet Rap." Nowadays there's no reason not to enjoy this throwback of a different kind, from IAM announcing their tour triumph across France with a chant sung by fans of Olympique de Marseille, to Bootfunk steamrolling over competition in Soul Assassins fashion, to ADL getting his mack daddy on with the help of an Aaron Hall sample, to MVP looping The Manhattan Transfer to jump-start their own vocal acrobatics, to Microphone Pager giving you a complete taste of Japanese rap (compared to the Scha Dara Parr/Takagi Dan feature on De La Soul's "Buhloone Mind State" in the same year), to ScaryÉire taking the term 'socially conscious' as literally as few before or after, to London Posse saying all that needs to be said, really, in their classic "How's Life in London." Sometimes foreign, sometimes familiar, almost always fresh, "Planet Rap: A Sample of the World" predicted the bright future of rap and hip-hop around the globe.

Music Vibes: 7.5 of 10 Lyric Vibes: n/a of 10 TOTAL Vibes: 7.5 of 10

Originally posted: July 7th, 2015
source: www.RapReviews.com