Top Choice Clique :: Reel Chemistry - The Anthology
:: Brick Records
** RapReviews "Back to the Lab" series **
as reviewed by Matt Jost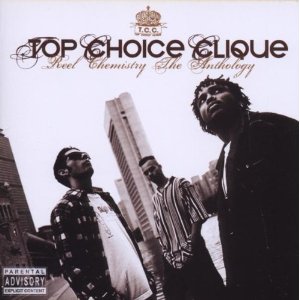 "Now what's this, you're sayin' hip-hop isn't music?
Then why do so many rap fans choose it?
They're impressed by the beat and the rhyme track
And if you suckers paid attention you would find that
there are many styles - simple and complicated
This one's simple; when I'm complex I'm top-rated
I choose to chill on this song to get across
a basic message - I hold it, then let it off
Many complain that you can't dance to a rap rhythm
I prove 'em wrong - I just smack, hit 'em
with a couple of beats to make their hands clap
And when I'm finished they'll admit that the jam's packed
And if you don't, who gives a hell about you, brother?
Too strong is the hip-hop culture
So if you don't like it, yo, well that's fine
Respect my feelings, boy, give me some peace of mind"
(MC/DJ Force, 1989)
Among many fans of rap music there is the notion that 'hip-hop culture' is something made up by old farts to push their own interests, overstate their importance and assert their position of authority. Those fans might even go as far as calling hip-hop and the alleged culture that is tied to it a myth or pure ideology used to elevate some and exclude others. But twenty years ago a 16 year-old Boston rapper and beatmaker by the name of MC/DJ Force had a very clear vision of this 'hip-hop culture' and he was ready to stand up for it, against those who claimed hip-hop was unmusical, one-dimensional, stereotypical, etc. He insisted that he wasn't "a thug blastin' up an addict for some coke and some drugs" and that what he delivered wasn't "gangsterism," that he prefered "to be smart," didn't "follow crowds" and acted "straight from the heart."
None of this would have been remarkable years later, but for 1989, when gangster rap was still a new phenomenon, such statements are exceptional, particularly in combination with the early use of the term 'hip-hop culture' in a rap song. But it proves how quick rap has always been to react to what's happening.
"Peace of Mind," released in '89 on tape and in '90 on wax, was the local breakthrough song for Massachusetts hip-hop trio Top Choice Clique. But it wasn't their first release. Based out of Malden, MA, rapper John 'Jawn P' Preziosa had put out single-song cassettes together with DJ Gemini and beatboxer Andy F as the Double Def Crew, billing themselves 'Malden's Top Choice.' Styled after New York's Juice Crew, they joined forces with Mike 'MC/DJ Force' Fields of another local outfit, TCC eventually coming to consist of Jawn, Force and Gemini. In 1988 the first vinyl release under the Top Choice Clique name saw the light of day, the 4-track EP "The Powers in the Words."
While the song never fully arrived in hip-hop mecca New York, "Peace of Mind" opened doors for the crew, even winding up on the movie soundtrack for 'City of Hope.' The exposure eventually led to Top Choice getting signed to major A&M, for whom they recorded the album "Reel Chemistry." The label introduced them in '93 on the soundtrack to Mario Van Peebles' 'The Posse,' but suddenly decided to pull the plug. After one more single with A&M support in '94, it was over for TCC. Thanks to the reissue-friendly Boston label scene, in 2008 these pioneers were finally properly honored with this anthology. Spread across two CD's, Top Choice's brand of Beantown hip-hop is thoroughly documented here, from early local exploits to the material that was supposed to get them national attention, with only a minority of the tracks previously available.
When considering the tracks recorded for A&M, it is important to note that the disc doesn't represent the exact shelved album "Reel Chemistry" but simply gathers tracks recorded for A&M (minus, irritatingly, "I Think to Myself" off "The Posse.") Featuring input from guitarist Nuno Bettencourt of Malden/Medford hard rock heroes Extreme, there's a sometimes subliminal, sometimes stronger rock influence to Force's beats. The often densely layered production even includes rare beat/sample changes.
Album intro "Poor Man's Pride" (preceded by a deceptively lighthearted intro itself) foreshadows the epic proportions of TCC's '90s sound. Absolutely up-to-date, the following "Eye of the Cyclone" sonically recalls the second albums by Cypress Hill, Organized Konfusion, The UMC's or Leaders of the New School. The title track combines grungy rock with elegant Arabian elements. The triumphant "Sing a Hymn" opens with an ethereal vocal sample today's underground aficionados might know from a Reef the Lost Cauze song before a drum track that listeners back then would have recognized from D-Nice's "Crumbs on the Table" steamrolls along. The hymnic sample becomes an integral part of the track but is later complemented by another source of angelic singing. "Scripture 93" brings the noise with a heavy guitar sample roaring across banging drums while DJ Gemini slices vocal samples, but all the while the music doesn't deny its blues and funk ancestry. "Perils of Punishment" evokes the Flatlinerz' brand of horrorcore, the frenzy levelling off in a long, sober outro. "The Mic Is a Tool" incorporates changing samples into a solid funk backing, the music mirroring the syllable and style flipping of the MC's.
Force is certainly the more interesting vocalist of the two, a nimble-tongued MC with a penchant for mythical imagery and a flow occasionally reminiscent of Pharoahe Monch. But he can also also keep it extremely real, like when he looks back on his obsession with rap on "Sing a Hymn," a key moment to the understanding of TCC, as can be demonstrated with just eight bars:
Jawn: "Gettin' respect from my peers over the years
Makin' hits, but the record labels, they didn't care
It didn't matter that my beats had lots of soul
cause I'm white, so I should stick with rock 'n roll"
Force: "Others thought my rap was soft, felt it needed change cause
I wasn't shootin' up brothers and talkin' about no gangsters
Strange as it sounds, bro, I just wasn't down, though
Didn't wanna be another dummy added to the clown show"
Despite Jawn P being the less accomplished rapper (sometimes compensating a lack of flow with aggressiveness), they're ostensibly a true rap tag team that complements each other, even literally so to the slow-mo funk of "Alright":
"People take rap for a joke on that television jingle tip
from Reynolds Wrap to a Pringle chip
It makes me mad, really burns me up cause they think rap is
somethin' to pick up quick without any skill or any practice
Rap fever - R&B artists have caught it now
puttin' rhymes on track that sound mistreated and watered down
inconcise, with a flow that's not even serious
But on the other side you got me - a true lyricist
Cause I'm as quick as a bullet when it ricochet
Testin' my nerves you'll get served in a vicious way
Leave rap alone and we won't have to fight
Pass Top Choice the mic, cause yo (It's gonna be alright)"
While the Clique's "Reel Chemistry" recordings reveal a talented trio, it's also evident that they struggled to escape their '80s foundation of battle and brag rap. They opt for literary, abstract imagery ("Eye of the Cyclone"), try to rhyme entire lines ("Reel Chemistry"), hop on the 'I'm crazy' bandwagon (an early '90s staple), engage in tongue-twisting ("The Mic Is a Tool"), they even come up with one of the decade's trippiest rap songs ("Troubled Kid"), but they ultimately fail to present a reason for being.
Force's solo track "The Highlander" inevitably comes across as affected when there are rap artists who have the skill or the biographical background (or both) to lend their music a fateful touch. Speaking of, at some point Top Choice became influenced by the West Coast and the South, as evidenced by "Outside In" (think Rap-A-Lot) and "Killing Me Softly" (think post-Dre Ruthless), two songs that hope to be much more serious than they actually are. TCC's last official vital sign, "Push it Past Red," presented a invigorated crew, which sadly the 'Slow Flow' version included here doesn't reflect.
Much more compelling is the single's b-side, the stunning, avantgarde harp-laced composition "Survival," where they see their dreams crumble, resulting in a gripping illustration of industry rule 4080:
"Clock is tickin' and I wonder when
I get a chance to ascend, reach the sky, see the sun again
'Soon' is the company reply
But I don't identify when I hear a bold faced lie
Why so much hostility in my chromosomes?
I got a big record deal but I'm still sittin' home alone
[...]
Somethin's gotta give, positive was my outlook
But the house shook when I learned that I had to doubt crooks
who wanted to steal my dream away like a common criminal
behind my back like some timid fool"
This from the same rapper who only a couple of years earlier so enthusiastically had declared: "Clear the area and sound off the trumpets / I'm comin' through with a march so triumphant"...
Disc 2 contains the classic single "Peace of Mind" b/w "You Can't Deal," the former by the way flipping the S.O.U.L. break of the same name before it was used by Marley Marl (Craig G), Large Professor (Main Source) or Pete Rock (Heavy D & The Boyz). Followed by a selection of late '80s/early '90s material such as a demo version of "I'll Do The Honors," the original "Givers of the Scripture," the visionary "The Mellow Side" or the raw mid-'80s throwdown "Supreme Jam II." While not ready to be released, diamonds in the rough like "Taking All You Got to Give" and "No One Like Me" (with a pimpish Jawn and an outstandingly flowing Force) reinforce the impression of a truly talented bunch. After witnessing that much unveiled potential, one can only conclude that relatively early on Massachusetts could have had its own full-length rap classic if at some point Top Choice Clique would have been given the opportunity to release an album.
Music Vibes: 7 of 10 Lyric Vibes: 6.5 of 10 TOTAL Vibes: 7 of 10
Originally posted: November 22, 2010
source: www.RapReviews.com