Rasul :: Writing Colours
:: Starting Lineup Records
** RapReviews "Back to the Lab" series **
as reviewed by Matt Jost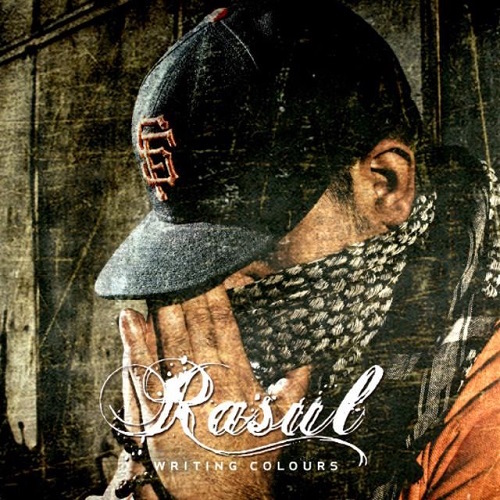 "Get it? Nah, I guess my people never will
The rebirth of Joshua, I'm forever real
Writing's just a way to push my heart through a shredding mill
Threw up what I bottled in, I think I'm gon' let it spill..."
When I first started contributing to RapReviews.com fifteen years ago, my motives weren't entirely selfless. Nonetheless I believed I was doing a service to both rap musicians and fans of rap music. Looking back on these fifteen years I can't deny that a lot of what I wrote was first of all self-serving - continued attempts to push my point of view, often so extensively that I surely left many a reader exhausted. Still I am proud of certain contributions I was able to make under the benevolent reign of our editor-in-chief, who allowed me to freelance the kind of reviews you simply won't find on other major anglophone hip-hop websites. (Believe me.)
My first foreign submission to RapReviews was a write-up of Square One's "Walk of Life." Although released in Germany and recorded by residents of Germany, the album unquestionably addressed anybody raised on American hip-hop. Additionally, two of the members of Square One had a Muslim background, which in my eyes made a review a crucial statement on our part mere weeks after 9/11. Lead rapper Ali Rasul, right-hand man Gianni Dolo, producer Iman and DJ Edward Sizzerhand proved that old hip-hop adage that it's not where you're from but rather where you're at. A decade later "Walk of Life" was widely regarded as a high point in German rap history. And Ali Rasul was dead.
"Writing Colours" is a posthumous album released by Starting Lineup Records, first on CD in conjunction with hip-hop magazine JUICE, who included it in their July/August 2011 issue, then later digitally at various internet retailers. It is a testament left behind by a man who lived and breathed hip-hop ever since he first came in contact with it. Representing Munich (easily detectable by his accent when he spoke German) but having already put his feet on a few continents, Ali Rakhshandeh learned his first industry lessons around 1993 in the entourage of short-lived new jack swing group Justaboo, assisting in production on a handful of album tracks and also rapping on the single "The Rest Is up to You." In the mid-'90s he lived in Brooklyn, where he attended Long Island University. Upon returning to Germany he founded Square One with longtime accomplice and fellow Iranian Iman Shahidi. The singles "Mind. Body. Soul." (1999) und "State of the Art" (2000) were followed by the aforementioned "Walk of Life," after which the crew disbanded in early 2002.
Observers close to the group cite the lack of success as one major reason for the split. Especially Rasul was highly confident of the album's superiority and for a guy who had ciphered with Pac and Pun in their earliest days and received props from Premier, the indifferent reception in the home market must have hurt. It took him years to officially return to the scene with two mixtapes, "Opium Volume 1" ('05) and "Opium Volume 2" ('06). 2006 also reunited Ali with his family who came over from Canada to support the Iranian team in the FIFA World Cup. Longing to strengthen his family ties, he joined them in 2007, returning to square one again with his rap career and preparing a new solo album across the Atlantic with his musical family in Germany, who were shocked to learn of his untimely passing on May 11th 2010 in Vancouver.
Just before his death, producer Crada sent him a beat he was excited to use for his first single, but which instead became Drake's "Fireworks." Ali didn't live to hear the finished "Thank Me Later" opener. Besides calling on old-time partner Iman and protégé Crada, he took a liking to the beats of production duo Truestatiks, consisting of Ju-Ar and Magicsoul, who handle the bulk of the production on "Writing Colours," which like "Walk of Life" is characterized by a warm, soulful sound - partially updated with spheric strains. Rasul the artist stayed true to himself since the late '90s when he proclaimed to live in "My Own World." Gang Starr's Guru once professed, "My religion is rap," and without claiming authority on a dead soul's beliefs, that goes to some extent for Rasul too. Also known as Rasul Allah, which translates to 'messenger of god' (and often - but not exclusively - refers to the prophet Muhammad himself), Rasul was also a disciple of hip-hop of the highest order.
Few MC's have placed hip-hop on a golden pedestal like Rasul. He's a prime example of someone who passionately responded to the rhetoric of liberation and empowerment of conscious and militant rap. There are statements on "Writing Colours" that prompt the listener to double check that the rapper is not black and not American. This goes as far as him absorbing 5-Percenter vernacular into his vocabulary. Or rather that's only the start of it. Critical minds would argue that he tried to steal his way into the very heart of hip-hop, moreso than any rhymester who ever aped American rap but at least made a translational effort. But that would be misjudging the artist's deepest convictions, the validity of rap's message especially to the ears of the powerless and the very existence of the global social reality that is the hip-hop community.
Rasul wasn't immune to self-doubt, but he exalted himself with the help of hip-hop, creating the kind of upward spiral that elevates the artist and the artform - and even takes the listener along. At some point the individual forces combine for an adamant whole and Rasul's brand of rap reaches a meta level, where it's not about the messenger anymore but the message. In 2007 Rasul disclosed, 'I've always been about content - social awareness if you will. And all the aforementioned [Poor Righteous Teachers, KMD, X Clan, Public Enemy et al.] were groups I looked up to. Shit, I've learned more from these guys than from my own pops and I've always lived with it. They taught me to learn about myself, my heritage, my roots and the struggle people of color have to endure everyday. Knowledge, wisdom and understanding were more than words, they are my codes of conduct to this day.'
Ostensibly Rasul could relate when he listened to the tales of survival, relate on a very personal level. To the point where he saw himself as an equal to American MC's, a comparison his colleagues in the German rap scene of the '90s - understandably - usually steered clear of. It's hard to question the sincerity and substance of well put lines like "Y'all should examine all the dirt underneath my soles / the bloody knees from crawlin' on the steepest roads." And his sense of observation extends to objective characterizations, like when he says, "Emotions get buried under the adrenaline / the medicine for broken egos like amphetamines."
Combining the mysticism of Killah Priest, the masochism of Chino XL, the street poetry of Cormega and the voice-for-the-voiceless of countless rap artists who assume social responsibility, Rasul was a highly skilled lyricist that spoke in well figured language with his warm, authorative voice. The intent to sound as little German as possible was still intact, so that safe for a reluctant reference to "German engineering" "Writing Colours" is again free of tangible pointers that would have brought him closer to the locals that couldn't appreciate "Walk of Life." And therein lies the tragedy of Rasul Allah, because he actually opened up more than your average American 'conscious rapper'. There are parts and even entire songs (the emotive "Movin' On") that on an emotional level align him with the Nas's and the Scarfaces of this artform. That does not absolve him of lyrical platitudes that slip in every now and then. Nor of the absolutist rhetoric that surfaces here and there. (Why acknowledge aggressors like Lee Harvey Oswald and John Allen Muhammad with lyrical references when you simultaneously lay an emphasis on positive role models?) Apart from such unnecessary distractions (including American sports analogies and an abundance of rap references), "Writing Colours" has plenty of congenially worded characterizations of rap as something bigger than just rhythmically communicated words that rhyme.
Rasul was an individual who felt hip-hop on a personal level and was able to pass these emotions on in his own music. That is not peculiar per se and the outcome in this case may not even be particularly original, but in regards to devoting yourself completely to something without knowing what you can expect in return, this "invisible giant" radiated genuine greatness. "Writing Colours" is a labor of love - and pain - from someone who went from student to teacher, who matured into a supremely reflective artist who was able to reach lyrical-spiritual heights rarely heard in rap. Infrequently, to be sure, yet just as sure there is a wordsmith extraordinare at work on "Writing Colours": "I deejay broken records of lies and clichées / wonder if y'all wanna hear what I really have to say."
The greatest advocates of rap music and hip-hop sometimes come from a seemingly peripheral position. Referring to an infamous statement of a cultural icon who once claimed to embody hip-hop (KRS-One's "I am hip-hop"), Rasul wrote in 2007:
'As long as I can remember, I've always been an artist! Think absent-minded, an alienated melancholic constantly roaming through the realms of consciousness, always looking but never finding. Think disillusioned to worldly matters, dismissive to manly responsibilities which would have had satisfied my peers and parents, an unlucky author searching for corresponding adjectives and relative pronouns, dissecting tongue and language for unprecedented perfection. I write! I write to revisit the garden of my memories, ducking the never ending blows of depression that haunt me in my sleep. I write for undefined therapeutic reasons, write because this is all I know; write because this is all I am. But more than anything, I am Hip Hop! I've abandoned being just a fan a very long time ago, realizing that besides my heritage, my complexion or political beliefs, this is the only notion, the only true component I can thoroughly represent.'
Music Vibes: 7.5 of 10 Lyric Vibes: 8.5 of 10 TOTAL Vibes: 8 of 10
Originally posted: December 12, 2016
source: www.RapReviews.com