If you missed any of the new reviews this past week including Esoteric & Stu Bangas' "Machete Mode"then do yourself a favor and check out this week's edition of the (W)rap Up!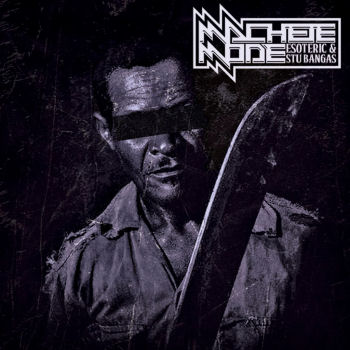 Esoteric & Stu Bangas :: Machete Mode

Man Bites Dog Records
Author: Grant Jones
"Babygrande Records operated a forum about five years ago (they seem to have removed it now) that was full of fans of underground hip hop. That would make sense given the type of music that Babygrande were putting out from the likes of Jedi Mind Tricks, Brand Nubian and Army of the Pharaohs. What perturbed me was the large portion of the forum that seemed to hate Esoteric - more specifically the fact that he sounded like Kermit the Frog. I suppose if you listen to a lot of his work, there are moments where his verses aren't the clearest and he could well pass for Kermit, but there's no denying that Seamus Ryan is an unbelievable emcee. The term rapper's rapper has never been more appropriate: Esoteric knows how to flow, rarely drops a corny punchline and is always open to challenging himself. His work with producer and DJ 7L has largely been excellent; Dangerous Connection being the pick of the bunch; but Esoteric then started dabbling with production himself but never quite outdid his Boston compatriot. "1212" and this year's "Czarface" project are healthy reminders of 7L and Esoteric's chemistry, and considering their lengthy careers, they never really get mentioned among some of the best hip hop duos. Esoteric may lean heavily towards generic battle rap, but it hasn't hurt his chances at being featured in the Top 10 Best Hip Hop Albums of the Year list on RapReviews. Hell, this is his THIRD project from 2013, having contributed to the Demigodz' "Killmatic" album and the previously mentioned "Czarface" project with 7L and Inspectah Deck. Esoteric is certainly no Muppet on the mic, and is an emcee that has always tested himself lyrically. Admittedly, his content is 90% brag-rap and battle rhymes, but he has always evoked a light-hearted approach to his albums, with albums like "Dangerous Connection" and "Saving Seamus Ryan" often showcasing an inventive side that Esoteric's guest appearances for both The Demigodz and Army of the Pharaohs rarely reveal."
Apex Zero :: Reality Provoking Liberation :: First and Last 
as reviewed Zach 'Goose' Gase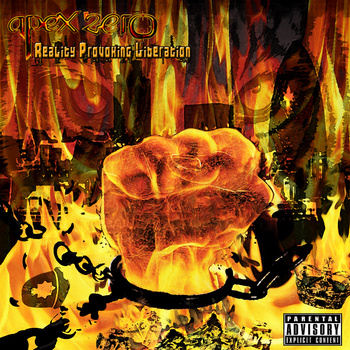 "West London rapper/producer Apex Zero has described himself as a "Neo-hardcore Tru Skool Hip Hop Emcee." While this description is over-the-top and kind of ridiculous, it also gives you an idea of who this rapper is as an artist. On Apex Zero's debut album, "Reality Provoking Liberation" you have a rapper who is intensely serious, starkly political and altogether lacking in humor and personality. He credits the radically political emcee Immortal Technique as a big inspiration, and Apex Zero's music definitely reflects that. But I find Immortal Technique to be a total drag to listen to, so "Reality Provoking Liberation" is also not an enjoyable listen for me. Apex Zero is a solid enough emcee; his vocal delivery sounds like a British version of a young Jay Electronica, and his intense flow matches the subject matter and production well. He is a fine writer, but he is also very one-dimensional. "Reality Provoking Liberation" comes very heavy handed with political themes, to the point where about halfway through the record, it feels exhausted. Granted, being from America, I may not be the audience that Apex Zero is rapping (or in some moments preaching) for, but an important trait for an emcee is to be able to make all types of audience feel his or her music. The production, handled primarily by Apex Zero, has a nostalgic 90s feel, but has enough of a twist to keep the beats from sounding like Havoc and A Tribe Called Quest clones. On one of the album's few standout cuts, "Obtain Bearing," he incorporates a Bollywood sample, which gives the track a very eerie vibe. "
http://www.rapreviews.com/archive/2014_01_realityprovoking.html
Burial :: Rival Dealer EP
 :: Hyperdub 
as reviewed Patrick Taylor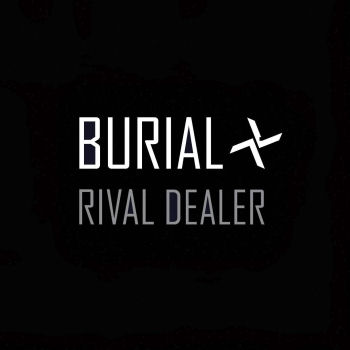 "British producer Burial came on the scene in the mid-2000s, making dubstep that channeled urban loneliness. His critically acclaimed 2008 album "Untrue" combined dubstep's shuffling beats and wobbling bass with filtered vocal samples that evoked a sense of yearning and romantic longing. It was the soundtrack for walking home alone from a club at 2am feeling disconnected from the rest of the world. Burial hasn't released an album since "Untrue," but he has been busy putting out EPs. In 2012 he released "Kindred" and "Truant/Rough Sleeper." On those EPs he experimented with longer running times and more complex arrangements. He also started moving away from the confines of dubstep, exploring 90s rave and abstract compositions. "Rival Dealer" is yet another leap forward for Burial. He completely abandons any semblance of dubstep, replacing it with 90s-influenced techno and house. The title track has a driving beat that references the late-80s dance/R&B of Soul II Soul and C+C Music Factory. It is aggressive and confident, which is a change from Burial's previous music. He samples Gavin DeGraw's "More Than Anyone," repeating the line "I'm going to love you more than anyone." The completely changes at the five minute mark, becoming a haze of static bass while samples of "this is who I am" and Lord Finesse declaring "You know my motherfucking style!" play. Seven and a half minutes in, everything goes silent, replace by ambient synthesizers and sample of a woman talking about looking at the night sky." "Hiders" is the shortest song on the EP, but still manages to switch moods and tempos in its four minute running time. It's a song that conveys feelings of joy, empowerment, and overcoming obstacles, albeit in Burial's own skewed way. A triumphant piano plays over heavily filtered vocals. An 80s synth drum beat finally kicks in at the 2:40 mark, and barely sticks around for a minute before the song devolves into ambient noise and silence. It's a gorgeous, triumphant piece of music.
http://www.rapreviews.com/archive/2014_01_rivaldealerEP.html
DJ Khaled :: Suffering From Success
 :: Cash Money/Republic Records/We the Best Music 
as reviewed Grant Jones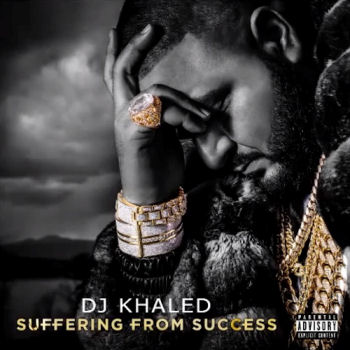 "Ready for yet another barrage of bass and a bevy of big names? Of course you are. Reading off like it was recorded after a Grammy's afterparty, DJ Khaled insists that we haven't had enough of him yelling "We the Best" in between some more bragging and boasting. Despite the predictable premise, this album supposedly got its name after Khaled went to the doctor about his balding beard. Having studied his videos, I can't confirm if this is true, but it does strike me as an embarrassing result of stress that certainly doesn't fit in to the outlandish image that Khaled and his friends portray. Can a man that insists he is the best (at everything presumably) truly convince when his shape-up isn't symmetrical?  Of course, Khaled has never been the best producer, but he's clearly a great networker, regularly landing A-list rappers on his projects. Given that this project (more than any other) sees him calling back guests he has already worked with is disappointing to say the least. When Khaled combined Big Boi, Ludacris, Busta Rhymes and Fat Joe with his BFFs Rick Ross and Lil Wayne (on "I'm So Hood Remix"), it not only felt exciting (in a way seeing so many legends on Sway and King Tech's "The Anthem" was) but was well balanced. For every brash Jeezy verse, there was an intricate one from Twista. For every southern artist, there was also a New Yorker present. It saddens me to say that this seventh edition of Khaled and co doesn't help the producer's increasing lack of relevance. "Murcielago (Doors Go Up)" is instantly forgettable, despite Meek Mill's best attempt to bring some intensity to the sound booth while "Blackball" has a truly horrendous vocal performance from Future that felt like one of those X-Factor auditions designed to get the nation laughing at the complete lack of singing ability. Autotune doesn't help proceedings and I'm genuinely surprised Khaled relies on it so heavily. Hearing it throughout the song "Suffering From Success" is off-putting to even the most ardent T-Pain fan. "
http://www.rapreviews.com/archive/2014_01_sufferingfrom.html
Guerrilla Alliance :: Guerrilla Warfare
 :: Planet X Records 
as reviewed Steve 'Flash' Juon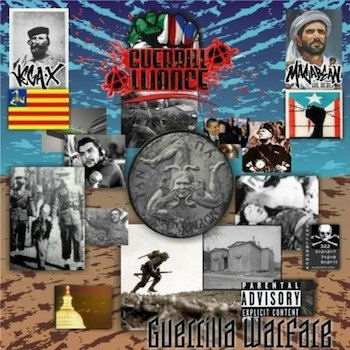 "Guerrilla Alliance consists of Macabean the Rebel and Vega X, who (according to their bio) have been working in collaboration since 2003. We at RapReviews have only recently been exposed to Planet X label, and while Vega X's style gives me cause for pause, they've produced and released some interesting tracks. I also take note of anybody who goes to the trouble to professionally print and package a compact disc complete in the shrinkwrap, because in the 2010's more and more artists choose to release entire albums digitally. I can't fault them given it's both a cost-saving measure and convenient to the end-consumer, but that just shows more commitment on the part of artists like Guerrilla Alliance, who fully intend to sell you hard copies at live shows or through retail outlets. That's a mark of confidence in the value of your creation. Having offered my opening praise to the hard working people of Planet X Records, I must now make a few notes about the "Guerrilla Warfare" album that are more measured. I'm a little dismayed that it only takes a few tracks of the album before I'm hit with some very overused movie samples: "Shogun Assassin" in the intro (which to my mind forever belongs to GZA), the "you've got to get mad" speech from "Network" in "Wrath of Kings" PLUS Johnny Depp's "too weird to live, and too rare to die" speech from "Fear and Loathing in Las Vegas." Songs are also peppered with anti-New World Order propaganda, such as quotations read from William Cooper's "Behold a Pale Horse," which although somewhat cliche in hip-hop over the last 20 years are preferable to the movie dialogue retreads. There's a very Stoupe/Jedi Minds type sound to tracks like "Architecture of a Perfect Weapon," which makes for a mostly enjoyable experience. I qualify that with "mostly" because my issues with Vega X remain largely in tact from my last exposure to him. Macabean the Rebel proves a good balance to him, as he certainly understand the mechanics of flow, but Mr. X often feels as though he's flying off the handle and screaming his rage into the nearest microphone available regardless of whether he stays on tempo. His conviction makes him stand out amongst more monotone peers, but so does his excessively vitriolic attacks: "My axe is blood soaked/after I leave friends for decapitated/Guerrilla Alliance killing faggot racists." I'm not any more convinced he's a homophobe than Tyler, the Creator but the fact he feels the need to throw the "faggot" slur around so frequently makes me wonder whether it's the New World Order or The Castro that he feels are the real enemy."
http://www.rapreviews.com/archive/2014_01_guerrillawarfare.html
Mega Ran (Random) :: Journey: A Hip Hop Excursion :: MegaRan Music 
as reviewed Steve 'Flash' Juon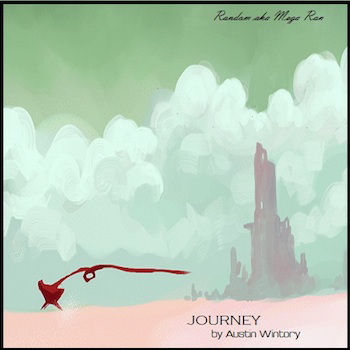 "The video game "Journey" was designed to have a profound effect on the people who played it, and rap artist Random a/k/a Mega Ran seems to be one of them. It's probably not a surprise to know that Ran connected with the game on multiple levels, given he's a gamer since the old school days, and understands in a way people who dismiss them as "just kid stuff" never will. A good video game is just like a good movie - it pulls you into a story and makes you connect to it emotionally. You relate to the protagonist's struggles and goals, and you get swept along a roller coaster of highs and lows as you try to help them achieve those goals. If the background music is lushly orchestrated, if the characters are well drawn and animated/rendered, if the supporting cast and dialogue are compelling, it's a transcendent experience. Good games are like good movies - they stick with you over time. They become more than just a passing fancy. Of course there are "popcorn" video games just like there are harmless slapstick comedy films, but "Journey" won praise from critics for taking the cinematic presentation of gaming to a whole new level. You're dropped into a world with little to no explanation of what's going on - you're in a desert and there's a mountain in the distance. You have to reach that mountain. Along the way you meet other travelers who can help you in your quest to reach the mountain and vice versa. You're actually playing the game at the same times as other people, and so you become a part of their 'journey' at the same time as they become part of yours. It's a hard thing at the end of the day to take lightly. Even though you don't communicate either through text or a headset in the traditional sense, the other players you interact with change your journey - to the point they become part of the credits at the end when you finish the quest. While "Journey" is not a long game in the traditional sense of a goal oriented journey like a RPG, the fact it's still being played and discussed two years after it was released shows the impact the game made. anime/Japanese sensibility in doing so."
http://www.rapreviews.com/archive/2014_01_journeyhiphop.html
O.B. :: Celestial Offerings
 :: M.O.B. Stars 
as reviewed Steve 'Flash' Juon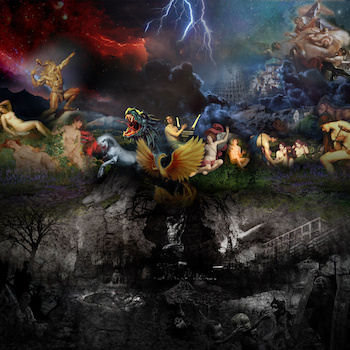 "If this were a college philosophy class I'd want to debate a few of the ideas O.B. offers in the above soliloquy about the nature of our existence. Since this is an album review and there's not a woman or man standing in front of a group of young and eager minds (plus some non-eager ones who are just trying to fill an elective) lecturing on the finer tenants of philosophical thought I'm putting it to the side. In the broader strokes that have nothing to do with our perception of reality as we know it, O.B. is stating that he was at a personal crossroads in his life, and the "Celestial Offerings" that came from it are him pouring his heart and soul into music for a release. If you're expecting an easy rap album full of partying and sex, this then is not the offering for you. I'd be lying if I said that "Lost in Thought (Redux)" doesn't make me catch a ghost of a certain Illadelph rap group/band from the early to mid-1990's. I credit that as much to Nu Vintage on production as to O.B.'s verbiage, as he doesn't much resemble Black Thought or Malik B vocally, but the way he melds himself into the music instead of imposing himself upon it does have stylistic similarity. For most of the album O.B. manages to impress me to this degree, which makes the failures all the more noticeable. I suspect "Fraudulence" was a skit meant to make fun of hip-hop and R&B dickriders who copy the styles of popular artists, but it's a tedious two minutes that's probably only made worse by me having a censored press copy. That also directly effects the following track "Party and Bullshit," a song that even without censoring seeks a little too obvious, and a little too much like being lectured to."
http://www.rapreviews.com/archive/2014_01_celestial.html
Wax Society :: Compilation I :: The Wax Society 
as reviewed Steve 'Flash' Juon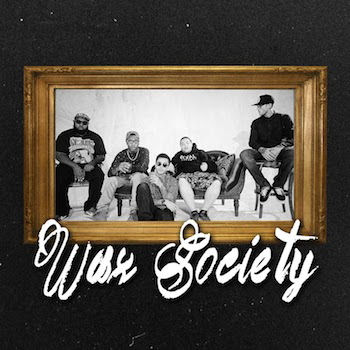 "Wax Society is a diverse crew of hip-hop heads with the common link being their love of the music and culture. RED hails from Arkansas, Summer and Kollateral are from Arizona, Teek Hall is from Detroit, Michigan and I can't even tell you where their deejay Urb is from (not to be confused with the music magazine of the same name). What I can tell you is that they consistently leak interesting music from their own projects, which had me checking for them and sharing their tracks with our newsfeed readers all throughout 2013. One of those songs is in fact included on "Compilation I," that being Kollateral's "Elevated Nights" featuring RED. There can be little doubt what's elevating his nights, or that of the Wax Society's, and the fact he drops references to both Milky Way and Chick-Fil-A suggests a serious case of the munchies. It's a laid back smoker's anthem, and I'm not objecting to the honies flirting and flaunting their good looks in the video either - although the chorus advises them to not "catch feelings all in one night." That's a healthy mindset for anybody out there. Seen the movie "Frozen" recently? That's pretty much the moral of the whole story - don't catch feelings all in one night because you never know what that person might turn out to be the next night.  "Compilation I" serves a worthwhile purpose in that it allows the entire crew to showcase their talents both individually and collectively. Even though these songs have been release before as singles and on other albums, it's a good "one stop shop" for the entire collective. Teek Hall's "Talk My Shit" has the sound and swagger of Southern rap - a little surprising for a Northern rapper unless you've ever listened to Detroit radio. Summer the Kid produces RED's "Sweet Oblivion" and reminds me of an Odd Future production, while R's rap is not at all indicative of Arkansas - he comes across like a Chicago emcee."

http://www.rapreviews.com/archive/2014_01_waxcompilation1.html



Read 1,020 times::
Subscribe to News by Email