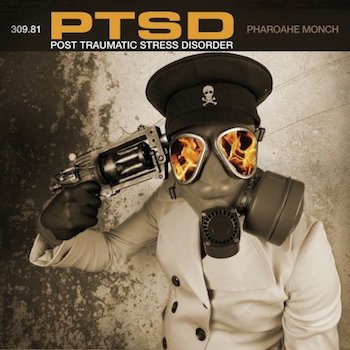 Pharoahe Monch :: PTSD: Post Traumatic Stress Disorder

INgrooves
Author: Zach 'Goose' Gase

 

"Back in 1999 Pharoahe Monch released his solo debut album, "Internal Affairs" on Rawkus Records. At that time, Rawkus was producing a lot of high quality, underground hip hop including Company Flow, Mos Def, Talib Kweli and others. Fifteen years later, hip hop has changed quite a bit. There is much less division among the indie and mainstream crowds, the CD format is dying and Rawkus Records has folded. One thing that hasn't changed or diminished is Pharoahe Monch's rapping ability. Being arguably one of the most technically advanced rappers of all-time, Monch's output may be a little disappointing - only four solo albums. But with many of his peers seeing a sharp decline in the quality of their releases over the past couple of years, Monch is still on top of his game, with his latest LP "PTSD: Post Traumatic Stress Disorder" possibly being his best work to date. "PTSD" follows 2011's "W.A.R. (We Are Renegades)" and is Monch's most conceptually driven album to date. The semi-concept album tells the story of a veteran who has Post Traumatic Stress Disorder and is trying to get his life back to normal. "PTSD" is an extremely focused effort and deals with some very heavy topics. "Damage" is the third and final chapter of Pharoahe's famous "Stray Bullet" series, where he raps from the perspective of a bullet (the other track being 2007's "When the Gun Draws")."Losing My Mind," which features an excellent chorus from Mr. Porter, he talks about mental health disorders: "My family customs are not accustomed to dealing with mental health, it was more or less an issue for white families with wealth." Much of the album is focused on mental health issues, but manages to never be too heavy handed. The two battle rap tracks, "Bad M.F." and "Rapid Eye Movement" (which features Black Thought) offer a nice balance to the more serious tracks and incorporate references to themes that tie the songs in with the rest of the album. While the production, which is mostly handled by long-time collaborator Lee Stone, is not going to blow anyone away, it nicely complements Pharoahe's multi-syllable rhyme schemes. "D.R.E.A.M.," which features Talib Kweli, has a nicely chopped soul sample that is uplifting and triumphant as the song's lyrical content."

http://www.rapreviews.com/archive/2014_04F_PTSD.html


Chuck Inglish :: Convertibles
 :: Sounds Like Fun/Federal Prism 
as reviewed Patrick Taylor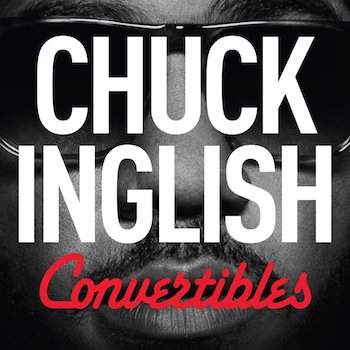 "Chicago rapper/producer Chuck Inglish emerged seven years ago as half of the retro-leaning duo Cool Kids. Their signature sound was Inglish's stripped-down beats, with booming 808s and snare slaps that sounded like early Def Jam. The Cool Kids haven't done much as a duo since 2010's "Tacklebox," but both Inglish and Sir Michael Rocks have been busy making solo mixtapes and producing for other artists. The Cool Kids have another album on the horizon for 2014, but in the meantime Inglish has just released his first solo album, "Convertibles." Convertibles is Inglish's chance to show his diversity as a producer and a rapper. That diversity starts with his label. His Sounds Like Fun imprint is signed to Federal Prism, which is run by TV On the Radio's Dave Sitek. Cool Kids have always been on the fringes of mainstream hip-hop, and Inglish continues that trend by signing to an indie rock label. I won't lie: the best songs on "Convertibles" are the ones that hew closest to the sound that Inglish is known for. It's hard to go wrong with old-school trunk-rattlers, which Inglish proves time and time again. "Attitude" and "Swervin'" both have pulverizing bass, although Inglish does different things with both beats. "Swervin'" is in the vein of g-funk, with the hint of a piano and snapping snares. "Attitude" has a harder beat, but contrasts it with a sung hook by BJ the Chicago Kid. "Money Clip" is built around a driving beat with a few string and synth flourishes. The uptempo beat spurs Inglish to drop his usual laconic delivery for a more spirited flow. He's assisted on the track by Vic Mensa, Retch, Hassani Kwess, and Sulaiman. That's a lot of MCs for one track, and it gives it the feel of a posse cut. Most of the songs have at least one rapper and/or singer. Ab-Soul and Mac Miller offer stellar verses on "Came Thru/Easily." "Action Bronson" mixes his culinary and sexual metaphors on "Gametime." Sir Michael Rocks joins Inglish and Polyester the Saint on "Swervin'." These MCs all help offset Inglish's serviceable but not spectacular rapping. He's fine on the mic, but his rhymes have very little stakes. His label is rightly named: Inglish is all about having fun, and as a result his rhymes feel lightweight. He likes cars, he likes pretty girls, likes to have beer and weed with his friends, and doesn't like having his heart broken. To his credit he is less raunchy than many of his peers, and he gets some good wordplay in, but he rarely says anything of consequence."
http://www.rapreviews.com/archive/2014_04_inglishconvertibles.html
Grieves :: Winter and the Wolves
 :: Rhymesayers Entertainment 
as reviewed Zach 'Goose' Gase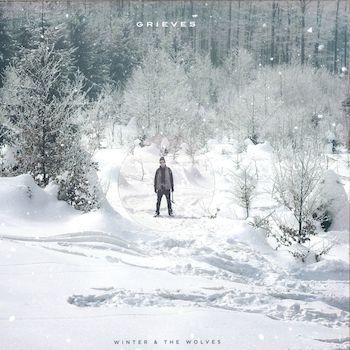 "It's hard for me to discuss Grieves without also bringing up Macklemore. Yes, they're both white rappers from Seattle, who have pretty similar voices and deliveries. But the main reason I associate the two is because I was introduced to them at the same time on a CunninLynguists song that featured them and Geo (from Blue Scholars) back in 2009. Since then I've compared their career trajectories and have flip-flopped countless times when deciding whose music I like more. Towards the end of 2009, Grieves announced that he had signed with Rhymesayers Ent. His Rhymesayers output (a re-release of his second LP "88 Keys & Counting," "The Confessions of Mr. Modest EP" and "Together/Apart") has been consistently excellent. Even though "Winter and the Wolves," Grieves' first release in nearly three years, has a pretty similar vibe as his previous work, but overall it feels like a step down in quality from his previous work. One of the first things Grieves fans will notice about "Winter and the Wolves" is Budo's absence. (Budo is a producer/instrumentalist who has produced a lot of Grieves' previous work.) Grieves, who produced the entire album with help from B. Lewis, is a perfectly capable producer, but overall the beats on "Wolves" tend to either sound the same, or just flat out sound bland. Grieves sticks to his signature piano-driven sound, but most of the time, the production sounds like a "lite" version of "88 Keys & Counting." The driving keys of "Woah is Me" is a standout, but as the album progresses, songs like "How's it Gonna Go" and "Long One" start to get redundant. "Winter and the Wolves" is mostly carried by Grieves' strong writing and ability to craft catchy sing-song hooks. Opener "Rain Damage" and the lead single "Shreds" show his more aggressive style of rapping, but for the most part, he focuses on very person subject matter that usually revolves around failed relationships. "Whoa is Me" balances his humor and self-deprecation, and he tells stories about his past on "Like Child." Grieves' music has always been interesting to me because he's the type of rapper who bears it all, and it's usually something I relate to, which makes me want to replay certain songs over and over."
http://www.rapreviews.com/archive/2014_04_winterandthe.html
Nas :: Illmatic XX
 :: Columbia Records 
as reviewed Grant Jones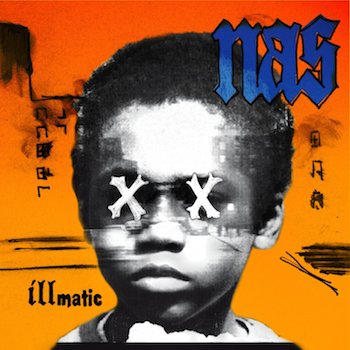 "I was seven years old when Columbia Records unleashed "Illmatic" in to the world, forever changing 'Best Rap Album' lists for millions of hip hop fans. Therefore this review is coming from a 'younger' perspective that has grown up knowing that just the word "Illmatic" brings forth such adjectives as 'legendary' and 'classic', and remains many hip hop fans' favourite ever album. I'm one of those that went backwards after hearing 2001's "Stillmatic" to explore earlier work from Nas and ultimately found his debut actually lived up to the endless hype that still surrounds it to this day. Along with A Tribe Called Quest's "The Low End Theory", it's an album I just can't get tired of. I wasn't the only one that caught "Illmatic" later than Columbia Records expected, as it eventually went platinum in 2001, seven years after release when Nas reminded everybody just how talented an emcee he is following Jay-Z's "one hot record every ten year average" statement. But twenty years on from this genre-defining record's release, does it still remain relevant in 2014 where the sound of hip hop has changed multiple times? Does it sound dated? Can it convince a new generation of rap fan that's fed hundreds of albums each year to spend their dollars on an album that's half as long as most full-lengths? Predictably, the answer is a resounding "Yes" - and one of Daniel Bryan magnitude. "Illmatic" is hip hop's top trump card. If you want to put a "Reasonable Doubt", "Ready To Die" or "Enter the Wu-Tang" up against it, you'll lose. "Illmatic" is superior simply because it is a flawless example of an emcee and a producer bringing their A-game constantly over the course of 9 tracks (ignoring the intro). There's no dreaded skits where you awkwardly sit there listening to Christopher Wallace being fellated, or having to hear a dodgy Scarface impersonation, or the initially funny yet inevitably (and ironically) annoying 'torture skit' from Meth and co. With "Illmatic" you received a snapshot of hip hop - it was a journey through New York's run-down neighbourhoods at the end of the crack epidemic. It was cinematic, driven by an unrivalled ability to narrate this environment to others from such a young mind that feels like it has already witnessed a lifetime of struggle. It just grabbed the listener and never let go. But it was also a part of hip hop's golden era, a time where the genre had moved on from the 1980s experiments with rock and roll and electronic sounds. Whereas revered New York albums such as "Paid In Full", "It Takes A Nation Of Millions To Hold Us Back" and "Criminal Minded" can now sound dated, 1994 can largely still be revisited without needing to have been there. That is thanks to a stellar and arguably unmatched line-up of now legendary production talent. Pete Rock, Q-Tip, DJ Premier and Large Professor reads off like a Mount Rushmore of beat-makers. Perhaps this is what makes "Illmatic" such a refined record - it also acts as a multi-coursed meal whereby the listener can sample the delicacies of a Pete Rock & CL Smooth track, then move straight into some Gang Starr, A Tribe Called Quest and some Main Source."




http://www.rapreviews.com/archive/2014_04_illmaticXX.html



Read 1,049 times::
Subscribe to News by Email