If you missed any of the new reviews this past week including People Under The Stairs' "12 Step Program" then do yourself a favor and check out this weeks edition of the (W)rap Up!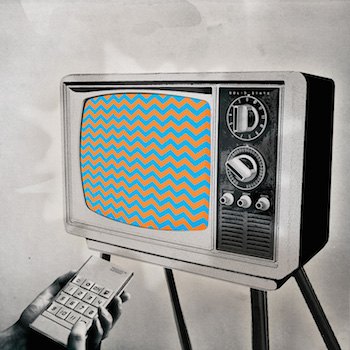 People Under the Stairs :: 12 Step Program


Piecelock 70

Author: Grant Jones

"Everybody has a group or artist that is respected in hip hop that they just haven't gotten round to listening to, or just never felt that what they did hear, convinced them to invest time exploring their discography. People Under The Stairs (PUTS) don't necessarily live up to their name in my books, as I have seen their CDs for years sitting in HMV shelves between Paris and Pete Rock, and just never thought I need to check them out. Coincidentally, nor did fellow reviewer Pedro Hernandez who covered the PUTS album "Fun-DMC" in 2008. I figured that it was about time I explored the work of Thes One and Double K, and what better way to do it than to enroll on their "12 Step Program." For those with little to no knowledge of People Under The Stairs, they are an LA duo cut from the same cloth as Jurassic 5, Living Legends and The Visionaries. Legit underground sensibilities with enough accessibility to garner recognition from those who don't just listen to hip hop all day every day. Their sound isn't exactly unique, but is dynamic and wide-spreading, often giving off a sense that they can't be just two guys - they are "people" after all. With that said, I felt a fairer comparison would be Outkast, and "12 Step Program" is indeed, a dozen songs that shows plenty of versatility in both production and lyricism not far from Andre and Big Boi's work. For those new to PUTS, this album could make you think that you've been missing out on a ton of great hip hop. Truth be told, there wasn't ANY bad tracks on this record, but that's not to say this is a classic. It's incredibly consistent, but never really blew me away - but hip hop doesn't have to be wordy or "bangin'" to satisfy in the first place. "

http://www.rapreviews.com/archive/2014_06F_12step.html

Chaz Kangas :: The Rex Manning Day EP :: Bandcamp

as reviewed by Steve 'Flash' Juon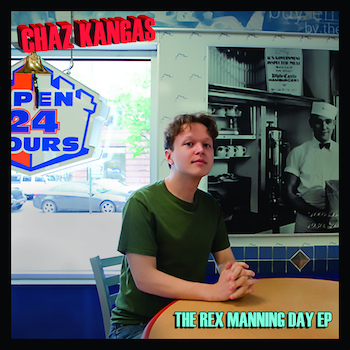 "Chaz Kangas stays busy as a writer for the Village Voice and a social media commentator when he's not recording new music. He's one of those artists I always think about as being "on the scene" even when he's not in the studio - he's always up to something. Frankly Chaz makes it easy for me to perceive him this way because I get regular updates about what he's up to, between messages about his latest thoughts on the latest WWE Network special event or program. That's right - Chaz is a wrestling head. Not surprisingly he channels that love of wrestling on his latest single "Travel Size," which samples from one of the most spectacularly insane athletes of all time - Scott Steiner. "I'm a genetic freak, and I'm not normal!!" Listening to Steiner attempt to do math, let alone discuss just about anything under the sun, is entertaining in and of itself. He's an easy guy to sample on a song just because of how outlandish his typical wrestling "promo" tends to be, but it's more surprising to hear a cameo from indie fan favorite Colt Cabana on the song "She Will Be Mine" (some of you may remember his brief WWE run as Scotty Goldman). He's essentially playing the role that Mike Tyson did on the famous "Second Round K.O.," encouraging Chaz Kangas to take emcees and "get in there on those lyrics, and twist these motherfuckin lyrics' arms four, five, six times, 'til that fucking thing pops off man!!" To some degree this EP could be said to be target marketed to a listener just like me, given that there are inside jokes directed to wrestling fans, like Kangas doing Macho Man impressions and referring to legendary squared circle stars like Keiji Mutoh (b/k/a "The Great Muta") on songs like "Eureka." If I know Chaz though (and I kinda do) he doesn't want to be pigeonholed as "the rapper who raps about wrestling." Wrestling happens to be part of pop culture, but so is "Rex Manning," a fictional aging music star who was played by Maxwell Caulfield in the cult film Empire Records
. "

http://www.rapreviews.com/archive/2014_06_rexmanning.html

Defizit :: Fresh Produce :: Verda Drive Music

as reviewed by Patrick Taylor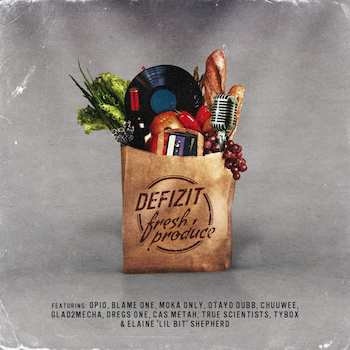 "Nowadays when someone says they are a hip-hop producer, they usually mean that they are working with a laptop. Flipping samples is becoming a lost art, due partially to changing styles but mostly because of the many lawsuits brought against crate-diggers for copyright infringement. It used to be enough to find obscure records, but the internet has made it easy to out even the rarest samples. Stockton, California producer Defizit's tagline makes it clear that he practices "sample based beatmaking." That production style gives "Fresh Produce" an old-school feel that is as familiar and comfortable as an old sweatshirt. Simply put, Defizit flips samples over hard beats. Some tracks are jazzy, some tracks are funky, and there are even a few that are quiet and introspective. The uniting thread on every single track on "Fresh Produce" are the thumping bass and snapping snares. The MCs Defizit works with are just as committed to classic hip-hop. They display a focus on lyricism and a respect for the art form. Sacramento MC Chuuwee provides some flossing. Opio and Moka Only offer up some positivity. Dregs One urges listeners to consume more nutritious music on "Food," and Cas Metah and EF Cuttin rap about keeping it real. Otayo Dubb, Blame One, Tybox, and Glad2Mecha are all represented. True Scientists sound like life is getting them down on "Freedom Drum." In an interlude, Defizit samples Steve Buscemi's character Seymour from "Ghost World" saying "I can't relate to 99% of humanity." Seymour is an obsessive collector of rare blues 78s who hates contemporary blues, and his failure to understand current music is at the heart of his alienation. Deficit seems to be struggling with this same sentiment. A lot of hip-hop today is almost unrecognizable from what it was 20 years ago. Does being a traditional hip-hop fan, performer, or producer make you out of touch and obsolete?"

http://www.rapreviews.com/archive/2014_06_freshproduce.html

Kool Keith :: Demolition Crash
:: Junkadelic Music

as reviewed by Steve 'Flash' Juon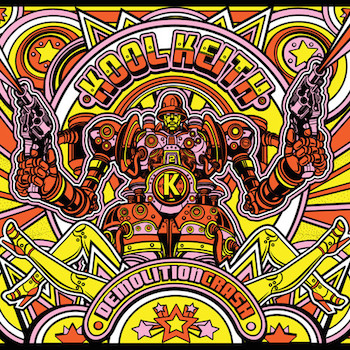 "Kool Keith has no intention of quitting. We're long removed from his Ultramagnetic 1980's and his indie rap icon 90's at this point. Keith thrives on the reputation he built up in those respective decades, even though the music he's released since the dawn of the millennium is highly variable in terms of its impact and listenability. He's capable of Masters of Illusion levels of dopeness, and the occasional above average "Love & Danger" album, but Keith lowers his own batting average with subpar material that should have never left the studio. His worst enemy is his own prolific nature - he can't help but crank out more material even when he should hold back a little bit. "Demolition Crash" exemplifies every single one of the qualities of Mr. Keith Thornton outlined in paragraph one. At the outset one can't escape the fact this is a double disc/double album release - an incredibly deep 27 songs clocking in at close to two hours worth of music. Even the most dedicated of Kool Keith listeners, a category your humble reviewer certainly belongs to, will find this a daunting amount of material to get through. The album's title is instructive. The carnage of "Demolition Crash" is exciting, and the result afterward is a twisted pile of audio wreckage, which you need the "Jaws of Life" to pull apart songs in search of the surviving dope. On tracks like "Durant & Westbrook" it's impossible to rescue the good from the bad - they are hopelessly intertwined together. Keith's obsessions with sexuality and scatology are par for the course and perfectly acceptable, but him bragging that "AutoTune is back" and singing his way through a dick-sucking chorus using said same is not. The beat leaves something to be desired as well - not so much "bad" as just plain boring. It repeats the same low electronic whine over and over, soaring over your ears like a plane coming in for a landing, but it never quite seems to reach the airport. Prince Metropolis Known is one of Keith's better proteges, but his presence neither adds nor subtracts from the song - it's just there."

http://www.rapreviews.com/archive/2014_06_demolitioncrash.html

Ricky Rude :: Ready to Live :: Bright Boys Entertainment

as reviewed by Matt Jost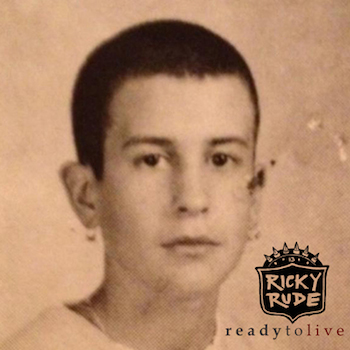 "I can tell you exactly what drew my interest here. That sense of familiarity that I got from title, cover, name and even logo. New Jersey rapper Ricky Rude doesn't fail to mention the important role that The Notorious B.I.G.'s "Ready to Die" played in his life, hence "Ready to Live" (a quite obvious pun, really). I wasn't familiar with Rick Rude the wrestler, but there are enough double-R initials in rap history that the name had a familiar ring either way. The artwork recalls a number of covers straight out of the family album, while the logo resembles the OutKast emblem. A variety of pointers for a versatile mixtape. A mixtape that opens with two high-profile guest spots, both rather astonishing. "So Immature" not only features Scarface but also a beat that is absolutely on his level, a simultaneously sprawling and piercing funky expedition that could land on virtually any point in Scarface's discography. Only that this is a Ricky Rude track, one that is certainly catchy but remains inconsistent with or without the guest verse. "I just wanna share a couple of stories," Rude begins, and soon we're in the midst of a relationship recount, but then the prominent hook tells a tale of its own, the one of the rock/rap star living a shallow life. Ricky Rude flexes a solid storyteller flow, not unlike Wax out west. The problem in this specific case is that the detatched, indicisive attitude that he exhibits spills over to the writing and smudges the song sheet. Conversely, Ricky Rude knows exactly what he wants on the next track, "Stripper Ass, Model Face." Here the guest isn't a curious extra but a key ingredient, as the self-proclaimed "Baddest Bitch" Trina acts as the object of desire. With the rapper taking it to Yelawolf levels of intensity over a heavy trap beat, "Stripper Ass, Model Face" has, immaturity aside, little in common with "So Immature". One track later he's a family man, talking to his stepfather and marveling at his own being godfather. With the spheric, guitar-driven "Thoughts" the tape takes yet another musical turn."

http://www.rapreviews.com/archive/2014_06_readytolive.html

Skyzoo & Torae :: Barrel Brothers
:: Duck Down Records

as reviewed by Grant Jones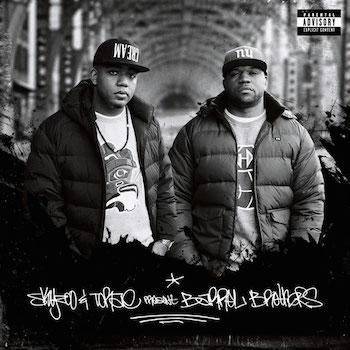 "It's hard to believe that Skyzoo and Torae burst on to the scene in 2007 with "Get It Done" (b/w "Click"), a dope single produced by DJ Premier. It feels like they have been around for at least ten years and with all of the legends that they have now worked with, you'd be forgiven for thinking their work dates back to the nineties. They have become part of the furniture; that comfy armchair that reminds you of years gone by. Similarly, Skyzoo and Torae both have a charm that's unabashed, reliable and most importantly, gets the job done. No frills hip hop is what these two are all about. "Barrel Brothers" is very much a continuation of Skyzoo and Torae's previous records in that it is packed with thick bass and pounding snares. Thankfully, production isn't overblown nor attention-grabbing to the degree that Skyzoo and Torae are swept aside by "bangin' beats". Chemistry was evident in any of Skyzoo and Torae's collaborations over the last eight years, and their partnership is explored further on songs like "4 Bar Friday". At two minutes long, it's short yet sweet and I'm glad they got to move away from the standard 16 bar setups that frequent much of the album. As Torae proclaims on "Talk of the Town", this is what you've been waiting for ain't it? The Oh No beat is certainly one of the best I've heard this year, akin to Marco Polo's crunchy production on the excellent "Double Barrel" from 2009. Sean Price and Guilty Simpson join Sky and Tor to go "All In Together" over a piece of Black Milk production that will have fans of filthy drum loops smiling. All four emcees are as consistent as ever, although Sean Price surprises not in his content (he's as "Sean Price" as he's ever been) but in how he delivers his bars. As P gets older he has started slurring his words, like the cool, care-free uncle that's slowly deteriorating. His eyes may be a bit droopier, his beard a bit thicker, but it's still that unique street clown we all know and love. He doesn't disappoint, but it's certainly noticeable how his sound has changed ever since he dropped "Mic Tyson"."

http://www.rapreviews.com/archive/2014_06_barrelbrothers.html

Small Professor :: Mixed Jawns II :: Bandcamp

as reviewed by Steve 'Flash' Juon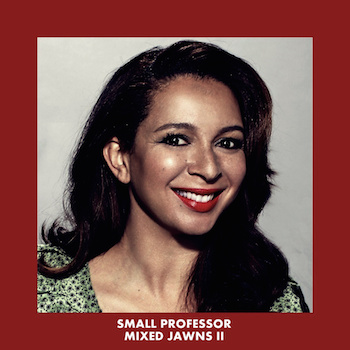 "Small Professor makes albums for the lovers of hip-hop instrumentals (and the lover in you). That's a niche audience. It's so much of a niche audience you might ask "Why isn't he putting those production skills to use making a hot emcee that much hotter?" The answer ison occasion he DOES just that, but it has to be the right rapper under the right circumstances. If you're not that hot, Small Pro has no problem with saving what he's got, and releasing it as his own album under his own name. He's good enough to know his own worth (as evidenced by the fact he sets a price on all of his Bandcamp releases), and dope enough that he can rock your ears with or without a lyricist to kick the verbals to his herbals. It may be ballsy to release a sequel to an album you put out just under a year ago, but Small Pro has the big cajones to spare. In fact song titles like "Has was gonna use this jawn, don't know what happened" reflect his chutzpah. He may be speaking about Has-Lo he may not, but whoever he's talking about has just been called out on a track that doesn't even feature any words - consider yourself put on notice. The songs themselves make statements, but the hilariously descriptive titles are the icing on the cake. It's like the often recycled AMV staple "Crayons Can Melt on Us for All I Care" by Relient K - a title that aptly summed up the 10 seconds of your life the song "wastes." In that same respect "My momma prolly hear that and be mortified" is a send-up of televangelism, with an unnamed preacher blathering on and on about how sinful "The Wizard of Oz" is for God knows what reason. One of these days I'll have to sit down with Small Professor and get the stories behind song titles like "He stole his name from me, they used to call me cliff the glide back in the day." It seems self-explanatory at first glance and then makes you stop and ask more questions: "Who is HE and why did HE steal your name?" Either way the song is a nice bit of chiptune inspired retro instrumentalism. "











http://www.rapreviews.com/archive/2014_06_mixedjawns2.html





Read 939 times::
Subscribe to News by Email