If you missed any of the new reviews this past week including Slaughterhouse's "House Rules" then do yourself a favor and check out this week's edition of the (W)rap Up!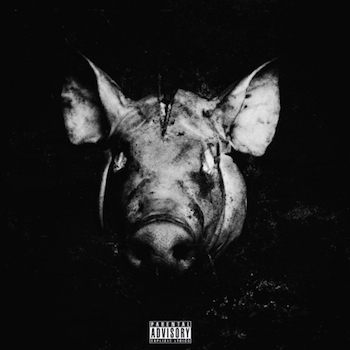 Slaughterhouse :: House Rules :: DatPiff

Author: Grant Jones



"The metaphorical house of hip hop receives new tenants on such a frequent basis that inevitably, those who once graced the biggest room showcasing their skills to the wider audience and guests, end up being pushed aside and eventually find themselves down in the basement. Slaughterhouse would be the guys ciphering amongst the Rugged Mans and Canibus' in the dirty, dank, graffiti-scrawled cellar, yet they initially entered the house as hot prospects, gracing the garden in front of thousands as they blessed top-tier productions hot out of the kitchen. Shady record deals and shelved albums pushed these lyricists aside as they struggled to push numbers on a level with weaker, inferior artists on the radio. Following an impressive self-titled debut that was a near-perfect blend of lyrics and accessibility, quad-core rhyme-processors Slaughterhouse are out to rectify the disappointment of "Welcome to Our House." That album should have been so much better, especially with Eminem's involvement, but was bogged down by sugar-sweet beats and lame hooks. Given that the first Slaughterhouse mixtape was better than either of their actual albums, it's relieving to hear "House Rules" is packed with experimental flows and wild spitting. More importantly, production is less polished and feels like it was chosen to promote the lyricism. It also gives the guys a more authentic, playful presence than the artificial corniness that was all too frequent on "Welcome to Our House". "





http://www.rapreviews.com/archive/2014_06F_houserules.html





Death Grips :: Niggas On the Moon :: Third Worlds

as reviewed by Patrick Taylor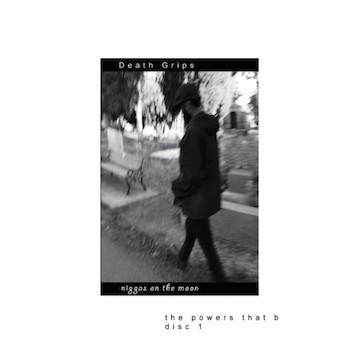 ""Niggas On the Moon" is the fourth album in three years by Sacramento group Death Grips. Their early work sampled Pink Floyd and Black Flag, and their later work has gone in different but equally loud direction. After last year's cacophonous "Government Plates," I was ready to write the trio of MC Ride and producers Zach Hill and Andy Morin off. I figured they had taken the group's template as far as it could go, and I had heard all I need of Ride screaming about sex and drugs over clattering industrial beats. Their latest album, which is supposed to be the first half of a double album, proves me wrong. It's more interesting and more listenable than "Government Plates," and sees Ride maturing as an MC. (I realize it's unfair to review a double album based on only half the album, but it's the length of the album and was released first, so it seems like fair game). All of the songs on "Niggas On the Moon" are built around samples of Icelandic avant-garde pop star Bjork. Death Grips did some remixes for Bjork, and she returned the favor by appearing on this album. That doesn't mean that she is singing hooks, or that Death Grips are sampling "Big Time Sexuality" or "Oh So Quiet." Instead, they take a snippet of her voice and give it the Death Grips treatment: filtering it almost beyond recognition and repeating it at 120 BPM. It's a similar thing that they did with synthesizers and sirens and drums on "Government Plates." The big difference is that Bjork's voice filtered and worked over still maintains its soothing, ethereal quality. The result is beats that have an almost ambient feel even as they hammer and hiccup and stutter."
http://www.rapreviews.com/archive/2014_06_niggasonthemoon.html
J. Rawls :: The Legacy
:: Polar Entertainment

as reviewed by Steve 'Flash' Juon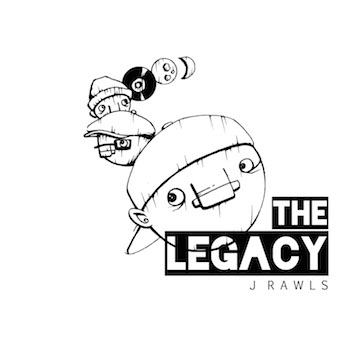 "
"Legacy" is a word that rappers and producers use for two reasons - either they feel they're currently overlooked and their catalogue of past accomplishments needs greater scrutiny, or they've reached a point in their career where retirement looms and a "legacy" of great works is left for future generations to study and admire. I feel a personal twinge of anxiety when I tell you the latter looms larger here, because it's hard for me to imagine hip-hop without J. Rawls. The former is certainly true to the degree that his past accomplishments deserve more praise, but at least among discerning hip-hop heads Rawls' legacy of dopeness is well established. The press kit puts any doubt to rest - Rawls is now a man saying "I hang my hat up here and leave it to the future to equal or exceed what I accomplished." There's a small bit of ambiguity in that "Legacy" is listed as his final SOLO album, which leaves room for more collaborations if he so chooses, but it's still a retirement from his days of seeking fame and fortune on his own. Even though the aforementioned discerning heads hold J. Rawls in high regard as a producer, even the most ardent of his fans probably still sleep on him as a lyricist. "The Hip-Hop Affect" gave those fans a chance to reconsider their position, and good ol' J.R. keeps that issue at the forefront on tracks like "My People," where he hands off the production duties to Rashad and takes over on the microphone. It's a slow, fat, broad and deep track that oompa-loomps it's way to a finger snap boom bap. It's not a "heavy" song by any means unless that's how your finger feels after hitting the replay button multiple times. Rawls is overshadowed by nobody here, so when he opens with "I got a couple of things I gotta talk about," he has the forum all to himself to do so. "
http://www.rapreviews.com/archive/2014_06_thelegacy.html
Sadistik :: Ultraviolet
:: Fake Four Inc.

as reviewed by Steve 'Flash' Juon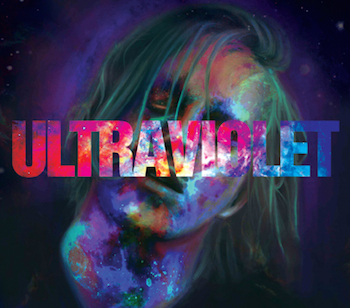 "If you were to give me a piece of paper and tell me to write a short list of people I'd expect Sadistik to collaborate with, you'd find names like D-Sisive and Sankofa at the top - highly regarded lyricists who exist on the outer edges of being well known even in their own hometowns. Far from being frustrated by a lack of notoriety, these like-minded emcees thrive in the space outside the margins of the page, getting to express things that everybody in hip-hop's mainstream doesn't by staying comfortable between the lines. Sadistik chose to shatter my preconceived notions on "Ultraviolet" by doing a song with Sticky Fingaz and Tech N9ne. If you're not previously familiar with his work this might not seem radical, but as a long time listener it struck me the same as if Jay-Z had decided now was a great time for a collaboration with Non-Phixion. After listening to "Death Warrant" I have to throw out the rules out the window and say screw the list and whoever I put on it - THIS WORKS. In fact that's the sentiment that suits almost every song on "Ultraviolet," each one a new revelation of an artist you either don't know or only thought you knew. Take "1984" for example. Sadistik goes from mainstream collaborations to "hiding all my thoughts in the looseleaf" hoping that Big Brother won't find out what he really thinks. While this early leaked single plays to the notion of Sadistik as a rapper who loves literary references and making you dig into your mental search engine to catch them, he's also doing airy songs like "Gummo" with songstresses Yes Alexander and duets with up-and-coming rappers like Seattle born San Franciscan emcee Nacho Picasso on "Witching Hour." Even though collaborations don't dominate the 56 minutes and 13 songs of "Ultraviolet," the ones that he does reflect a desire to break from his traditional format and expand his style and reach to areas he's not experienced before. It's artistic growth from a man perceived as already being fully mature."
http://www.rapreviews.com/archive/2014_06_ultraviolet.html
Sole & DJ Pain 1 :: Death Drive
:: Black Canyon Recordings

as reviewed by Steve 'Flash' Juon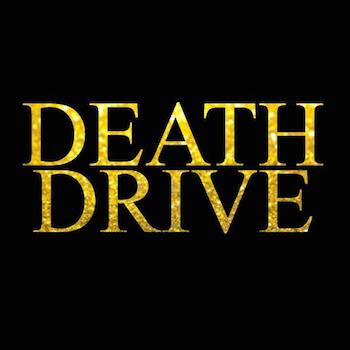 "James Timothy Holland Jr. is one of the most unsatisfied and non-conformist artists in hip-hop. This is not an idle statement. Sole can't find one label to hold his weight, or at least one he's comfortable with being the sole purveyor of his message. He was too anti for anticon. and looked at Fake Four and said "Gimme five." Don't twist it around to imply he's currently beefing with any of these people. When I say that Mr. Holland is unsatisfied, it's a deep rooted affliction that would not go away even if he had a perfect distribution partner and millions of dollars in the bank. He's a GONZO rapper. He was born to be misunderstood, and if he's not upset about something he's probably not breathing, so when those two things are combined he's going to bounce around more than a basketball. The title track of "Death Drive" sums up all of Sole's anxieties, neuroses, issues with "Twitter ass kissers trying to buy verses" in "a world of living hell/but it's better than a jail." As with so many of his albums to date Sole is not just uncompromising - he's intentionally antagonistic. Before you say there's something wrong with Mr. Holland there's a problem here - I LIKE IT. On a purely visceral and unapologetic level it's fun to listen to Sole scream at the world, knowing that they're likely to take the bait and scream back at him. In fact he anticipates their responses before they're even issued, going all the way back to his earliest rap records, dismissing himself as "a bundle of nerves held together by gravity." This could be an incredibly self-indulgent exercise if it weren't for DJ Pain 1, who gives Sole a minimalistic and rock-tinged backdrop with just enough beat thump to keep things moving forward and give Sole the ammunition to fire off his verbal bullets. On songs like "Old Gods Ain't Dead" he comes across like across between Rage Against the Machine and Hunter S. Thompson, tearing his vocal chords out with sheer antipathy toward everything."
http://www.rapreviews.com/archive/2014_06_deathdrive.html
Styles P :: Phantom and the Ghost
:: Phantom Entertainment LLC

as reviewed by Grant Jones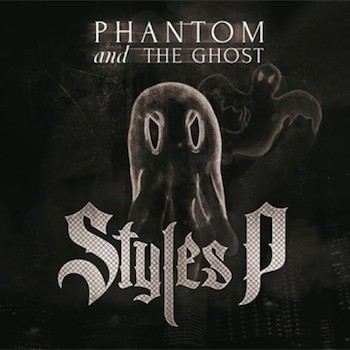 "Styles P is now at a stage in his career whereby he has earned enough respect from the hip hop community to throw albums out for fun. That's not to knock his increasingly lengthy discography, but more of a feeling I've got from Styles that his last few albums have been made without the pressures of a big label demanding a hit single or club banger. He's moved from hanging around with Jennifer Lopez to releasing nigh-on horror-core material. He always was hard-core, but as I found with last year's "Float", it seems he has gotten darker and more sinister as the years go by. At this rate we'll be treated to rhymes involving detailed autopsies that would make Necro blush. Despite getting harder each year, the overall quality of Styles' albums have wilted gradually and this latest offering is fairly predictable. "Phantom and the Ghost" references two nicknames that Styles has acquired over the years, as well as the Rolls-Royce models of Phantom and Ghost - two insanely expensive automobiles that some rappers refer to with affection usually reserved for their wives. This album does include some braggadocios money-talk, but the Phantom and the Ghost actually sums up the dark, eeriness of Styles' "style". Wild statements of superiority feel cartoon-ish rather than serious, but are backed by dread-full instrumentals (that's beats packed with dread). "Creep City" is classic D-Block; thumping claps and menacing pianos that allow Sheek and Styles to get nasty. Styles has always been over-the-top, with lines like "I'm giving out Coke like Santa Claus" raising a wry smile amongst the continual threat of violence and death every other bar. This is the soundtrack to crime overall, whether it's the fear of physical pain, joy of "getting high" or comfort that money brings, it's all tied together by some of the fiercest production Styles has ever had."





http://www.rapreviews.com/archive/2014_06_phantomandtheghost.html



Read 848 times::
Subscribe to News by Email