From Gio at Koch/E1 Entertainment:
New Gorilla Zoe "King Kong" Album Set for 10/26 Release
ENTERTAINMENT ONE COMPLETES DEAL WITH BLOCK ENTERTAINMENT AND ATLANTIC RECORDS TO RELEASE NEW STUDIO ALBUM BY HIP HOP STAR GORILLA ZOE; NEW STUDIO ALBUM KING KONG TO BE RELEASED ON OCTOBER 26, 2010

(New York, NY) ---Entertainment One, Block Entertainment and Atlantic Records are set to release the highly-anticipated new album by hip hop superstar Gorilla Zoe. Zoe will release his new studio album, King Kong, on October 26th, 2010.

Alan Grunblatt, President of Entertainment One Music says, "I'm thrilled to be working with Block Entertainment and Atlantic Records. Gorilla Zoe is a great artist and Block is a music visionary. Three labels are better than one!"

Block adds, ""A new era of Block Entertainment is launching through my partnership with eOne and Atlantic. Gorilla Zoe is first up on my team to takeover with his third solo album, King Kong."

Block Entertainment, created and run by Russell "Block" Spencer is a force in southern hip hop. Block was responsible for creating Boyz N Da Hood (Big Gee, Jody Breeze, Big Duke and Young Jeezy). He has also signed, along with Jeezy, Rick Ross and Ciara, and is still involved in their deals. He completed a partnership with music mogul Sean "Diddy" Combs in early 2006 for a seminal multi-million-dollar label deal between Bad Boy South and Block Entertainment. Many successful projects have followed suit including Young Joc's albums New Joc City and Hustlenomics, Boyz N Da Hood's sophomore LP Back Up in Da Chevy, as well as Gorilla Zoe's solo albums.

Legendary DJ Greg Street adds, "My lil' bro Block is about to sign the hottest artist coast to coast & turn eOne/Atlanta into the cash machine of the industry. We've figured out what they can't. Watch this, Block Ent. & We Ridin' Chevys daily!"

One of the most prolific rappers today, Gorilla Zoe released a mixtape every day for the month of February 2010.

Gorilla Zoe originally replaced Young Jeezy as a member of Boyz N Da Hood, followed by notable collaborations with Yung Joc on "Coffee Shop" and "Bottle Poppin'." His first solo album, 2007's Welcome to the Zoo, peaked at #18 on the Billboard 200 and #3 on Top Rap Albums Chart. His second solo album, 2009's Don't Feed Da Animals, featured the single "Lost," and topped the Billboard Top Rap Albums chart.

About Entertainment One

Entertainment One (LSE:ETO) is a leading international company that specializes in the acquisition, production and distribution of entertainment content. The company's comprehensive network extends around the globe including the U.S., Canada, the UK, Ireland, Benelux, France, Australia, and New Zealand. Through established Entertainment and Distribution divisions, the company provides extensive expertise in film distribution, television and music production, kids programming and merchandising and licensing. Its current rights library is exploited across all media formats and includes more than 20,000 film and television titles, 2,400 hours of television programming and 45,000 music tracks.

About Atlantic Records

Atlantic Records, which celebrated its 60th Anniversary in 2008, currently ranks as the #1 label in the music industry. Founded in New York City, the label grew from literally a one-room operation into one of the world's preeminent music companies. Atlantic has released a string of recordings that have had a profound impact on the course of modern music, its rich history including such musical icons as Ray Charles, Aretha Franklin, John Coltrane, and Led Zeppelin.

The Atlantic roster today includes many of the world's most popular recording artists, among them B.o.B. James Blunt, Phil Collins, Death Cab for Cutie, Estelle, Flo Rida, Lupe Fiasco, Kid Rock, Matchbox Twenty, Jason Mraz, Plies, Sean Paul, Rush, Shinedown, Trey Songz, Rob Thomas, T.I., and many more.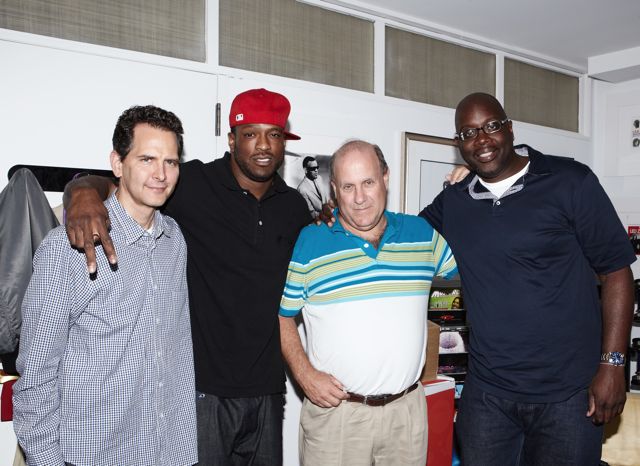 Read 1,039 times::
Subscribe to News by Email