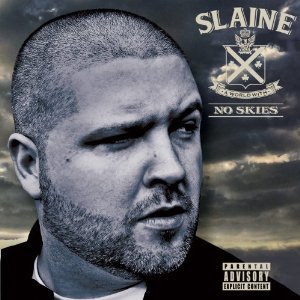 Slaine :: A World With No Skies
Suburban Noize Records
Author:
Steve 'Flash' Juon


"George 'Slaine' Carroll is nothing if not outspoken about hip-hop, as passionate about the arts as he is about his Boston roots and New York City rap career. It's a passion that was almost derailed in 2003 by cocaine abuse, one of many vices available to up-and-coming artists that pulls them right back down into the gutter. Fortunately for Slaine a 72 hour binge that led to a stint in a Roxbury detox center was the wake-up call that he needed to get his life in order. Some men would be broken after being abandoned by their family, their friends and their girl but in Slaine's case the isolation wound up being the steel that sharpened steel and gave him focus. In Slaine's 12 step program, step one was finding like-minded Irish-born hip-hop artists to bring his voice to light. Founding House of Pain members DJ Lethal and Danny Boy saw the talent and potential despite Slaine's troubled past, and offered him the chance to drop a mixtape telling his life story. "

Ale Dee ::
Entre La Mine Et L'Papier
:: High Life Music
as reviewed by Steve 'Flash' Juon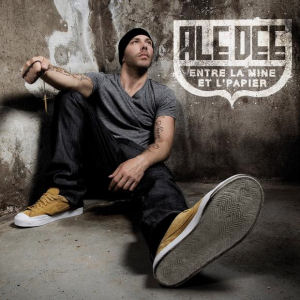 "In my continuing my exploration of the
French-Canadian hip-hop scene
, we come next to
Ale Dee
. When I first picked up his CD at
HMV
I was momentarily confused. I knew he couldn't possibly be the
similarly named rapper
who had a fledgling rap career in the early 1990's, but they did appear to have one thing in common - a light complexion. While neither one would strictly be "white" in the derogatory way the word gets attached to the likes of Bill O'Reilly and Rush Limbaugh, they're not likely to be mistaken for Nelson Mandela any time soon. In the Quebec hip-hop scene such issues seem to be relatively minor compared to the ongoing furor Stateside, where being a white rapper not named Eminem can make you (A.) nerdy (B.) racist or (C.)
both
. Perhaps it's because so many French-Canadians feel mistreated in their own country, to such a degree that Quebec has tried to separate from Canada on several occasions, that the rap scene there is ironically more inclusive. If you speak French you're "in" regardless of your melanin. "
http://www.rapreviews.com/archive/2011_01_entrelamine.html
Dysfunkshunal Familee ::
Family Reunion
:: Narcata Records
as reviewed by Steve 'Flash' Juon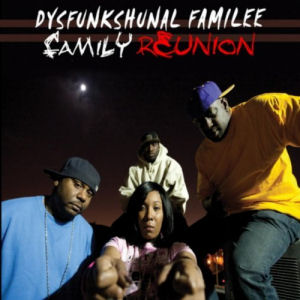 "One thing hasn't changed about hip-hop in 2011 - crate digging. No matter how obscure or unheard a hip-hop single was in the past 30+ years, somebody somewhere will find it - and probably blog about it too. Such was the case with the 1994 Dysfunkshunal Familee song "
New Ruff Flava
," the kind of ruggedly East coast hip-hop song that would have been featured on mixtapes of the era alongside songs by Wu-Tang Clan, Redman and Lords of the Underground. For reasons that aren't exactly clear but which we'll simply attribute to Industry Rule #4,080 a complete album by the Fam was recorded but never commercially released and the group seemed destined to fade into obscurity. Once the video for "New Ruff Flava" resurfaced in 2007 though, buzz for the song gave the Fam something they had waited a decade plus for - the chance to put out a full length album
THEMSELVES
. "
http://www.rapreviews.com/archive/2011_01_familyreunion.html
Greg Nice ::
The Popcycle
:: The Orchard/One Haven Music
as reviewed by Steve 'Flash' Juon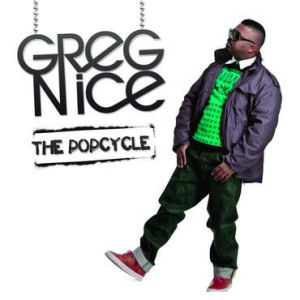 "
Greg NICE!!! Greg N-I-C-E!!!
Sometimes he rhymes slow, and sometimes he rhymes quick, but he always rocks for a fee and not for free. (Maybe he'll do it for charity.) If you're a long time hip-hop head who goes back to the late 1980's, you remember a time when songs like "Funky For You" or "More and More Hits" were ubiquitous. So predominant was the prevalence of songs by Nice & Smooth on the radio that group member Greg Nice became one of the most sampled rappers in all of hip-hop. It got to the point many people today know him better as the man who said "stick up kids is out to tax" on a GangStarr track - though he and Smooth B later did the seminal hip-hop classic "DWYCK" with Guru. The point is that Greg Nice had a distinctive, high pitched, energetic voice and delivery. That voice was well paired with the loquacious and aptly named Smooth B, a man so mellow and laid back he'd probably say "please refrain, that's not polite" if you punched him right in the face. "
http://www.rapreviews.com/archive/2011_01_thepopcycle.html
Reef the Lost Cauze vs Guns-n-Butter ::
Fight Music
:: Enemy Soil Entertainment
as reviewed by Matt Jost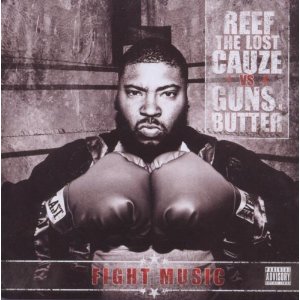 "It's good to know that some MC's still consider themselves in the bout for world supremacy. Philadelphia's Reef the Lost Cauze doesn't put it exactly like that, but it's clear to see that domination is part of his motivation. One need only consider the title of his latest, "Fight Music," the collaboration effort with production team Guns-n-Butter. With "Fight Music," Reef aligns himself with acts who combine the lyrical with the physical such as Sean Price, M.O.P., Torae, Ruste Juxx, Celph Titled, Vinnie Paz, etc. who all work hard against rap music going soft. After the plainly titled but lyrically ambitious "Intro," the bell rings for the first of twelve rounds. "OPG Theme" seems to announce a Philly triumvirate that includes veteran Vinnie Paz and newcomer Burke The Jurke. They man a track by Stu Bangas, who provides a solid backing of a steady one-key piano chopped up by rock guitar blasts. Stu also produces "I'm a G," whose bubble bounce is stirred up by cinematic horns while Reef hazards, "I'm the Cauze, the new Chuck D / Guns-n-Butter my Bomb Squad, nigga, duck these," "

http://www.rapreviews.com/archive/2011_01_reefvsgunsfightmusic.html





"The Year in Review" - a tradition for the last decade at RapReviews.com! We've tried many different ways to satisfy the public's appetite for a thorough analysis of who "the best of the best" during that time. In

2000

and in

2001

Steve 'Flash' Juon compiled the lists. In

2002

the list was created by polling the entire staff. By

2004

we found the most successful formula - individual editorials by contributors to the site wherein they chose their own "best of the best." We've done it this way every year since then and we're doing it again in 2010! Without further adieu, here are the editorials:





Read 1,010 times::
Subscribe to News by Email