From Ballin' PR:
BAY AREA TRIO ZION I & THE GROUCH READY SOPHOMORE ANNOUNCE "HEROES IN THE HEALING OF THE NATION"

**Z&G HIT THE ROAD FOR NATIONWIDE TOUR- February 19 AT SAN FRANCISCO'S FILLMORE THEATER--STAY TUNED FOR COMPLETE TOUR ITINERARY**

OAKLAND, CA—February 1, 2011— At last! West Coast hip-hop stalwarts Zion I & The Grouch return with their sophomore collaborative effort Heroes in the Healing of the Nation. The long-awaited follow-up to the group's 2006 critically acclaimed Heroes in the City of Dope could not arrive at a more fitting hour. This time around Z&G raise the stakes to expand the playing field from City to Nation, inviting listeners everywhere to join them on their quest in channeling their highest selves. Amp live provides the bulk of the banging backdrops as Zumbi and The Grouch consciously kill it with a well versed ease.

On the rousing "It's Goin Down" Zumbi and The Grouch are at their best, pontificating the ups and downs of everyday life along side Soja's lead singer's reggae-inspired chorus. The semi title track "Healing Of The Nation" boasts a rare Amp Live vocal appearance where he effectively and infectiously whisper-yells "Get yourself up!!" over twisted guitars and signature heavy bass kicks. "Rockit Man" takes fans one level higher with an unforgettable soulful Silk-E performance before blasting of into infinity and beyond!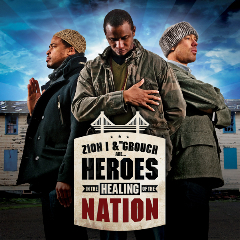 Zion I & The Grouch have been leaders marching to the beat of their own 808's for some time now but the group suggests that we're all cut from the same cloth. "Anyone changing other peoples lives for the better is a hero to me" explains The Grouch of the album's title. "People are going through a difficult transition these days," adds Zumbi. "We want this album to aid in that process."

Heroes in the Healing of the Nation features an array of musical brethren, including Freeway, Fashawn, Casual, Mystic, Eric of Rebelution, Jacob Hemphill of Soja, Eligh, Marty James, Los Rakas, Codany Holiday, and the R.O.D Project. Heroes in the Healing of the Nation is due out March 22, 2011.

Track Listing

01. Invitation (ft. Brother Ali)
02. Leader
03. Victorious People (ft. Freeway)
04. Drop It On The 1
05. It's Goin' Down (ft. Jacob Hemphill from Soja)
06. I Used To Be A Vegan
07. Rockit Man (ft. Silk E)
08. Be A Father To Your Child
09. Healing Of The Nation
10. Frankenstein
11. Plead The Fifth (ft. Codany Holiday, Fashawn, & Casual)
12. Test of Time (ft. Marty James)
13. Journey to Forever (ft. Mystic & Eric Rahmney from Rebelution)
14. Like A G (ft. Los Rakas)

* http://www.myspace.com/zioniandthegrouch *

* http://www.therealgrouch.com *
* http://www.youtube.com/therealtherealgrouch *
* http://www.twitter.com/therealgrouch *
* http://www.facebook.com/therealgrouch *

* http://www.zionicrew.com/ *
* http://www.youtube.com/zionitv *
* http://www.facebook.com/zionicrew *
* http://twitter.com/zioni *




Read 645 times::
Subscribe to News by Email