From J. Period:
Mixtape: J. Period x Cornerstone "New Heat for 2011"
* http://www.jperiod.com/cornerstone134/ *
Courtesy of our friends at Cornerstone, Truelements is proud to bring you a limited time FREE DOWNLOAD of the J.Period x Cornerstone Mixtape #134: "Pass the Torch: Rising Artists & New Heat for 2011" (sponsored by TDK).

Produced by J.Period exclusively for Cornerstone Promotions, "Pass the Torch: Rising Stars & New Heat for 2011" showcases a talented young crop of MC's rising through hip hop's ranks, each hand-selected by J.Period for inclusion on this tape. These stars-in-the-making (some already well on their way) include: REKS, Blu, Homeboy Sandman, Toronto's Shad, Nitty Scott MC, The Kid Daytona, Corey Gunz, Jay Electronica, J.Cole and more! Also featured on "Pass the Torch" are several exclusive new J.Period blends and remixes, featuring The Money Makin Jam Boys, Diddy/Dirty Money f. The Notorious B.I.G. & Ghostface Killah, Dr. Dre f. The Firm, as well as selections from J.Period's unreleased Big Pun/Jay Dilla EP, and the upcoming "The [Abstract] Best" Volume 2, a collaboration with Q-Tip due out later this year.

Check 1200squad.com for the latest Cornerstone releases and remember that "the DJ is the Cornerstone of Hip-Hop®".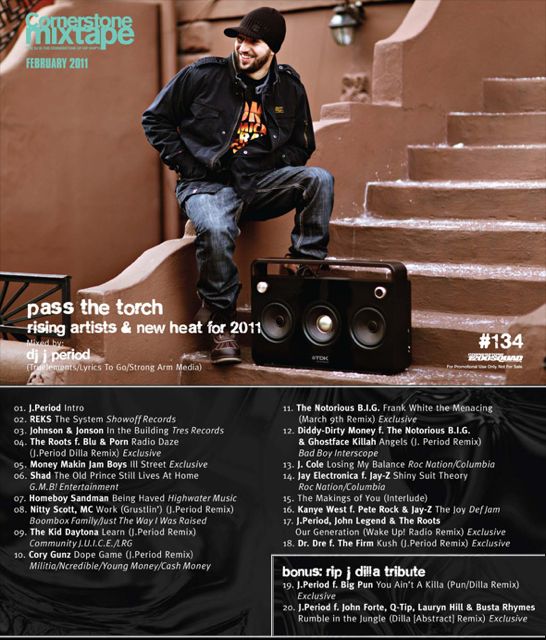 Read 582 times::
Subscribe to News by Email