From Shaker Maker PR: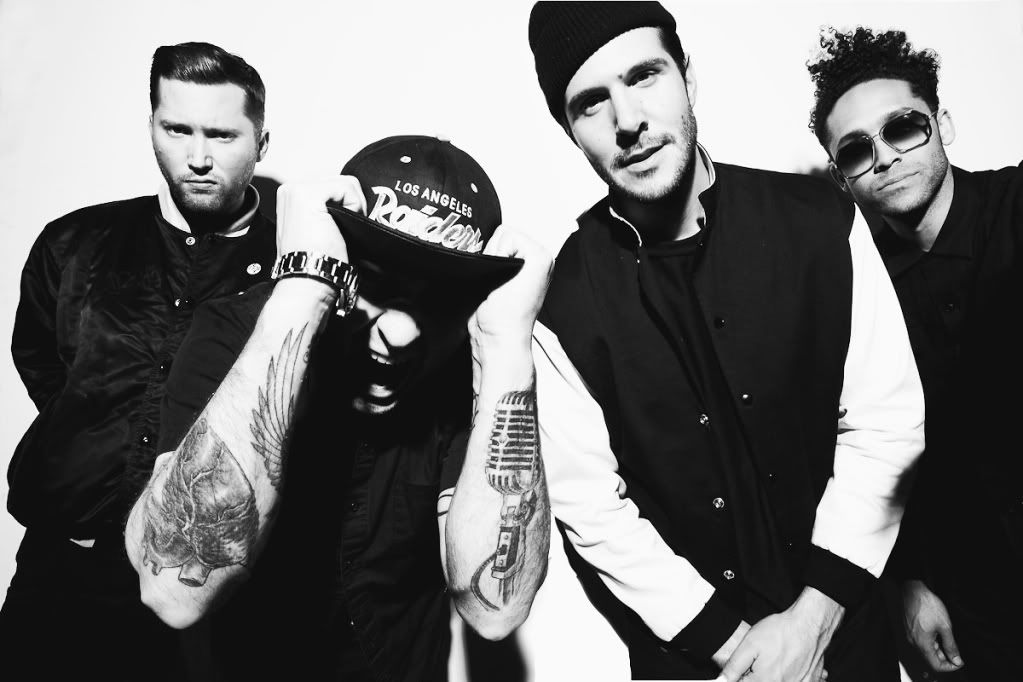 THE 87 STICK UP KIDS TEAM UP WITH MISHKA NYC TO DIGITALLY RELEASE DEBUT LP, CAR KEYS & RABBIT'S FEET ON MAY 3; VIDEO FOR "BREAKER BREAKER"
PREMIERES TODAY ON MISHKA BLOG
MISHKA AND THE 87 STICK UP KIDS WILL BE RELEASING THE ALBUM AS A LIMITED EDITION FLASH DRIVE ON A RABBIT'S FOOT KEYCHAIN COURTESY OF SCION A/V
LOS ANGELES, April 14, 2011 - LA-based party rappers The 87 Stick Up Kids have teamed up with white hot lifestyle brand Mishka NYC to release their debut LP, Car Keys & Rabbit's Feet, on Tuesday, May 3. Originally scheduled for self release earlier this month, Mishka, who are responsible for releasing Das Racist's acclaimed mixtape, Sit Down, Man, last year, as well as releases by Ninjasonik, The Death Set and Hussle Club, are now set to digitally release the 12-track full length through their site and Bandcamp. "I loved the album from the first moment I put it on and wanted to be apart of if," says Mishka co-founder and creative director Mikhail Bortnik. "We've been releasing mixes for a long while and started dabbling in 7-inches and full lengths this year when it became apparent we could be just as viable as a record label these days. We have a huge audience, one that we not only think will eat The 87 Stick Up Kids up, but one who we really want to expose to the group." "We're hyped to be included in the roster of up and coming music that Mishka clearly stays down for," says DJ Rockwell. "It should be clear to everyone by now that they are on to something and we're honored to be a part of that."



To coincide with the album announcement, Mishka is premiering the group's video for "Breaker Breaker" on their blog today at http://mishkanyc.com/bloglin/

Filmed in New York while the Stick Up Kids were in the city for CMJ last fall, the clip for "Breaker Breaker," directed by Justin DuBose, matches the songs '80s inspired 808 beats with gritty black and white footage of 87 MC's Nashville and Deacon Trillionaire rapping in the subway. As the chorus kicks in, the video flips to color and DJ Rockwell and Squish join their brothers in arms and the troupe show us late night NYC through their bleary eyes. The video follows the group's Public Enemy-inspired video for "Lights Camera" that was premiered by URB in January.

In addition to releasing the album with Mishka, The 87 Stick Up Kids have partnered with Scion A/V for a limited edition USB rabbit's foot keychain version of the record. The 500-piece LP-themed item, which will be sold at shows, on 87's site, Mishka's stores in NY, LA and Tokyo, as well as select retailers, will feature the album along with several bonus songs, unreleased tracks, videos and the Mishka lookbook featuring the group. Following this, Scion A/V will release The Stick Up Kids' video for "All The Girls" as part of the next round of videos they are putting out in July, which will also include Black Lips, Big Freedia and Rob Roy.

The result of nearly three years of honing their sound, Car Keys & Rabbit's Feet, deftly showcases the foursome's impressive range of styles while paying homage to their far-reaching influences from hip-hop's yesteryear and today. Featuring Amanda Blank, Diz Gibran, Micah James and Jamz F Kennedy of Widows/Brother Reade with production by Ro Blvd, Tate La Rock, Troublemaker, Rah Groove and Thee Mike B, the album is a melange of high-energy, party-starting anthems, clever, tongue-twisting rhymes and colorfully-produced headbangers.

The 87s have created a portal to a Los Angeles that sits outside of the realm more privy to Midwest tourists. Their Out 4 Fame EP defined their party-rap philosophy and gave way for a grassroots campaign, building them a die-hard hometown following. Whether rocking a crowd of college students or crushing it for true hip-hop heads, they have proven their widespread appeal, sharing the stage with a multitude of en vogue rap and rock outfits including Spank Rock, Flying Lotus, Diplo, Kool Keith, Ninjasonik, Cool Kids, NASA, UNI, PacDiv, J*Davey, Shiny Toy Guns, Kid Sister, Far East Movement, Dizzee Rascal, Mickey Factz, Freddie Gibbs and many more across the spectrum. This year they have shared the stage with Yelawolf, Das Racist, Theophilus London and the Get Busy Committee. Next up, they will perform alongside Mad Rad at the Central Social Aid and Pleasure Club in Santa Monica, Calif. next Friday, April 22.



Read 663 times::
Subscribe to News by Email