It's been a crazy week for me, but in case you missed any of the new reviews from the week of August 2nd, check out this edition of the (W)rap Up!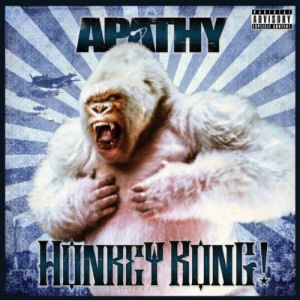 Apathy :: Honkey Kong

Demigodz Enterprises

Author:

Steve 'Flash' Juon "It's probably a stretch to claim that Connecticut rap kingpin Chad Bromley b/k/a Apathy was inspired by Andrew Matson's review from 2006, but the title of his latest album does parallel something Matson said to describe the man nicely: "He's not an abstract rapper, form or content-wise, but offers technically flawless verses consistently delivered with the force of a guy who knows he's the shit. He's a mic ripper, a savage, a beast, an unstoppable force." Hmm. A savage, a beast, AND an unstoppable force? That certainly sounds "Honkey Kong," matched on the album cover by a ferocious white gorilla that can only be described as Snowflake on a steroid bender. Actually the title matches two different pop culture concepts - the famous King Kong of motion picture fame, and the video game Donkey Kong, which arguably was inspired by that famous filmic icon (though the court system ultimately ruled Nintendo did not owe the owners of the King Kong rights a single dime). On the one hand the implication is that Apathy is a ferocious foe who will take your girl while simultaneously taking the rap game to new heights. On the other hand one can feel Ap' is an exploited ape, sold to a public which fears him, while his own feelings are misunderstood or ignored. Depending on his mood Apathy is happy to portray either side of this divide, using the opening title track to showcase his unbridled rage." http://www.rapreviews.com/archive/2011_08F_honkeykong.html Adam Warlock :: Dark Weapons (from Mars) :: Uncommon Records


as reviewed by Steve 'Flash' Juon


L Pro and 5th Sequence :: Equilibrium :: Vinyl Fluid Records
as reviewed by Patrick Taylor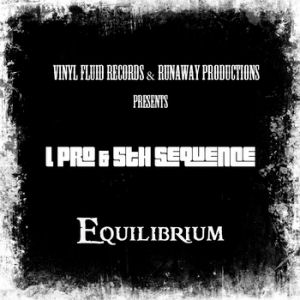 "
This is an EP from Portland MC L Pro and producer 5th Sequence. According to his bio, L Pro has been in the game for a minute, first as half of 90s rap duo Grassroots, and then working with Soul Plasma on 2003's "Simply Soul." After getting divorced and stabbed in the face (!), Pro took some time off from hip-hop. "Equilibrium" is a prelude to his forthcoming album "Vertigo." L Pro is an able rapper, and he's found a perfect partner in 5th Sequence, who acts as Pete Rock to L Pro's C.L Smooth. The beats are built around funky jazz loops, punctuating with cutting and scratching. The EP starts off with "Good Morning," with L Pro rapping over a funky horn and string loop. The track introduces L Pro as a rapper not afraid to cut rivals down with his microphone skills. Between the bouncing beat, the classic hip-hop lines scratched in, and L Pro's battle rhymes, "Good Morning" feels like it could have been released in 1991 rather than 2011. The horn sample on "Conversation" is reminiscent of Pete Rock and C.L Smooth's "T.R.O.Y," with L Pro rapping about a conversation he had about his rap career with a female admirer. "Listen mama, there's no need for drama/I'll send you the MP3 so you'll believe," he raps. "
http://www.rapreviews.com/archive/2011_08_lproequilibrium.html
Playa Rae/Trey C/Tha Critic ::
Facetime
:: Monstaville Music
as reviewed by Steve 'Flash' Juon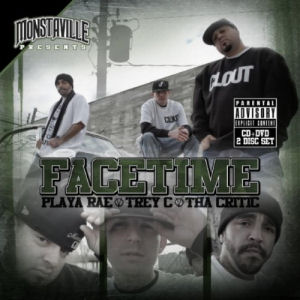 "The last time RR heard from Playa Rae was when
Pedro 'DJ Complejo' Hernandez
reviewed "
Days Like This
" back in 2008. Since then Rae has kept his hustle poppin', expanding his Monstaville Music imprint and working to make it a hip-hop force in San Jose and the Cali scene as a whole. To Rae's credit he's also trying to reach out to hip-hop heads outside the local market, even though it has often been said you can go gold or platinum in Cali and still be unknown in the rest of America. That occasionally leads to a level of insularity which makes it hard to get widespread coverage, but Monstaville Music wants to break the mold and do more than go gold. So with that said, Rae has decided to form a supergroup of fellow artists and dub both the crew and the album "Facetime." This is something Rae's had experience with before, as he previously joined with Texas rappers Fade Dogg and Gemini to form a group called
Gamebreakerz
. As Pedro noted in his Playa Rae review, the project made some noise, but ultimately didn't cause a revolution for Rae or the other latino rappers involved. Accordingly I don't get the feeling that heritage is a focus on this one, unless being a Californian is now an ethnicity. "
http://www.rapreviews.com/archive/2011_08_facetime.html
Roach Gigz :: Bitch, I'm a Player ::
Thizz City
as reviewed by Steve 'Flash' Juon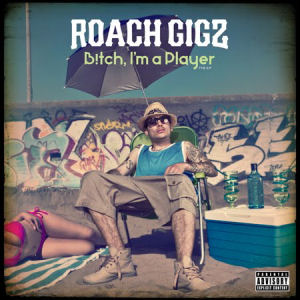 "Roach's bio states the 21 year-old was conceived in Nicaragua during the war between Contra and Sandinista forces, but the war was pretty much over in 1989 as the rebels had agreed to disband and participate in political elections the next year. It's telling that the entire Iran-Contra scandal happened before Roach could even be aware of it, let alone theoretically conceived. My point is that I don't know why his bio made a point of it at all, when it could have skipped over this trivial fact right to his upbringing in the Bay Area, and the fact he chose his rap name based on a character from the movie "
Next Friday
." Roach gained fame locally through "Roachy Balboa" mixtapes, then got more nationally by appearing on MTV2's Sucker Free series. "Bitch, I'm a Player" is an intentionally misogynistic name, and most of his humor is as well. He's lyrically the 21st century equivalent of Too $hort, from his raunchy subject matter to his frequent use of that five letter pejorative for women." http://www.rapreviews.com/archive/2011_08_bitchimaplayer.html





Read 1,225 times::
Subscribe to News by Email