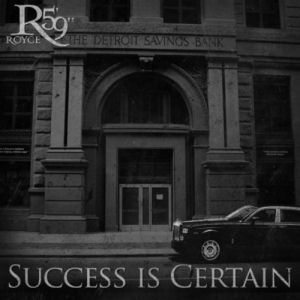 Royce Da 5'9" :: Success Is Certain

Gracie Productions
Author: Jesal 'Jay Soul' Padania


"Royce Da 5'9" is - as things stand - one of the best rappers on the planet right now. He's in the midst of a run of form that can no longer really be called that - virtually everything he spits is superb, his flow is the perfect mix of old and new school, the punchlines are vicious and he has enough subtlety as an artist to complement his near-superhuman confidence. It's also interesting to note that, although he's had ups and downs throughout his career, that's not really reflected within his body of work - if you look at all the Royce albums, mixtapes or collaborative EP's (I quickly scanned twelve on this site, though may have missed some) and look at the scores, every SINGLE one scores between 7.5 and 8.5. Seriously. Even if you happen to query a few scores, it still shows that, over the course of a decade, Royce has displayed incredible consistency. And that's not even counting his work with Slaughterhouse, or the brilliant guest verses on other albums ("Motown 25" on Elzhi's debut LP is still possibly my favourite hip hop song from the last 5 years). "Success Is Certain" is smack bang in the middle of a wonderful 2011 for the Detroit native. Yes, releasing around the same time as "Watch the Throne" has relegated the marketing for the album as virtually nonexistent, but now that the dust has settled on Jay-Z and Kanye West's "joint joint" it's time to give Royce the shine. After all, Bad Meets Evil beat the Roc Boys to the punch and - in many people's eyes - possibly delivered a more natural and organic listen (mainly owing to the long-standing and genuine friendship of the Evil Twins)."
Buck 50 :: Political Pain :: Buck 50 Entertainment
as reviewed by Susan 'susiQ' Kim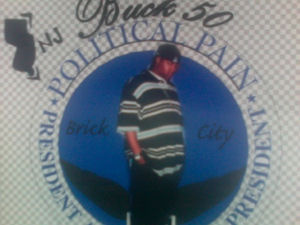 "Buck 50's life as always been about struggle and pain. Even his name explains his identity as he received a large cut on his face from a box razor in a fight which typically needs 150 stitches and so he coined the name "Buck 50." Followed by the death of his parents, Buck 50 has only been inspired from his experiences and has put forth all his passion into his music thus completing his latest album, "Political Pain." In this six track album, Buck 50 attempts to provide insight on the "ghetto life" and the struggles he has overcome through the years. "Political Pain" begins with "Lock it Up" as he explains life on the streets while joy riding through New Jersey in a stolen car. While on his escapade in the track, Buck 50 pays homage to Jersey by highlighting its different areas and in turn, shows the attempt to survive the chaotic streets."
http://www.rapreviews.com/archive/2011_08_buck50politicalpain.html
CSC Funk Band :: Things Are Getting Too Casual
:: Fat Beats Records
as reviewed by Patrick Taylor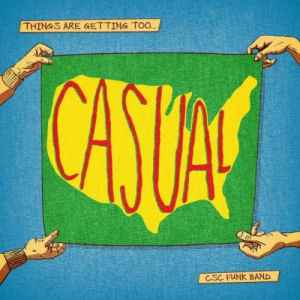 "CSC Funk Band are the latest in a decade-long revival of live funk and soul bands that includes Menahan Street Band, the Budos Band, El Michels Affair, and Antibalas. Many of these bands and musicians are affiliated with Daptones Records, whose Dap-Kings have backed the late Amy Winehouse, and currently back soul singer Sharon Jones. The impetus behind this wave of bands seems to be hip-hop crate-diggers asking, why don't we make music that sounds like these classic funk and soul records we are sampling? CSC Funk Band are also the first funk project for legendary New York hip-hop label Fat Beats. I can't help but wonder if this is a sign of the times. Stones Throw on the West Coast has been moving away from straight hip-hop towards funk and soul acts like Dam-Funk and Mayer Hawthorne, and I wonder if Fat Beats is looking to go in that same direction. Maybe as the record industry changes and hip-hop fans age these labels have discovered rap music doesn't offer the same return on investment that other kinds of music do. Or maybe it's just a sign of the blending and blurring of genre lines. Or maybe the labels are looking for music that their hip-hop artists can sample without having to pay an arm and a leg in royalties."
http://www.rapreviews.com/archive/2011_08_thingsaretoocasual.html
Gucci Mane & Waka Flocka Flame :: Ferrari Boyz
:: 1017 Brick Squad/Warner Bros.
as reviewed by Steve 'Flash' Juon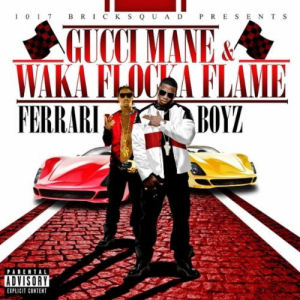 "Looking back it was inevitable that Gucci Mane and Waka Flocka Flame would collaborate on an album, and not just because they both hail from Georgia, or because their last names are pronounced almost the same. (For the know-nots, you say "goo-chi MAIN" like he's your main man.) It's not even because they're both on the 1017 Brick Squad roster. The simple fact is that their simple rap style is all but interchangeable. Waka could write rhymes for Gucci, or Gucci could write rhymes for Waka, and you wouldn't be able to tell the difference from what they wrote for themselves. Their topic matter is identical - hustlin, trappin, fuckin, rappin, being major, stacking paper, dissing haters, rolling Mercedes - sorry FERRARIS. Just like the brand of fashion Radric Davis is named after, their tastes in conspicuous consumption must be expensive and European at all times.I think it's fair to say neither one of the artists featured on this album reflect my hip-hop taste like a mirror, but that's not to say they haven't gotten some good reviews here and elsewhere. I admit to being surprised by how much Patrick Taylor enjoyed "Flockaveli," just as I'm sure some RR readers probably think I'm joking when I say I liked "The State vs. Radric Davis" even more than Louis Cloutier did. "
http://www.rapreviews.com/archive/2011_08_ferrariboyz.html
Masta Ace Incorporated :: SlaughtaHouse
:: Delicious Vinyl
** RapReviews "Back to the Lab" series **
as reviewed by Mike Baber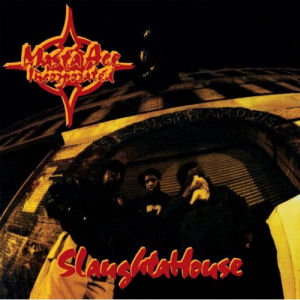 "When it comes to the most overlooked and underappreciated emcees, Masta Ace is near the top of the list. For average hip-hop fans, Masta Ace often gets lost in the shuffle amidst the East Coast legends of hip-hop's golden age, such as KRS-One, Nas, Biggie, and Rakim. Any true rap aficionado, though, knows of the Masta's prowess on the mic and recognizes his knack for storytelling that has made him an underground favorite among listeners since his beginnings as a member of Marley Marl's legendary Juice Crew in the late 80s. I've been a fan of Masta Ace ever since I first heard his relentless, knockout-punch diss of Boogiemane on his 2001 album "Disposable Arts," but until I recently I had yet to delve into some of his earlier work. When I discovered that "SlaughtaHouse," the debut release from his hip-hop group Masta Ace Incorporated, was not covered on Rap Reviews, I figured it was the perfect place to start.Let's make one thing clear from the start -- despite the presence of fellow group members Lord Digga, Paula Perry, Eyceurokk, and Lesche on "SlaughtaHouse," Masta Ace holds the spotlight from beginning to end. Each artist contributes some vocals here and there, most notably on the album's final track, "Saturday Nite Live," but the rapping is handled almost exclusively by the Masta, making it essentially a solo release with a few guest appearances. "
http://www.rapreviews.com/archive/BTTL_mastaaceslaughta.html
M-Phazes & Emilio Rojas :: Phaze One :: Obese Records
as reviewed by Steve 'Flash' Juon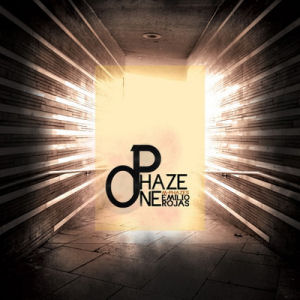 "Australian producer M-Phazes has been banging out quality beats for American emcees for a while now, and earlier this year dropped his own "Good Gracious
" CD with a positive response from the hip-hop community. New York based rapper Emilio Rojas has also been getting a positive response, through his cameo appearances on singles and remixes and via word of mouth about his mixtapes. Now given the two are from different countries half a world apart this might not seem like the most natural collaboration, but we all live in the internet age now, and those distances can easily be bridged. Rojas demonstrates the "Phaze One" mentality on the album's opening track "Pull Us Through," arguing for a more reality based rap that puts less emphasis on fictitious tales of drug sales. If you as the reader are about to say you've heard this call from a hundred different underground rappers already, you're absolutely right, but let's give Rojas the credit he deserves for good diction, breath control and getting his point across clearly. "

http://www.rapreviews.com/archive/2011_08_phazeone.html
Omni :: IamOMNI
:: NatAural High Records/RVCA Music
as reviewed by Steve 'Flash' Juon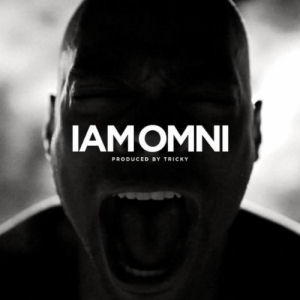 "Painting this picture is going to take more than a few brush strokes, so the reader will have to bear with me a moment. It all starts with the formation of the B.L.X. (BassLine Xcursionists) crew in Los Angeles back in the late 1990's. Like so many California rap collectives, B.L.X. prides itself on being unconventionally artist, challenging the listener to redefine what rap music is and can truly be. Their 2002 album "Sunch Punch" is an under-recognized classic of progressive hip-hop. Among the many talented members of the clique, one of the most easily recognizable is Omni, who has put himself out there as a soloist with albums like "FunkDafied Freddy" and "Batterie." The artistic and creative output has always been in effect for this Southern Cali rapper, but with an over-abundance of albums in the marketplace and the fair yet limiting label of avant garde he's in a niche where his career trajectory is more of a slow and steady arc than a rocketship straight to the moon. Along the way Omni connected with British trip-hop superstar Tricky, who also receives less U.S. urban press than he deserves. He's arguably found more success commercially, even landing a minor role in the Hollywood blockbuster "The Fifth Element
.""
http://www.rapreviews.com/archive/2011_08_iamomni.html
Rock Most :: Rise & Shine
:: Dirty Bomb Records
as reviewed by Emanuel Wallace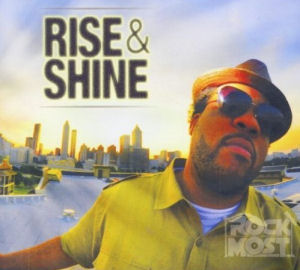 "In 1995 on "Playas From The South," the late Pimp C quipped that "niggas be hollerin' Texas just because it rhyme with Lexus." In a way, I have the same sentiment towards a colloquialism that you'll see countless times on Twitter and Facebook if you're up early enough or just haven't gone to bed yet: Rise and grind. I suppose it's okay to say, but I suspect that in half of the cases, that grind leans more towards Folgers coffee than anything else. But what do I know? Anyway, sorry for going off on a tangent there. Here we have Ohio-born and Atlanta-based Rock Most with his sophomore release "Rise & Shine." The LP features ATL notables Boog Brown and Clan Destined and others including Tru.Ski, Stan Steam, Jahah and Cherry Royale. As Rock was working on "Rise," he had a couple experiences that changed both his life and the course of the record. First, there was a head-on collision which totaled the tour van and secondly, there was an armed robbery situation which ended with Rock shooting and killing the robber in self-defense. Now that right there gives Rock all the ammunition he needed to become one of the game's biggest gangsta rappers on wax, but he chose to take the two negatives and put the emotion associated with them into "Rise & Shine.""
http://www.rapreviews.com/archive/2011_08_rockmostrise.html
Trae :: Street King
:: ABN Entertainment/Young Empire Records
as reviewed by Pete T.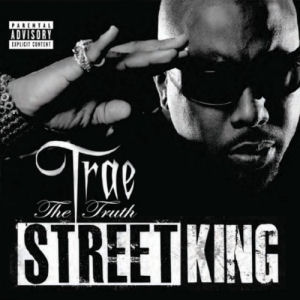 "Trae's been having somewhat of a rough go of things lately. After gun violence marred 2009's annual Trae Day, a Houston charity event where Trae arranges free food, health services, school supplies, and a community concert, landmark Houston rap station KBXX suggested that Trae was responsible for the violence due to the graphic content of his music. A prolonged feud between the rapper and the station resulted in Trae's music being banned from his own hometown station, a measure so severely enforced that some DJs lost their jobs for playing songs featuring his guest verses. Dark days for Trae resulted in repeated delays for "Street King" and ultimately a three-year gap between proper solo efforts. Still, as the title of a recent mixtape proclaimed, even Houston's biggest hip hop station "Can't Ban the Truth," and "Street King" is Trae's biggest album to date, a star-studded affair with practically every track featuring an A-list rapper or producer.Listeners know that Trae's music is made by the streets and for the streets, and despite the presence of so many collaborators "Street King" is no different. An undeniably heavy LP, it features an array of hood anthems as well as gloomier downtempo tracks. Trae isn't exactly a happy fellow, and like his blood cousin and solitary musical brother Z-Ro, his versatile delivery ranges from a distinctive, menacing drawl slathered in Texas syrup to a rapid-fire triple-time to the deep, bluesy singing he employs on most of his hooks. "

http://www.rapreviews.com/archive/2011_08_traestreetking.html
Wise Intelligent :: The Unconkable Djezuz Djonez
:: Intelligent Muzik Group
as reviewed by Pete T.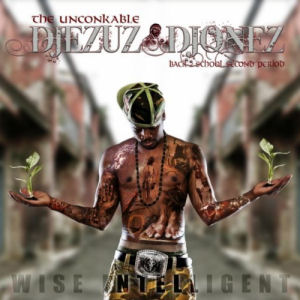 "A full eleven years since his last album hit streets, Poor Righteous Teachers frontman Wise Intelligent managed the most improbable of comebacks with 2007's stellar "The Talented Timothy Taylor." Over a brilliantly produced record, the Trenton native delivered a phenomenal performance showing the sociopolitical intellect of the early-90s PRT records and a matured street scholar with smart commentary, heady street tales, and startling personal narratives. Now he's back with the "Second Period" of his "Back 2 School" series, "The Unconkable Djezuz Djonez." Without beating around the bush, "Djezuz Djonez" doesn't stack up with "Timothy Taylor." The new record finds Wise assuming an alter ego, and it's a rather bizarre and perplexing concept. It's never quite clear who or what exactly Djezuz Djones is supposed to be. "Crown of Thornz" and "Introduce Ya Self" introduce him as some sort of hood prophet, but "My Crucifix" garbles the picture by presenting contrasting biblical and Five Percenter imagery. "

http://www.rapreviews.com/archive/2011_08_theunconkable.html




Read 993 times::
Subscribe to News by Email