If you missed any of the new reviews last week, including Game's "The R.E.D. Album" then do yourself a favor and check out this week's installment of the (W)rap Up!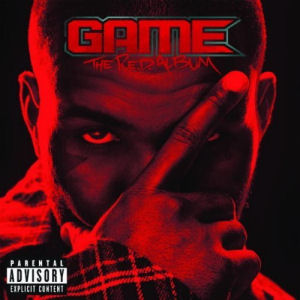 The Game :: The R.E.D. Album

Interscope Records
Author: Jesal 'Jay Soul' Padania

"Keep your album short. Seriously. Rappers, keep your album short. Ten to twelve tracks should do it. Why? Because this "iPod generation" possesses an ever-decreasing attention span, some say, and they just can't handle listening to proper long plays… With all due respect, that's BULLSHIT. It's not the length of an album – it's the "hit/miss ratio" that's the problem. You see, listeners dream of albums that they can simply leave playing for an hour or more – we used to call them "albums to clean your house to." But each song has to count, have a purpose, fit in the grand scheme of things, and still be repeatable on its own. It's a tough ask, and most rappers have simply given up trying. If any artist can justify the inclusion of 90% of their tracks, their album can be as long as they like. The first time I listened to "The R.E.D. Album" – which is the fourth offering from Game – it felt like it took two days to finish. In reality, it clocks it at a mammoth 72 minutes, with twenty-one tracks (although four of them are Dr. Dre interludes). It's very long, and what's worse is that it didn't seem that impressive. But after a couple of spins, it really started to demonstrate a strength, steel and an impressive "hit ratio" – not hit singles, of course, just strong songs that deserved their spot. And whilst there are undoubtedly certain issues with "The R.E.D. Album," they are comprehensively outweighed by the numerous positives. For you should know this, dear Reader – The Game has well and truly delivered a fantastic a cohesive, almost cinematic, experience for you to immerse yourself in. I'm willing to bet, however, Jayceon is going to receive extremely mixed reviews, not to mention public reaction. Why? The length, of course. Sitting through two spins of this is the equivalent of the average running time of a Bollywood movie. "
B a/k/a Blu :: Jesus
:: New World Color/Nature Sounds
as reviewed by Steve 'Flash' Juon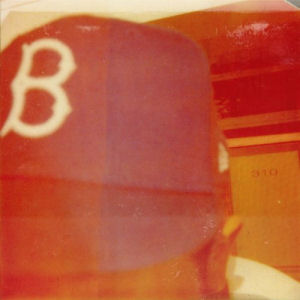 "California hip-hop star Blu may not be a fan of getting reviewed but in truth he has little to fear from hip-hop critics. More often than not when Blu's name is brought up, praises are offered for his honesty and sharp delivery, praising his ability to connect with audiences by BEING real instead of "keeping it real." I've actually found it kind of hard to find anybody with something bad to say about Blu, which makes me wonder why he has it in for hip-hop writers. Perhaps he had a bad experience very early in his career which he hasn't gotten over, but the who/what/why is something we don't and may never know. Perhaps that reluctance to be reviewed, whether positively or negatively, is what led to the ambiguity behind this release. It initially leaked on Bandcamp under the singular and cryptic moniker of "B." After word of the album spread it didn't take long for hip-hop heads to figure out C is for Cookie and B is for Blu, which makes one wonder - why do it at all? Furthermore, why take it down once everybody had figured out the mystery? Perhaps the real answer for this enigmatic behavior is that Blu simply wanted to build some buzz for B. It's not exactly an alter ego, but as we all learned from Keith Thornton, the nom de plume is easily changed while the man under the mask stays largely the same."
http://www.rapreviews.com/archive/2011_08_bakablujesus.html
Bias B :: Biaslife
:: Obese Records
as reviewed by Steve 'Flash' Juon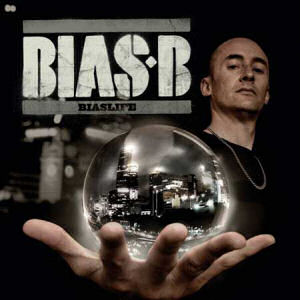 "Have you been searching for a new ode to loving hip-hop like it was physically embodied as a gorgeous curvaceous full grown woman? Ever since Common dropped "I Used to Love H.E.R." back in 1994, it seems like the one topic most rappers think they can do as well or better than Lonnie Rashid Lynn, but only a few can even come close to how well he articulated the sentiment. Nevertheless the demand for a brand new booty is persistent and emcees keep on trying to deliver it, the latest being the Melbourne, Australia born rapper Bias B. On "In Love With the Music," the opening song off his new CD "Biaslife," the lyricist teams up with producer Lazy Grey to take his own crack at what's becoming a rap standard. It may seem from the opening paragraph like we're taking the piss on Bias B, but honestly "In Love With the Music" isn't bad even if it's a retread of the same old theme. B's lyrics feel heartfelt and sincere and Grey's mellow melody accents it well. Speaking of accent, that seems to be a contentious point for some past reviewers. Given I seem to review more Australian hip-hop albums than most blokes in Yankeeville, there's probably a chance I am biased (no pun intended) toward the vocal tone, but given how easy it was to transcribe his rhymes I don't think his Melbourne flavored vocals are that thick or hard to aurally digest. Let's bottom line the issue for "Biaslife" - if you could rate hip-hop emcees with a Richter scale of understandability with 10 being a total disaster of epic proportions, Bias B comes in at around a 3 to me - a barely noticeable tremor. Some popular rappers in the U.S. are a 7 even on their best days. "
http://www.rapreviews.com/archive/2011_08_biaslife.html

Danny Brown :: XXX :: Fool's Gold
as reviewed by Patrick Taylor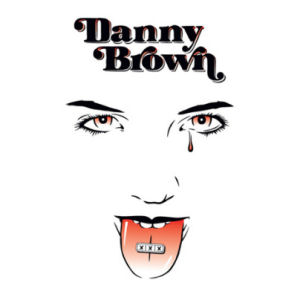 "There is one essential piece of information that all the anti-drug campaigns ignore in their materials: people do drugs because they are fun. If getting high wasn't enjoyable, no one would do it. On the other hand, those who do like to get high are often oblivious to how slippery and steep a slide it is from recreational use to serious problem. For every ten people that are able to dabble without developing a serious habit, there is one person who gets caught up in the downward spiral of a drug problem. It's often a subtle descent, much like a frog swimming in water that starts to boil. Which brings us to Danny Brown's "XXX," his second official album following last year's "The Hybrid." Brown is the self-defined Adderal Admiral, a rapper who is just as comfortable popping pills as he is smoking blunts. Maybe it has something to do with his hometown of Detroit. After all, it was Eminem who first popularized the use of Ecstasy and pharmaceuticals in hip-hop. His latest album sees Brown on the wrong side of 30, with his partying lifestyle starting to wear him down. The album starts off with Brown in a dark place, the kind of place you get to after days without much sleep and with too many substances. "I took a while to get here and now I depend on these drugs!" he exclaims at the end of the intro. "Die Like A Rockstar" is a grim fantasy about the darker side of going hard, with Brown imagining himself partying with celebrities who have fallen victim to their overindulgences. People always talk about partying like rockstars, but never think about the fact that that lifestyle is highly unsustainable and full of casualties. Chris Farley, Britney Murphy, Jimi Hendrix, Keith Moon, Jim Belushi, and River Phoenix are some of the drug martyrs that Brown imagines himself sharing lines and porn stars with."
http://www.rapreviews.com/archive/2011_08_dannybrownxxx.html
Likwuid :: No Regrets
:: Sano Business
as reviewed by Mike Baber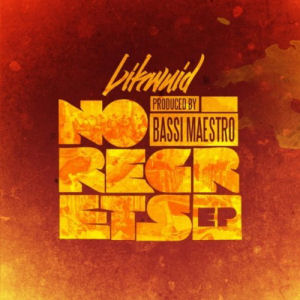 "Some emcees simply have a way of commanding the listener's attention, whether it's with a distinct voice, a sharp delivery, or a funky rhyme scheme, allowing the listener to get lost in the music not think twice about skipping a track. While it's rare to find a full-length album with enough depth and creativity to make every song a worthwhile listen, "No Regrets" admittedly has an advantage in this respect, given that it's tough to get tired of an album that's only six tracks in length unless there is a complete lack of originality. Nonetheless, female emcee Likwuid's self-proclaimed final EP pulls the listener in from the beginning and never lets go, making for a surprisingly deep release chock full of intelligent, thought-provoking lyrics that deal with everything from putting whack rappers in their place to empowering women in hip-hop and in other facets of life. With hard-hitting production handled entirely by Italian producer Bassi Maestro and a number of guest emcees to boot, it's hard to go wrong with "No Regrets." Make no mistake, despite being an Italian emcee and producer, Bassi Maestro clearly understands the roots of old-school hip-hop, and several tracks on "No Regrets" reflect the boom-bap feel of the 90s, with a little added new-school twist. It starts with the opening track, "Likwuidation Reprise," which features a rapid-fire grand piano chord and a funky hollow electric piano that dances across the track. Likwuid delivers a powerful opening verse, spitting for a minute and a half straight before Bassi mixes things up and scratches in lyrics to end the song."
http://www.rapreviews.com/archive/2011_08_likwuidnoregrets.html
Qwazaar & Batsauce :: Bat Meets Blaine
:: Galapagos4
as reviewed by Steve 'Flash' Juon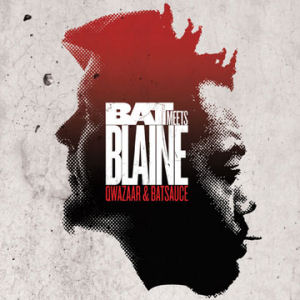 "Typical Cats, the widely hailed hip-hop crew from Chicago, made waves with their self-titled album in 2001 but haven't been heard from as a group since 2004. I'm not aware that they had an acrimonious break-up though - in fact Denizen Kane and Qwel are still dropping albums on Galapagos4, the same label they were signed to collectively as the T.C. crew. Obviously things are at least to some degree all good, but what about Qwazaar? Up until recently he hadn't dropped any CD as a soloist, but he finally broke the ice in July with his own EP on Galapagos called "Style Be the King." It was also the debut of his collaboration with Batsauce, a producer whose seemingly silly name almost subverts his serious skills behind the boards. He's in demand worldwide from his native Jacksonville, Florida to his adopted home of Berlin, Germany. Don't sleep just because of the name. Sleeping is probably a problem for Qwazaar in general, which could be why he's been content to let his other Typical Cats co-horts have the limelight, with Qwel arguably being the most active. It's easy to take the backseat when other stars seem to shine - to be the Dinco D to Busta Rhymes or the Phife Dawg to Q-Tip. Or it just may be that Qwazaar was quite literally sleeping himself - taking an extended Rip Van Winkle while the rest of hip-hop kept swaggering and bling blinging away. Well it's good to know he's back in 2011 with something to say, and though hip-hop has had its up and downs, he's kept an "Eye to the Sky""
http://www.rapreviews.com/archive/2011_08_batmeetsblaine.html

Roots Manuva :: 4everevolution
:: Banana Klan/Big Dada Recordings
as reviewed by Steve 'Flash' Juon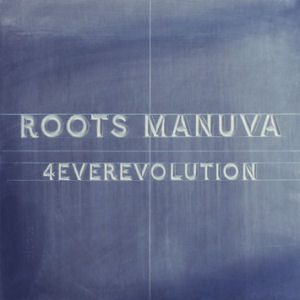 "If you want to get at the heart of why the 2011 England riots occurred, the Roots Manuva song "Skid Valley" would be a good place to start. There can be little question that opportunistic people took advantage of the fires burning in London or elsewhere for their own benefit, but there's a deep and growing dissatisfaction among the masses with their own economic situation. It's one thing if your lot in life never changes, it's a whole 'nother thing if it gets worse with each passing day. When the well off seem to ride blithely above the whole global recession on a downy pillow cloud of good fortune, it stirs anger in the people they piss on below even if they charitably offer you an umbrella first. It doesn't even matter if you live in a democracy or a dictatorship at this point - if the cost of living is up and your personal income is down the status quo just won't do any more. That anger is causing riots, revolutions and political upheaval worldwide. As Rodney Smith notes in the song, it's the very "Britain will stay Britain" attitude that fosters anger. That just won't do, and politics as usual, that just won't do either. So who is Roots Manuva, and why is his message so important? He's a 38 year old rapper from Stockwell, South London who has been the voice of the disenfranchised dating back to the late 1990's. Award winning albums like "Run Come Save Me" are noted for both the well above average beats that Rodney rhymes on and his willingness to shatter English stereotypes while simultaneously embracing a culture that is for better or worse his own. He likes a good game of football, and a nice pint of bitter with his mates, but there's no question that he'd like to see a better tomorrow for all of London's disenfranchised - whether people of color, people of a different religion, people living in poverty, whatever. He's a fan of puns and double entendre as shown on his recent "Slime and Reason" CD but can be serious as cancer when needed. His fans in the UK need no explanation for his accent, but outside of the Commonwealth his Anglo flow gets him a little extra attention since it gives him the sound of an aristocratic hip-hopper (yet one who'd probably punch Prince William)."
http://www.rapreviews.com/archive/2011_08_4everevolution.html
various artists :: We Remember Gregory Isaacs
:: VP Records
as reviewed by Patrick Taylor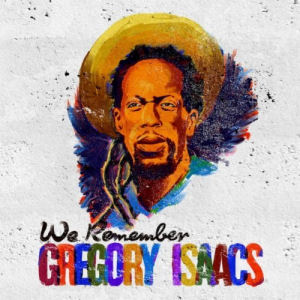 "They called him the Cool Ruler. With his fedora hats and tailored suits, Gregory Isaacs helped to invent the smooth, romantic strain of reggae called Lover's Rock. His career lasted over forty years and five hundred albums. He had a voice that was as sweet as honey, and a singing style that dripped with yearning and longing. Think of him as Jamaica's answer to Marvin Gaye. This album pays tribute to the great reggae singer who died of lung cancer last October. It collects sixteen covers by a who's who of contemporary reggae. Tarrus Riley starts things off with an excellent rendition of "Front Door," telling the tale of a man who leaves a bad relationship, declaring "Lord knows I don't want to be lonely tonight/but I would rather to be lonely than to lead a dirty life." It's classic Isaacs: beautiful, bittersweet, and full of heartache. Natel offers a version of Isaac's early hit "All I Have Is Love," telling a lover "Some other men will buy you diamonds and furs/and those are the things that mean a lot to some girls/but all I have is love." It's a brilliant song that Natel does proud. Busy Signal tackles one of Isaac's more serious songs, the cautionary "Hard Drugs," something Gregory Isaacs knew too much about. Gyptian offers a nice version of "My Number One," Duane Stephenson covers "Border," and female singers Etana and Alaine offer feminine takes on the Cool Ruler's style. The centerpiece is singing phenom Romain Virgo's spin on Isaac's smash hit "Night Nurse." Virgo is one of the more promising singers to emerge out of Jamaica in years, and he proves himself again on this track."

http://www.rapreviews.com/archive/2011_08_weremembergregoryisaacs.html




Read 1,092 times::
Subscribe to News by Email