If you missed any of the TEN new reviews last week, including Lil Wayne's "Tha Carter IV" then do yourself a solid and check out this week's edition of the (W)rap Up!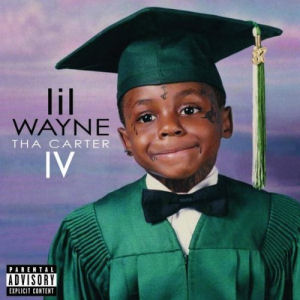 Lil Wayne :: Tha Carter IV

Cash Money Records/Universal Motown
Author: Steve 'Flash' Juon



"Young Dwayne Carter will be the first to tell you he's not a role model. If you work in law enforcement you probably see dollar signs flashing before your eyes the moment his tour bus hit town. Even if you couldn't get Mr. Carter on a drug or weapons possession charge somebody with him would take the hit. It's a three way race between Lil Wayne, DMX and Gucci Mane for which famous and successful rapper can go in and out of prison the most times in his career. With all that said Wayne has come a very long way since his earliest Cash Money days, when he was routinely being sonned by B.G. and Juvenile on records. The main thing he had going for him initially was his youthful charm and the people around him supporting his career. Since then he's grown into a full fledged artist, and while the legal system has not been kind to him, his fanbase certainly has. It would be shocking for a volume of his "Carter" series to not ship gold and go platinum, and even when he's dabbled in singing and rock, those same fans have stayed loyal to his brand. He is at this point a household name in pop culture, someone even President Obama professes to have on his iPod. "
Action Bronson :: Dr. Lecter
:: Fine Fabric Delegates
as reviewed by Aaron Boyce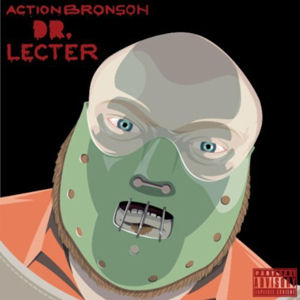 "As a self-confessed hip-hop geek, I still feel bad that I only paid attention to Action Bronson a full month after his debut album found its way onto iTunes. I hadn't gone out of my way to ignore him or anything like that, he had just slipped under my rap radar and it wasn't until Apathy posted a link to a Bronson video on twitter that I sat up and took notice. The video, "Get Off My P.P.", is sure to grab the attention of even the deepest sleeper. Action Bronson cuts an imposing figure, he is a big guy, covered in ink, with a shaven dome and bushy ginger beard yet the one thing that seems to get brought up is that 'he sounds like Ghostface'. You would be lying if you said that you couldn't hear similarities to Ghost Deini's vocal tone but Action Bronson is his own man on the microphone and he can RAP. Out of Flushing, Queens, Bronson still works in a New York restaurant and there are dozens of references to food tossed into this audio casserole. This is an album where you can find a line about enjoying a fine steak not too far from talk of playing footsie with a hooker."
http://www.rapreviews.com/archive/2011_08_actiondrlecter.html
Glasses Malone :: Beach Cruiser
:: Cash Money/Suburban Noize Records
as reviewed by Steve 'Flash' Juon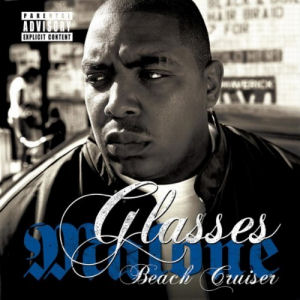 "When the first single from your debut album was released FOUR YEARS AGO, that's the music industry equivalent of what they call "developmental hell" in Hollywood. For those not familiar with "developmental hell" it means a that due to politics in the studio and/or with the directors and actors attached to a movie, a script never gets turned into a film and sits in limbo. Some scripts go through four or five different directors trying to get out of "hell" and get turned into a major motion picture blockbuster. Likewise Glasses Malone has been through at least five different record labels over the years including Black Wall Street, Hoo Bangin', Universal, Cash Money and now Suburban Noize Records. Malone's "Beach Cruiser" is theoretically a joint release between the latter two, but try finding any reference to Glasses being a Cash Money artist on their website. Nevertheless Malone has insisted CMR is involved and gave him "full creative control," and Suburban Noize does briefly mention Cash Money in their entry for "Beach Cruiser." For all intents and purposes though Suburban Noize is at the forefront when it comes to this album getting out of developmental hell and actually being produced and released. All of the publicity and promotion we've received for "Beach Cruiser" comes directly from them."
http://www.rapreviews.com/archive/2011_08_beachcruiser.html
Grand Mother's Funck feat. Akil The MC :: The Proud Egyptian
:: Sony Music Entertainment Switzerland
as reviewed by Matt Jost
"Coincidences can be a wonderful thing. Just like this reviewer never could have imagined a funk band from around the way share billing with an internationally renowned rapper, that same band couldn't possibly foresee millions of proud Egyptians take to the streets to put an end to a fossilized regime shortly before it would drop an album named "The Proud Egyptian." But coincidences can also take inconvenient turns. The Proud Egyptian according to Grand Mother's Funck is not a confident citizen rising up against Mubarak and his clique in the Arab Spring of 2011 - it's a sex position. Ironically enough, this particular Proud Egyptian has so far escaped the online Urban Dictionary, which manages to come up with vulgar interpretations of even the most unsuspicious of terms. With that out of the way, let's get down to brass tacks. Akil, for those that don't know, was one of the Jurassic 5 (or 6, technically), an LA collective who successfully blended old school rap with contemporary Left Coast hip-hop between 1993 and 2007. Grand Mother's Funck is an ensemble from Switzerland, established in 1993 and releasing albums since 1995. The combo first invited Akil The MC to join them on stage in 2009, which led to seven studio tracks that were released on vinyl in 2010. Until then, GMF had employed the talents of various guest lead vocalists, all of them singers."
http://www.rapreviews.com/archive/2011_08_theproudegyptian.html
Grant Parks :: Parkstrumentals
:: CoalMine Music
as reviewed by Mike Baber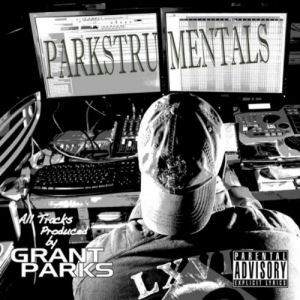 "I didn't know what to expect going into "Parkstrumentals," the latest album from Chicago producer Grant Parks, as I'm always a little skeptical of albums that feature a number of instrumental tracks. Unless the producer really brings something unique and creative to the table, the beats often feel empty without an emcee to spit over them, leaving the listener unsatisfied. And with 12 of the 19 songs being purely instrumentals, I was worried that there would not be enough depth to keep the album interesting throughout. On the other hand, though, "Parkstrumentals" features several big names in old-school hip-hop, including Masta Ace, Sadat X of Brand Nubian, General Steele of Smif-N-Wessun, and even KRS-One. I had high hopes that, given the strong supporting cast of guest emcees, "Parkstrumentals" would be a throwback to the boom bap sound of the golden age that has disappeared from mainstream hip-hop today. The album starts off with a short but sweet intro, featuring vibrant piano keys and a heavy drum beat, but Parks takes a step backward with the first full length instrumental, "State of Consciousness." With a weak, run-of-the-mill drum kit and an eerie but otherwise unremarkable synth, things quickly grow repetitive, and I started to have doubts about the rest of the album. Luckily, though, things quickly turn back around, and while not every beat is up to par, Parks delivers a handful of solid old-school instrumentals."
http://www.rapreviews.com/archive/2011_08_parkstrumentals.html
Hassan Mackey and Apollo Brown :: Daily Bread
:: Mello Music Group
as reviewed by Patrick Taylor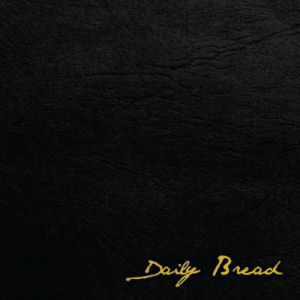 "I first heard Hassan Mackey when his label, Mello Music Group, offered his debut album "Soul For Sale" as a free download in July in order to build up interest for this album. The album originally came out in 2007 as part of the Rawkus 50, 50 up-and-coming artists that Rawkus felt were important enough to support. It took a while, but "Soul For Sale" grew on me. Mackey's street/backpacker style was a nice change of pace, with lyrics that talked about the gritty side of life without getting boastful or gangster. He came off as real rapper making real hip-hop. When "Daily Bread" came out I plopped down my $7.99 for the digital album, proving the wisdom of MMG's marketing plan. RapReviews readers should be familiar Mackey's partner in crime on this release, Detroit producer Apollo Brown. I enjoyed his remix album "The Reset," Pete T. was feeling his production as one-third of The Left, and fellow reviewer Mike Baber gave his instrumental album "Clouds" a stellar 9 out of 10. Brown is the new school of the old school, a producer who works with dusty breaks and samples without sounding like a retroist. His production style is a nice compliment to Mackey's rapping style. Both artists are old-school leaning yet forward-looking, the new breed of the underground."
http://www.rapreviews.com/archive/2011_08_dailybread.html
Maggz :: Maggnetic Opposites :: Bandcamp.com
as reviewed by Emanuel Wallace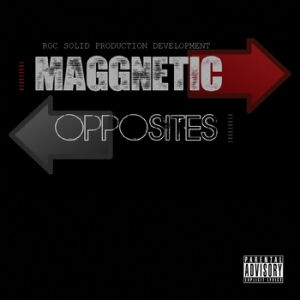 "It's amazing how that degrees of separation thing works. A few years ago, a talented artist friend of mine named Lauren Luna made some custom sneakers for Raekwon and invited me to come along with her as her photographer when she made the drop. Rae came with Capone and the rest of the Ice Water crew. Lauren also customized a pair of Newport-inspired Air Force 1's for Noreaga, but he was missing in action. In any case, one of the opening acts that night was Greenhouse. I enjoyed their set so much that I did my best to catch up on older material from both Blueprint and Illogic. Months later, I found myself at the release party for Greenhouse's "Electric Purgatory Pt. 2" and among the acts on the undercard were Rhymesayers' Toki Wright and Zero Star. From that point, I became a fan of Zero Star and dug up some of his releases for Weightless and more current projects like "The Ink Pen Method" and his latest release, the excellent "Don't Look Now." That Zero project was produced by J. Maggz and it was through his appearances on "Don't Look Now" that I came to know him as an emcee as well."
http://www.rapreviews.com/archive/2011_08_maggneticopposites.html
Moka Only :: Barbecued Horse Contest :: Wandering Worx Entertainment
as reviewed by Steve 'Flash' Juon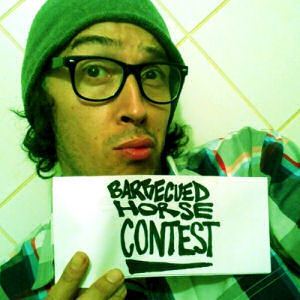 "Emcee, producer and all-around man of mystery Moka Only is back with his latest album "Barbecued Horse Contest." This title is clearly going to offend some people at the outset, but if you think the Vancouver based artist gives a shit, you'd be mistaken. He enjoys challenging, confusing and befuddling even his most loyal of fans. In fact on this very website M.O. gave us an interview where he insisted his alter ego Ron Contour was in fact his cousin and not him, and we played along with it (to a degree). When you are as talented and artistic as Moka Only is, you can get away with that sort of thing, because people presume being eccentric/weird/colorful/reclusive/bizarre goes hand-in-hand with being talented. One can certainly make a compelling case for that when studying both the behavior of and works by famous artists ranging from Vincent Van Gogh to Wesley Willis. Let's just put it like this - you don't HAVE to be an oddball to be artistically gifted, but it probably doesn't hurt."
http://www.rapreviews.com/archive/2011_08_barbecuedhorse.html
Sun Rise Above :: Every Day I Wake Up On the Wrong Side of Capitalism
:: Sun Rise Above
as reviewed by Steve 'Flash' Juon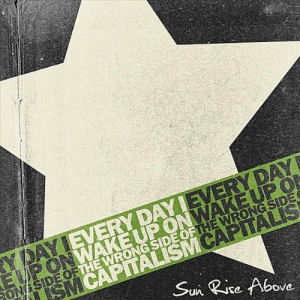 "Sun R.A. a/k/a Sun Rise Above goes out of his way to look like Che Guevara in his biography photo - sunlight peaking over his shoulder, scruffy beard, unzipped (possibly military issue) jacket and cap on, all defiant and Marxist, looking ready to lead a proletarian revolution. RR writer Emilee Woods described Sun as "a highly politicized rapper" and that assessment fits him like a glove. What I'm not sure of initially is if he's also pretentious, even though the lengthy album title "Every Day I Wake Up On the Wrong Side of Capitalism" implies that he doesn't know how to pare down words when necessary. Since I often critique my own work as having the same flaw, I won't hold that against him too much. He's definitely not paring down the album length though, as a total of 22 tracks rail against the evils of the first world economy.Titles like "The Anti-Capitalistic Mentality" are baldly self-explanatory. The 7Wounds produced track does have a soulful R&B backdrop that fits the track well, with a constant background refrain of the words "love and hate." He only does one other song for Sun, but "Surrender" has a pleasantly minimal backdrop for a track where Sun offers anything but a white flag to the world. The majority of the album is laced by KP, and he's got a good handle on mixing vocals and melodies plus a good ear for beats to break."
http://www.rapreviews.com/archive/2011_08_everydayiwakeup.html
Vakill :: Armor of God
:: Molemen Records
as reviewed by Pedro 'DJ Complejo' Hernandez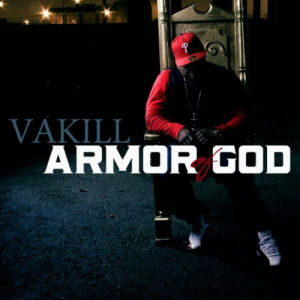 "Musically, Vakill has never been in need of any outside assistance to succeed. Chicago has always had a reputation for lyrical rappers, but even amongst the Commons, Rhymefests, and Juices of his city, Vakill rises above the crowd. Blending a sharp tongue with street smart semantics, Vakill's music resonates with hardcore hip-hop fans across the country. Even with all the lyrical talent in the world, Vakill has not become the household name he should be. Despite being an active emcee beginning in the 90s, Vakill's official debut didn't come until 2003. His sophomore album didn't come until three years later and "Armor of God" comes to us five years after that. With all those delays, it seems Vakill could use God's helping hand when it comes to releasing music. Of course, the title is more than a metaphor for the challenges Vakill has faced in the music industry. The devils Vakill fights are very real and his music remains grounded in creatively presenting those real life struggles. "Hi Ate Us" kicks things off with a short two minute track where Vakill addresses his absence from the music scene when he states "my hiatus is due to burying my closest kin, I'm sorry I lost some focus last time we spoke as men." It says a lot about the man when he apologizes to his fans despite having a legitimate reason for being unfocused. "

http://www.rapreviews.com/archive/2011_08_armorofgod.html




Read 921 times::
Subscribe to News by Email