If you missed any of the new reviews this past week, including Canibus' "Lyrical Law" then do yourself a favor and check out this week's edition of the (W)rap Up!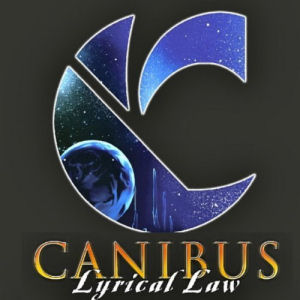 Canibus :: Lyrical Law

Canibus Catalogue/LGW Publishing
Author: Steve 'Flash' Juon



"There's going to be some unavoidable confusion from the jump when I explain to you the reader that there are THREE different versions of "Lyrical Law." In an effort to offer the most choices to his dedicated fans (or perhaps more cynically to make the most profit off them) you could order either a one disc "Lyrical Law" that only came in a CD sleeve, a two disc "Lyrical Law" in a jewel case with bonus tracks and remixes, or a DELUXE three disc edition which 'Bis recorded back in 1993 when he was part of a group called The Heralds of Extreme Metaphors a/k/a THEM. With apologies to the die-hard Canibus fans out there, I don't have the patience for three whole discs in one sitting, and I'm not sure I can feign enthusiasm for an album Germaine recorded when he was still a teenager. Perhaps on another day at another time, I'll give it a shot. The first disc is common to all three versions of "Lyrical Law," so our review today will focus on this volume. The producers on this CD are The Architect, DJ Kru and DJ Immortal. 'Bis has two reoccurring themes on this album - one of which is discarded after a few songs and the other which remains for almost the entire CD. The first is The Iron Sheik, a man born Hossein Khosrow Ali Vaziri in Iran who excelled as an amateur wrestler early in his life. He was lured into the world of pro wrestling in the U.S. in the 1970's, then rose to fame in the 1980's as a villainously cartoonish bad guy (heel) foil for good guy (babyface) wrestlers like Hulk Hogan. With the passing of time and consumption of too much wine, Sheik found renewed fame in the 2000's for his vitriolic expletive filled tirades against wrestlers he faced in the 1980's. These often came with threats to "humble" his enemies which were curiously homosexual, even though most of his slurs were homophobic."
Chipmunk :: Transition
:: Jive Records/Sony Music
as reviewed by Jesal 'Jay Soul' Padania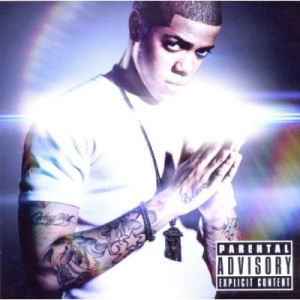 "It's interesting that we are kicking off "UK Hip Hop Month" on this site with "Transition" – the second album from 20 year old rapper Chipmunk – as, out of all the works we shall be reviewing over the next few weeks, this is by far the "most American" by quite some distance. The UK release was all the way back in April, with it touching down in the US mid-July, and it fits in perfectly with the current sounds on Stateside radio. As for Chipmunk, his debut ("I Am Chipmunk") was a runaway chart monster with four big singles, going platinum in the process and a blueprint for success that has been carbon-copied by British labels ever since. Fortunately, he's (wisely) decided not to rehash the winning formula, instead opting to rewrite the rules from the ground up. Great news for us; bad news for his label. Whereas "I Am Chipmunk" was extremely poppy, with radio friendly hooks and teenybopper moments aplenty – understandable, given his age – his sophomore effort is different in every single respect. Recorded almost exclusively in the States, we find him collaborating with the American producer H-Money. Given that H-Money executive produced "Transition" and also laces ten out thirteen beats, this is almost a throwback to the 1980's – where the DJ produces and the MC spits."
http://www.rapreviews.com/archive/2011_09_chipmunktransition.html
Configa :: Calm Before the Storm Mixtape
:: Configaration Records
as reviewed by Steve 'Flash' Juon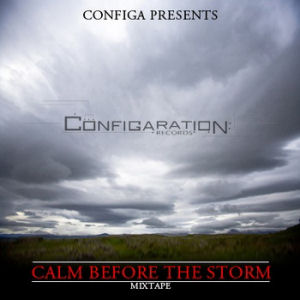 Fellow writer Jesal 'Jay Soul' Padania has declared September to be another "UK Month" for RapReviews.com, so there's no better time to check in with British producer Configa again. Last time Con took us "Pac to the Essence" and accomplished what few producers have been able to do - mix old Shakur in a new way at least as interesting as their original versions. That put him on my radar for future releases, and the latest of these is his "Calm Before the Storm Mixtape." Configa intentionally chose to feature both American and global emcees on this release, and likewise eschewed "name" guests to rap on his beats - that's for a future solo project. In the meantime Configa is focusing all of his effort on the next generation, bringing up a slew of rappers you never knew before now like John Graham on "I Want You." Hopefully those words jump off the page as you're reading, because Graham's flow definitely caught me off guard. The Configa conga drums and "ayyyy, ya ya yahhhh" sung harmony in the background of the vocals are dope enough to head nod yet meticulously balanced against John's excellent oratorical delivery."
http://www.rapreviews.com/archive/2011_09_calmbeforethestorm.html
Greneberg :: Greneberg
:: Decon Records
as reviewed by Patrick Taylor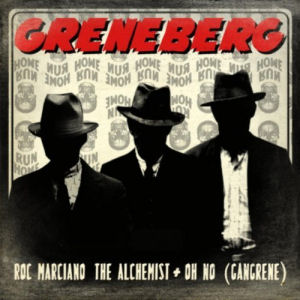 "I downloaded "Greneberg" as penitence for sleeping on two of the better-reviewed albums of 2010: Roc Marciano's "Marcberg," and Gangrene's "Gutter Water." Roc Marciano is a former Flipmode member whose self-produced album of street anthems received praise from critics. "Gutter Water" was a collaboration between producers Oh No and the Alchemist that also got its share of praise. Neither managed to find their way onto my stereo, although I had intended on buying both of them. When I saw they were collaborating as Greneberg, I took it as an opportunity to see what I was missing out on. The album starts off with the Roc Marciano-produced "Mamma Told Me," with Roc flossing over blaring horns and keys. Roc is both street and lyrical, rapping in short couplets with lines like "you ain't tough/hang it up like a Basquiat." The comparison that comes to mind for Roc is a more gutter Jay-Z. Roc has the same casual braggadocio, effortless flow, and quick puns and one-liners as Jay, but is more steeped in street life. Jay-Z has learned to put that life behind him; Roc, not so much."
http://www.rapreviews.com/archive/2011_09_greneberg.html
Impact All Stars :: Java Java Java Java :: 17th North Parade/VP Records
as reviewed by Patrick Taylor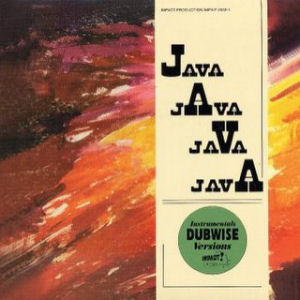 "1973's "Java Java Java Java" is not only one of the first dub albums ever released, it also marks one of the foundations of the birth of hip-hop. As I wrote about in my review of Scientists' "Best Dub Album in the World," instrumental dub tracks were what Jamaican DJs toasted over. When Jamaican immigrant DJ Kool Herc started playing records for parties in the South Bronx in the seventies, he brought that tradition of rocking the mic over instrumental tracks. Not that "Java Java Java Java" is the most obvious ancestor of hip-hop. It is basically instrumental versions of reggae tracks recorded at Randy's Studio, engineered by Errol Thompson and Clive Chin. Being one of the first, it doesn't have many of the studio tricks that became hallmarks of the genre in later years. Much of the revered dub albums of the late seventies and early eighties all offered radical reimaginings of the base track. The same can't be said here. It's all fairly straightforward, without many bells and whistles. The producers use snippets of the vocals, peel everything back to just bass and drums, and slowly filter back in the guitar and keyboards."
http://www.rapreviews.com/archive/2011_09_javajavajavajava.html
M.C. Mell'O' :: Thoughts Released (Revelation I)
:: Republic Records/Rough Trade
** RapReviews "Back to the Lab" series **
as reviewed by Matt Jost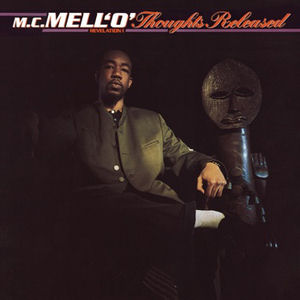 "The late 1980s and early '90s were an optimistic time for rap music from the United Kingdom as a number of singles and albums uncovered a burgeoning hip-hop scene (although largely concentrating in London). One of those records was M.C. Mell'O's "Thoughts Released (Revelation I)" from 1990. The Battersea-born-and-bred son of Jamaican parents cut his teeth as a member of various dance crews but soon developed the urge to express himself through the medium of rap. Even as he emerged from a collective that he didn't hesitate to shout out (D.E.T.T. Inc.), cooperated closely with beatmaker Sparki and DJ Pogo and came up alongside ragga-influenced rappers, pop rap acts, and hardcore hip-hop posses, he arose as a classic solo MC with a highly distinct style and dominant demeanor on the mic. His first appearances showed him as a talented early hip-hop adapter, initially anxious to live up to his name, later more energetic. The artistic passion was still present on the debut album, but it was enhanced by a conscious and mature frame of mind. In fact, the vinyl release was divided into a Side For The Physically Stable and a Side For The Mentally Stable. The former, side A, contained five songs helmed by a hungry and determined mic fiend."
http://www.rapreviews.com/archive/BTTL_mcmellothoughts.html
Slaine :: A World With No Skies 2.0
:: Suburban Noize Records
as reviewed by Steve 'Flash' Juon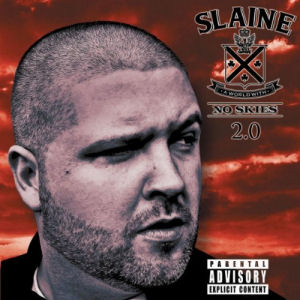 "If you're getting deja vu right now, don't blame The Matrix. We originally reviewed "A World With No Skies" back in January 2011, right at the moment the long-delayed album seemed to be on the precipice of getting released. Suburban Noize sent us a shrinkwrapped promo copy straight off the production line, with only a notch cut out of the side to denote it was for review only, and online retailers were taking pre-orders to ship "as soon as the product is available." We found the album to be well worth the wait and gave it 8 out of 10 overall. Unfortunately for all of those people who pre-ordered the album, the ship dates came and went, and most orders were canceled. A few lucky people from Slaine's fan club got the original version of "A World With No Skies" in the mail, and most of the rest of the public was S.O.L. Blame whatever you want on the fact an album that got all the way to the manufacturing stage didn't get released to the masses, but the usual suspects are sample clearances and other labels objecting to guest appearances. To my surprise the SubNoize fam sent us a SECOND copy of the album, appropriately dubbed "2.0," baring a sticker on the cover letting us know this was the "F.Y.E. exclusive deluxe 2CD edition featuring 5 bonus tracks." Despite the obvious similarities in the cover art, it was clear this edition of "A World With No Skies 2.0" with a whole new disc worth of songs needed to be reviewed."
http://www.rapreviews.com/archive/2011_09_noskies2.html
various artists :: Underground Overstood
:: Jersey Roots/Alchemetric LLC
as reviewed by Steve 'Flash' Juon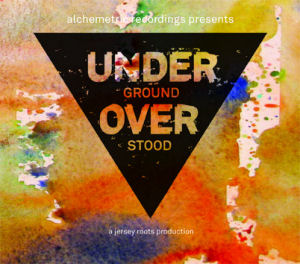 ""Underground Overstood" is a new hip-hop compilation from Alchemetric LLC, not to be confused with the legendary producer bearing a similar name. In fact having pored over the liner notes and one-sheet for this album, there's not a single track produced by Alchemist on the shit, which to this critic is a real shame. There are few better ways to get underground hip-hop overstood than by pairing a hot beat Alan Maman made with some hungry rapper looking to get paid. Alchemetric professes a ten year history of promoting and booking hip-hop shows in New York City's finest venues, which built up the relationships that ultimately allowed this compilation to be made. It should be noted that "Underground Overstood" is actually a pretty hefty project, coming with both a CD and a DVD featuring interviews and live performances. For this review we're only able to do justice to the audio portion of the project, but in theory there's enough reason to buy it for the DVD alone. Aside from our own dope weekly hip-hop interviews, you can hardly find a better compilation of underground rappers speaking their minds: PackFM, Poison Pen, A-Alikes and Oktober Zero among others. The audio portion is even more of a who's who of independent rap's top talent: Edo.G, C-Rayz Walz, Pumpkinhead, Breez Evahflowin and The Artifacts just to name a few."

http://www.rapreviews.com/archive/2011_09_undergroundoverstood.html



Read 1,268 times::
Subscribe to News by Email