If you missed any of the twelve new reviews last week, including MC Lars' "Lars Attacks!" then do yourself a favor and check out this week's edition of the (W)rap Up!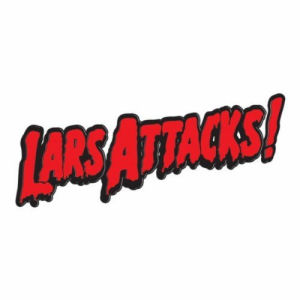 MC Lars :: Lars Attacks!
Horris Records
Author:
Steve 'Flash' Juon
"Many of you who were once in high school (or who perhaps are right now) think of William Shakespeare, Herman Melville and Edgar Allan Poe as some crusty old white dudes who died centuries ago. I see you in my mind's eye turning the pages and yawning, thinking these people have no relevance to a 21st century life, an era of internet and smart phones and iPads. Sorry to say it but you couldn't be more wrong. If you're a fan of horror movies like "Final Destination" you owe a debt of gratitude to Poe for almost singlehandedly inventing the genre. Shakespeare was the Tupac Shakur of his day, from his nihilistic characters to their struggles against society to conquering their own demons. And as for Melville, the entire political system Americans live with today is built around finding a "great white" to blame all of our problems on, when in fact the system itself is not evil but rather the excessive Moby-Dick we fed it to be until it grew large enough to crush us. MC Lars is a rapper for our times, even though one could definitely say he was "classically trained" in literature. He has tapped into the universal themes those works offer and brought them a modern hip-hop slant. He has been tagged as many things by many different pundits though, and classically trained usually isn't one of them. Many call him "nerdcore" even though he did a song with
Random a/k/a Mega Ran
where he declared the entire genre extinct. (An interesting notion but one to explore another day.) He's also been called the first "post-punk laptop rapper" and while he does embrace technology and rap in concert with a drummer and concert on stage, it would be hard to classify his beats and rhymes as punk rock. "


Jehst ::
Falling Down
:: Low Life Records
** RapReviews "Back to the Lab" series **
as reviewed by Adam M. Levin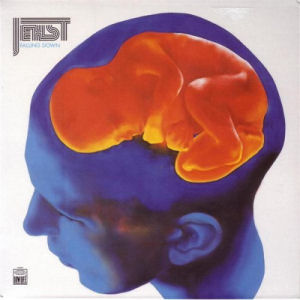 "Hot on the heels of his The Return of the Drifter, Jehst was striking while the iron was hot in a year of creative brilliance from some of his fellow British artists. Despite the fact that most of the country's chart-topping hits were American-made, plenty of success was generated at home (albeit via rock, pop, and dance music) with Dido, Radiohead, Blur, Massive Attack, and Robbie Williams all occupying the #1 album slots throughout 2003. Though it wasn't a commercial smash, Dizzee Rascal's Boy in da Corner blew critical minds and achieved the first piece of American recognition for the UK's burgeoning grime scene. In addition to taking home the Mercury Prize at age 18, Dizzee was getting plugged in Rolling Stone, Entertainment Weekly, Spin, and Pitchfork. Less than four months later, in the midst of new international intrigue about his scene, Jehst dropped his sophomore LP Falling Down. If his previous work exemplified life in the boonies, this music sounds like Jehst's adjustment to the big city - and it sounds like it's been depressing and angering the fuck out of him. Where Return of the Drifter's downtrodden descriptions of the country were more observational and emotionally detached, the aggressiveness is amped up tenfold here. The music itself sounds as clean and streamlined as a train car on the Northern line of the London Underground, with the dirty boom-bap of Jehst's previous work being supplanted by sanitized sampling and a darker, more brooding sense of foreboding. "

http://www.rapreviews.com/archive/BTTL_jehstfallingdown.html
Jehst ::
The Return of the Drifter
:: Low Life Records
** RapReviews "Back to the Lab" series **
as reviewed by Adam M. Levin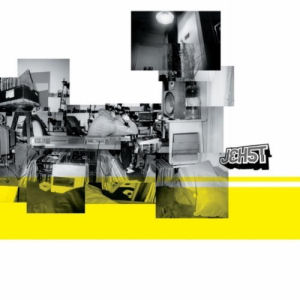 "Whenever an American reviews rap music from another country, there's always a bit of subtle arrogance at play: we very rarely look at the records from outside of the context of American culture. Yes, we invented this shit, but why be ignorant of the art's progression on foreign soil? As one of those cocky Americans, I recruited a Brit (fellow RapReviews staffer Jesal "Jay Soul" Pedania) for a brief history lesson: 2002 was pivotal for England's hip-hop scene: grime was on the come-up; Ms. Dynamite and The Streets were earning international acclaim for their work; and the popularity of garage was beginning to fade a bit. Enter William "Jehst" Shields, a 23-year-old rapper/producer from the Northern market town of Huddersfield. With an extremely deft cadence and a knack for stringing together intricately-constructed rhyme schemes with a heavy narrative flair, he began to earn a bit of a name for himself with the release of his first LP, The Return of the Drifter, on Low Life Records in 2002. If the grime scene represents the high-tension, claustrophobic neurosis of London's inner-city, then Return of the Drifter embodies the bleak, wide-open spaces of post-industrial country living. The production - most of which is handled by Jehst himself (with UK underground stalwart Harry Love adding two contributions of his own) - follows suit: heavy boom-bap drums with warm string and piano samples stretching across the instrumentals. "

http://www.rapreviews.com/archive/BTTL_returnofthedrifter.html
Kaotik :: The Awakening ::
myspace.com/kaotik4life
as reviewed by Susan 'susiQ' Kim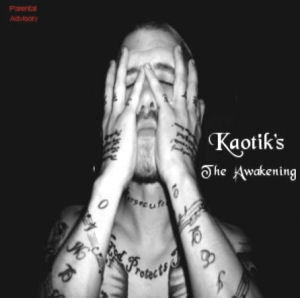 "Seasoned rapper Kaotik has paid his dues after releasing three albums and seven mixtapes in the past twelve years. His Tennessee roots add a certain style to his music and with his distinct voice and rhythm, Kaotik thrives in the rap industry. He retains a sound that you may not have heard before, and thus seems innovative and original in his latest installment of "The Awakening." Although "The Awakening" follows the common trend amongst rap albums and highlights the existence of violence, drugs, sex, and the high life, Kaotik is able to recognize it in his own way. Taking his own personal experiences into consideration, Kaotik takes this knowledge and translates it into music thus shedding light into his own life. A level of vulnerability remains throughout the album as he exposes himself emotionally and spiritually, yet at the same time, without letting his guard down. "The Awakening" starts out strong with "Awaken" as the heavy synths and Kaotik's distinct vocals are heard. Although at times it's somewhat difficult to comprehend Kaotik's verses as he tends to meld his words and sentences together, when you are able to understand his message it is worth the deciphering. "Give 'Em Hell" follows and features emcee Valley on this bass heavy track while simultaneously mixing in some southern flair. Throughout the album, Kaotik touches upon unoriginal rap album themes as he shows his daily struggle and trying to get paid in "Grind" while also representing his city in "My City.""

http://www.rapreviews.com/archive/2011_09_theawakening.html
M.E.D. ::
Classic
::
Stones Throw Records
as reviewed by Steve 'Flash' Juon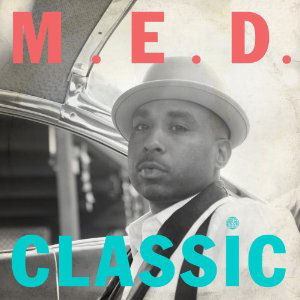 "The name has changed a little over the years. In his guest appearances and
on his solo album
he's been known as Medaphoar, Med or more recently as the capitalized and punctuated M.E.D. It really doesn't matter what you call him - it matters more who the Oxnard, CA based rapper rolls with. If you already know Oxnard and/or the
Stones Throw
label these names won't be a surprise:
Madlib
(a/k/a Quasimoto), his brother
Oh No
and Lootpack frontman and soloist
Wildchild
among others. Despite being well connected and well liked, Med has only released one album, and that was back in 2005. The official drop date for "Classic" is November 1st, but thanks to a publicity connect with his label, we got this sneak peak at his first album in over half a decade. Much like his career its arrival was something of a curiosity, as we got no advance warning it would show up, and it didn't come bearing any of the usual warnings that breaking the seal meant you were personally responsible for the digitally watermarked tracks (labels be paranoid about leaks yo). Nope - this was just a regular shrinkwrapped joint like you'd get at your local stores save for a hole punched out of the barcode. M.E.D.'s new project clocks in at 41:47 total running time - not overly long but certainly highly anticipated given how long his sophomore effort took. That timespan is spread out over 14 tracks, 10 of which are produced by Madlib. The remainder go like this: "Int'l" is produced by Georgia Anne Muldrow, "Where I'm From" is laced up by Oh No, "War & Love" is handled by The Alchemist and Karriem Riggins does the title track "Classic," which also features Talib Kweli."

http://www.rapreviews.com/archive/2011_09_MEDclassic.html
Mega Ran & K-Murdock ::
Forever Famicom DLC 2
::
Neosonic Productions
as reviewed by Steve 'Flash' Juon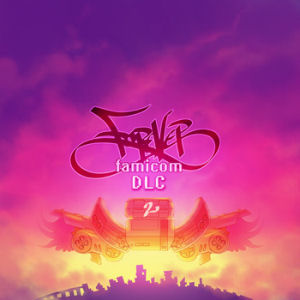 "Everyone's favorite hip-hop video game tag team,
Mega Ran & K-Murdock
, are back for the second (and according to them FINAL) installment of their "Forever Famicom" series. If you've checked out The Hip-Hop Shop's
exclusive
interview
with the dynamic duo, they admit to reaching a point of total saturation with looping 8 and 16 bit beats and busting fresh rhymes to 'em. While some might bemoan the end of their favorite trend, from an artistically creative point, one has to respect their decision to do new things and find new scenes, instead of risking becoming a parody of self. Thankfully though the end is not here YET. A total of 14 tracks are found on "DLC 2," packaged in a DVD longbox as many of Random's releases are (such as "
Black Materia
"), which is an understandable cost-saving move for an independent artist. Of course if you buy the digital only release you don't have to worry about freeing up space in your DVD or 360 rack, but you also miss the chance to have Ran and K custom autograph it your way, AND they'll give you a digital download with it. Well that's enough shameless plugging of their product - let's get down to details. Half of the 14 tracks on "DLC 2" are instrumentals of the other half, which means there are seven new video game inspired songs in total. The opener "By Your Side" is set to music from Donkey Kong Country 2."


http://www.rapreviews.com/archive/2011_09_famicomdlc2.html
various artists ::
Reggae's Gone Country
::
VP Records
as reviewed by Patrick Taylor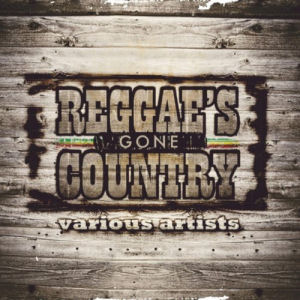 "This is a unique and record. It combines two forms of music, reggae and country, that don't generally get mixed together. Co-producer John Rich, of country act BC and Rich, worked with musicians from Nashville and Jamaica to record 13 reggae covers of country songs. While this is not the first time that reggae artists have revisited country hits, the two genres aren't mixed together all that often. That's not to say they don't have something in common: both country and reggae are music forms largely associated with one geographic area (the American South and Jamaica); both genres are music for made largely by the rural poor; and both genres are stamped by unique vocal delivery, be it Jamaican patois or country twang. The question is, will the results be like peanut butter and chocolate or like vinegar and milk? Things get started off with Romain Virgo and Larry Gatlin's duet on a remake of the Gatlin Brothers' "California." The production is a mix of tastefully subdued country and tastefully subdued reggae. There are slide guitars from Nashville pros, there is the reggae one-drop lilt, and reggae legend Sly Dunbar's drums hold it all together, but it is all done with restraint. Except for the guitar notes on the upbeat, you wouldn't classify this as reggae. Other songs are more pronounced in their Jamaican influence. One of the better tracks here is L.U.S.T.S.'s cover of the Statler Brothers sixties hit "Flowers on the Wall, which I know from the "Pulp Fiction" soundtrack. "
http://www.rapreviews.com/archive/2011_09_reggaesgonecountry.html
Ed Sheeran ::
+ (Plus)
::
Asylum
/Atlantic Records

as reviewed by Patrick Taylor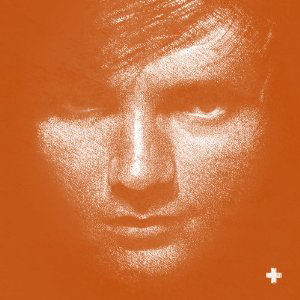 "Americans may not have heard of Ed Sheeran, but he's a big deal in the U.K. The singer/songwriter has been making music for six years, and his last EP, "Loose Change," generating a lot of buzz for the twenty-year-old musician. He toured with British rapper Example, played hundreds of shows on his own, and found time to release "+", his major label debut. "+" opens with "The A Team." Disappointingly, this is NOT about a group of former special forces operatives acting as soldiers of fortune. Instead, it is about a girl at the head of her class who is a prostitute by night. The song is a subdued acoustic number, with Sheeran's singing coming across as part folk and part R&B. "And they say She's in the Class A Team Stuck in her daydream Been this way since 18 But lately her face seems Slowly sinking, wasting Crumbling like pastries And they scream The worst things in life come free to us Cos we're just under the upperhand And go mad for a couple of grams And she don't want to go outside tonight And in a pipe she flies to the Motherland Or sells love to another man It's too cold outside For angels to fly Angels to fly" The song demonstrates both Sheeran's strengths and weaknesses as a lyricist. On one hand, he is able to tell vivid stories in his songs, painting clear pictures with a handful of words. "In a pipe she flies to the Motherland/Or sells love to another man" is a perfect description of a lost young woman who is trying to find meaning and comfort through drugs and sex."
http://www.rapreviews.com/archive/2011_09_edsheeranplus.html
Shizzio :: The Scrap Book, Volume I ::
shizzio.com
as reviewed by Matt Jost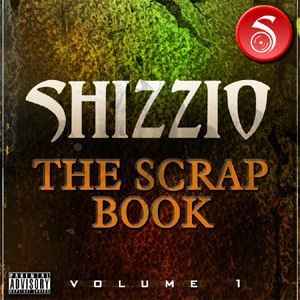 "While the United States undoubtedly have the richest hip-hop history, the United Kingdom might just have the most complicated one. It begins with the fact that a whole lot of things happened that could not really be subsumed under 'hip-hop' and 'rap' by the traditional American definition yet they were still a clear product of those templates. It's difficult to make sense of it all - Roots Manuva, the "Street Sounds" compilations, Neneh Cherry, Maxi Jazz, Simon Harris, trip hop, So Solid Crew, Monie Love, Panjabi MC, Massive Attack, Goldie, Dizzee Razcal, Scratch Perverts, Adam F, Outlaw Posse, Galliano, breakbeat, Tinchy Stryder, Derek B, Stereo MCs, the P Brothers, M.I.A., Hijack, jungle MC's, Nightmares on Wax, Tim Westwood, Plan B, "Ragamuffin Hip-Hop," Jessie J, Britcore, "West End Girls," Rodney P, grime, Fun-Da-Mental, Big Dada, The Streets, Braintax, Apache Indian, Skinnyman, The Herbaliser, drum-n-bass, Betty Boo, Brand New Heavies, Estelle, Nextmen, Malcolm McLaren and the World Famous Supreme Team, electro funk, Roll Deep, Coldcut, Soul II Soul, Tinie Tempah, Tricky... An eclectic list, to say the least. But effectively reflecting the range of hip-hop and rap's influence on the UK music scene. Meanwhile, a big online encyclopedia makes the strange claim that of all the local variations of rap and hip-hop on the planet 'none are as similar as are the British and the US forms.' While there may be some similarities, there are also many differences that are far more crucial to such a comparison."

http://www.rapreviews.com/archive/2011_09_scrapbookv1.html
Statik Selektah ::
Population Control
::
Duck Down Records
as reviewed by Pedro 'DJ Complejo' Hernandez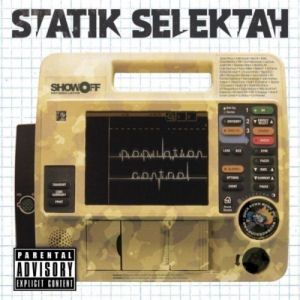 "Population control is the concept that the growth rate of the human population can and should be controlled through the use of policies, contraceptives, and other means in order to avoid overpopulation. The reasoning is that since resources such as fresh water and food are finite and limited, the population should be controlled in order to avoid undesirable things such as famine and disease. It's one of those concepts that sounds better in theory than in practice and causes its fair amount of controversy. This isn't the forum to discuss the merits of this theory, but a general understanding of the concept is essential to appreciating the title to Statik Selektah's latest album. In his own words, this album is "a way of saying who is legit from the new generation" since "every person I meet is a rapper, DJ, or makes beats." Statik's words ring very true as it seems that nowadays the artists seem to outnumber the fans. This album also marks a new direction for Statik as he has generally limited his albums to established artists. By cosigning the new artists featured here, Statik is essentially marking them as "worthy" of being included in rap's new generation. The question is, does the man with the golden ear for beats also possess the same golden touch when it comes to emcees? As talented a producer as he is, this album wouldn't be nearly as appealing if the emcees were all relatively unknowns, so Statik makes sure to include a fair share of established rappers."

http://www.rapreviews.com/archive/2011_09_populationcontrol.html
Venomous2000 The Ultra Emcee :: A Moment to Reflect II ::
venomous2000.bandcamp.com
as reviewed by Adam M. Levin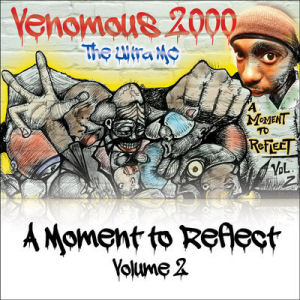 "It's extremely difficult for me to review work by new artists-particularly those who I haven't heard anything from at all in the past. There is that rare 10% chance that what I hear will blow my mind... and this happens to be one of those cases. Enter Passaic, New Jersey's own Venomous2000 the Ultra Emcee, who possesses all of the qualities and historical knowhow necessary to become one of Hip-Hop's most well-renowned artists. His new compilation-A Moment to Reflect II-is a vast compendium of his work. One of the few faults of this album might be its length-over the course of 31 songs, A Moment to Reflect II bears more resemblance to an iTunes playlist than a mixtape or album. It's extremely difficult for us ADD Generation kids to pay attention. However, the flipside of that coin is the cornucopia of quality material to be found within the work. Though a good chunk of the album's tracks include such underground luminaries as Fes Taylor, L.I.F.E.LONG, and John Robinson (who drops a verse on the fantastic "The Most Efficient" alongside CyMarshall Law and Artifacts alum El da Sensei), the best songs here find Venomous solo: the leadoff "Raw Planted"; the crowd rocker "It's On Tonight" (which includes an infectious breakbeat-backed instrumental from DJ Irs); "Let's Do It Again," where DJ Priority provides a soulful loop for Venomous to flex over; and "As the Beat and the Rhymes Go On," where he laments the current state of ageism in Hip-Hop."

http://www.rapreviews.com/archive/2011_09_moment2reflect2.html
Wretch 32 ::
Black and White
::
Ministry of Sound UK
as reviewed by Pedro 'DJ Complejo' Hernandez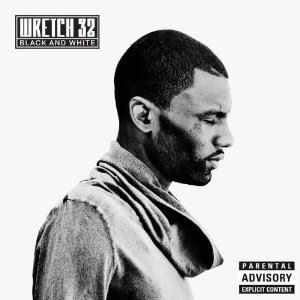 "It seems whenever we cover "international" emcees we have the tendency to contextualize our coverage in terms of the particular country or scene that emcee belongs to. I can only imagine it must be quite frustrating for those emcees as I doubt American rappers get the same treatment. Certainly rap is as American as apple pie, but rap is also as universal as failure and success. Increasingly, these competing concepts tend to be the fuel for most "successful" rap music and they are not exclusive to the United States. Wretch 32 possesses equal parts failure and success. Though he consistently references his failures throughout "Black and White," it is his current success that defines Wretch 32's appeal. Yet, without his past failures to reflect on and draw inspiration from, Wretch 32 would not have found the success he has today. The challenge of balancing both those concepts is clear on "Black and White" and thanks to Wretch 32's ear for interesting and catchy beats, the album is a success for the most part. In years past, most emcees would include a biographical song on their debut album which would succinctly summarize the rapper's life, challenges, affiliations, and character. In fact, such a song would likely pin point the city, neighborhood, street, and possibly even apartment building the rapper lived in. "
http://www.rapreviews.com/archive/2011_09_wretch32black.html




Read 927 times::
Subscribe to News by Email