Camp Lo :: Uptown Saturday Night
:: Profile
as reviewed by El Surround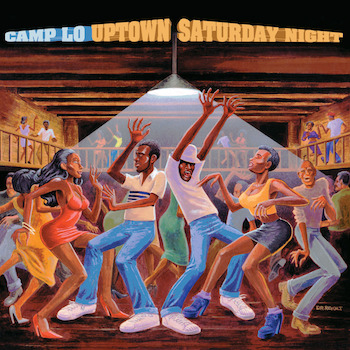 If these were the 70's, there would be nuthin' special about Geechie Suede and Sonny Cheeba, the latest Hip-Hop bomb from New York. In fact, they would be so regular (in the way they talk, dress, and act) that some TV executive could pick them up to portray Lionel's "old hood" friends on "The Jeffersons" or somethin'. I can see it-
Sonny Cheeba: Yo Lionel, don't be jivin' me for shit, I'm on a quest for a sexy seniorida, or a foxy bonita, to connect for relaxation via tri state with some vigga and my man Geechie gracious....
Lionel: Nah man, my pops won't allow me to hang wit' you guys... Geechie Suede: Fuck dat dude, join the Black Connection, we gots the aura in dis joint, we gots some bubbley, so lets cool out superfly in Cleopatra's Casino...
Lionel: Sorry fellas...
and on and on.
Seems corny as hell, but the fact is, that I haven't heard anything in nowadays Hip-Hop as refreshing as Camp Lo's jive talkin' style. They show that you can jock the 70's, and still get something fresh out of it. How do you define Camp Lo? They're too street to be mafiaso dudes, too nasty to be Native Tongues, too nice to be gangstas... Ironically, I think that's their best definition. They are so original that they don't fall into none of these categories.
Throughout their debut album, Sonny and Geechie speak about everthing- from a heist to a party, from braggin' about skillz to hot sex on a platter, they jive it through, on top of some hella bumpin' beats supplied by Ski, and one by Trugoy of De La.
Camp Lo are so charismatic that they even made Trugoy holler "gotta make money money" on "B-Side To Hollywood", and that's something. The album's best track is "Black Nostaljack", a funky yet simple loop with some tight lyrics- Sonny freaks it "Yes yes y'all, to the beat y'all, scored like 10 on my IQ test".
"Sparkle" is also a acid-jazzy track, with some of that OG Camp Lo hooks "Got the bubbley, pourin' through me, sparklin', bubbley...". The album includes a remix for this track where the vocals are boosted up so you can check out Lo's emceeing technique to the fullest.
"Rockin' It aka Spanish Harlem" is a dope track with super old school feel- "To the fellas in the left keep on, rockin it... to the divas in the right keep on, rockin' it". Sounds great in a car, 4 sure.
Camp Lo still represent with some crime style tracks, like "Killin'Em Softly" and "Negro League". They freak it aggressively over some heavy bass an trumpets on "Krystal Karrington" and gives us an old school ride on "Park Joint".
All this without mentioning the hit singles: "Coolie High" and "Luchini", two almost groundbreaking tracks.
The rapper's distinctive flows complement each other greatly. After hearing Sonny's heavy accented pimped out drawl, Geechie's mellow flow comes in contrast which creates a cool effect (kinda like when Eazy E would bust it after Ice Cube... just kinda!!).
Bottom line... 57 minutes of pleasure... old school style with a new school approach. Hip-Hop that haves you ROCKIN' IT, all the way to the Sugar Shack with Foxy Brown (the original), Superfly, Jack Pat and all of those "cats".
ORIGINAL HEADz UP! score: 6 out of 6 (converted to RapReviews.com)
TOTAL Vibes: 10 out of 10
Originally posted: April 18, 1997
source: HEADz UP!